Class of 2008 Sent Forth With Stirring Words From Prominent Catholic Leaders
---
STEUBENVILLE, OH -- Sent forth by three leaders of the Catholic Church with the call to keep up their lives rooted in prayer and the sacraments--and the challenge to join the Church's ranks of saints and martyrs--582 students graduated from Franciscan University of Steubenville during ceremonies held May 9 and 10.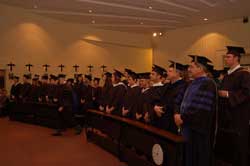 The Graduate Graduation Ceremony in Christ the King Chapel.
The third largest graduating class in the University's history was comprised of 467 undergraduates and 115 master's students.
Before the May 9 Baccalaureate Mass, J. Francis Cardinal Stafford received an honorary doctorate of humanities for a lifetime of service to the Church, especially to the Holy Father. He currently serves in the Roman Curia as the major penitentiary of the Apostolic Penitentiary, for which he oversees matters involving indulgences, confession, and spiritual direction.
"I am absolutely convinced, both in my experiences as archbishop of Denver and my experiences as the president of the Pontifical Council of the Laity, that this university has been central to the reform and the renewal of the Catholic Church after the Second Vatican Council," said Cardinal Stafford.
During his homily, Cardinal Stafford urged the graduates to "put love into action and rebuild the Church" in the mold of St. Francis of Assisi, St. Peter, St. Augustine, Dorothy Day, Pope John Paul II, and Pope Benedict XVI.
He also spoke of the sacredness of marriage and the importance of suffering. But the cardinal's central message was for graduates "to jettison the post-modern world" which "has replaced morning prayer with the morning paper and the Internet," and instead spend time "standing before the silent mystery of God indwelling within you.... My prayer is that you not choose the way of the mainstream but that you strive for sainthood."
A special moment at the Baccalaureate Mass occurred when Deacon Dan Pudvah proclaimed the Gospel. His daughter, Amanda, an education major, died from complications due to pneumonia recently. At the undergraduate commencement the next day Dan and Denise Pudvah accepted Amanda's diploma in her stead.
The speaker at Saturday morning's graduate exercises, Dr. Janet Smith, called upon her audience to be "truth missionaries" unafraid to engage fellow Catholics and colleagues at work on the crucial moral issues of our time.
Dr. Smith teaches life ethics at Sacred Heart Major Seminary in Detroit, Michigan, and is a renowned truth missionary in her own right, who for over 30 years, has countered the culture's promotion of abortion, contraception, promiscuity, cohabitation, and the advancement of the homosexual agenda with clear, common-sense explanations of Church teachings on human sexuality.
"One thing that you have to be grateful for is that you were educated at Franciscan University of Steubenville and thus you have received an indispensable tool for meeting the challenges of the future. You've been taught that there is truth."
She pointed to 40 years of teachings by Pope Paul VI, Pope John Paul II, and recent reforms instituted by Pope Benedict XVI as "indispensable tools" the graduates can use in their careers in education, counseling, philosophy, theology, business, and nursing to foster "a new blossoming of respect for the Church's teaching on sexuality.
"You graduates are blessed to have been educated at a university that rightly deserves an enormous amount of the credit for this new day that is dawning.
"God has chosen you to do some wonderful work in this world. Whether it is the human work of being a good parent, friend, or coworker. Or whether you were meant to be a visible leader, the kingdom of God will only be accomplished when lovers of truth and lovers of God allow that love to guide every decision they make and permeate every deed that they do."
The line formed early for the 11:30 a.m. undergraduate exercises in Finnegan Fieldhouse. Those who couldn't find room inside watched a remote broadcast in the J. C. Williams Center or online streaming video.
Prior to President Father Terence Henry, TOR, presenting a diploma and congratulating each of the graduates from Franciscan University's 36 undergraduate programs, Mother Assumpta Long, OP, gave the primary commencement address.
"No matter where I go or to whomever I speak, the person who knows, has met, has hired, or is hiring will say, 'that young man or woman graduated from the University of Steubenville,'" she said. "They don't feel any need to explain further."
In the mold of the other commencement speakers, Mother Long forewarned the graduates that they were about to enter a world that is focused on "self fulfillment, being able to do as one pleases, having the right to choose. The modern world is building its own Tower of Babel--I will call it the Ego Tower--which is daily getting larger and larger."
The tower, she noted, is beginning to crumble because a new foundation is being built by young Catholics, including many Franciscan graduates. "You are the builders. You do not build based on your own egos, but on God's designs."
As the founder in 1997 of the Dominican Sisters of Mary Mother of the Eucharist, which in only 11 years now numbers 80 sisters, Mother Long knows much about building up God's kingdom. It was for this work, and her assistance with the founding of the Sisters for Life, that she was awarded an honorary doctorate in humanities and given the privilege to speak to the Class of 2008.
Any steps to rebuild a culture in a Catholic vision require humility and sometimes suffering.
"I hope you will be martyrs," she said. "To be a martyr simply means that you witness to Christ. There are the bloody ones and perhaps God will call you to be one. I hope so. But I am particularly speaking of those who witness by their very lives, namely white martyrs. To live a fully Christian life means martyrdom. To witness, in season and out of season, that you believe all the truths of the holy Catholic Church and live those truths in your every word and action, is to be a martyr."
Two priests with long ties to Franciscan University also received honorary degrees.
Father Ronan Deegan, TOR, '53, was the first graduate of the College of Steubenville to be ordained a Third Order Regular priest. Today Father Deegan is pastor at St. Francis Xavier Parish in Moundsville, West Virginia.
"Don't be afraid to go to confession," he told the graduates. Recounting his association with the first TOR friars who served at the College of Steubenville, he said, "And stay close to the Franciscan friars here--they'll carry you through [hardships]."
Monsignor Kurt Kemo attended the College of Steubenville as part of his preparation toward becoming a priest for the Diocese of Steubenville. Currently, he serves as vice-chair of the Presbyteral Council and vicar general of the diocese, among other positions.
"Don't be afraid," he said, echoing the phrase often ascribed to Pope John Paul II, but which he noted can be found 88 times in the Old Testament alone. "Christ taught us repeatedly not to fear because Jesus put an end to the greatest fear--the fear of death. God does not want us to live in fear. He wants us to live in faith."
The commencement events were attended by members of the Board of Trustees and by Father Christian Oravec, TOR, minister provincial of the Sacred Heart Province of the Franciscan Friars Third Order Regular and chairman of the Board of Trustees, who gave the official welcome at the undergraduate commencement ceremony.
Among those graduating were 149 students who completed their studies either in August or December 2007. For the first time, Franciscan University will hold separate ceremonies for August/December graduates, which will be held on December 13, 2008.

---
---
---
More College
Finding the right College
There's no magic formula for choosing a college, but there are steps you can take to find a good fit. Use this tool to start your journey.
Latest College News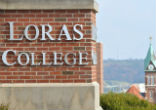 Already known for its legacy of successful, community-driven leaders, Loras College, Iowa's first college and the second oldest Catholic ... continue reading
---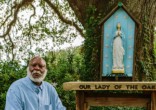 One hundred and seventy-nine years ago, two Jesuit priests sold 272 persons at a slave auction. Their families were torn apart: many of ... continue reading
---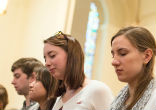 (Vatican Radio) Pope Francis on Friday visited one of Rome's major institutions of higher education today: the Università degli ... continue reading
---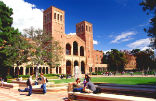 The UCLA campus has been put on lockdown after reports of a shooter in the university's Boelter Hall were released via social media. ... continue reading
---

In a move reminiscent of the early 1900s, North Carolina State University segregated a student Christian group from the rest of the student ... continue reading
---