and my sister Iraya [Herais] with other martyrs, Abadir with his sister, Iraja (Herais). We are children martyrs of St. Basilides' sister. Basilides' is called the Father of Kings.
We were brought under arrest to Antinoe, Kemet, beheaded with Cluthus, a physician and priest, 3685 companions, and other martyrs.
Also martyred with us were Apa Paphnutius of Tentyra, priest; Apa Isaac of Tiphre, priest; Apa Shamul of Taraphia, priest; Apa Simeon of Tapcho, priest; Sissinius of Tantatho, priest; Theodore of Chotep, priest; Moses of Psammanius, priest; Philotheus of Pemdje, priest; Macarius of Fayum, priest; Maximus of Vuchim, priest; Macroni of Thoni, priest; Senuthius of Buasti, priest; Simeon of Thou, priest; priest Ptolemaeus, son of the Eparch, priest; Thomas of Tanphot, priest. Coptic calendar
---
More about St. Abadir from Wikipedia
Learn interesting facts and tidbits about the beloved St. Patrick.
---
---
---
More Saints
---
---
Saint Feast Days by Month
---
---
---
---
Casimir grew up in a world where his life was not his own. As a prince of Poland, the second son of King Casimir IV and Elizabeth of Austria, his life was scheduled to cement his father's authority ... continue reading
More Saint of the Day
---
---
The Mother, of God, Mother of Jesus, wife of St. Joseph, and the greatest of all Christian saints. The Virgin Mother "was, after her Son, exalted by divine grace above all angels and men". Mary is venerated with a special cult, called by St. Thomas Aquinas, ... continue reading
More Female Saints
---
---
---
---
St. Michael the Archangel - Feast day - September 29th The name Michael signifies "Who is like to God?" and was the warcry of the good angels in the battle fought in heaven against satan and his followers. Holy Scripture describes St. Michael as "one of the chief ... continue reading
---
The name Gabriel means "man of God," or "God has shown himself mighty." It appears first in the prophesies of Daniel in the Old Testament. The angel announced to Daniel the prophecy of the seventy weeks. His name also occurs in the apocryphal book of Henoch. He was the ... continue reading
---
---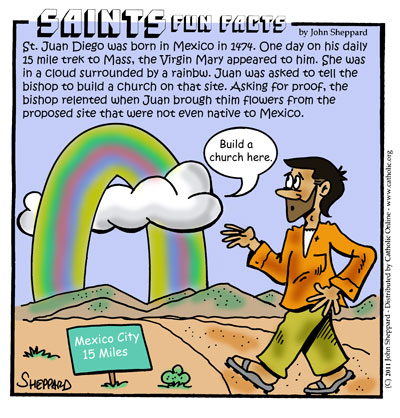 Juan Diego was born in 1474 in the calpulli or ward of Tlayacac in Cuauhtitlan, which was established in 1168 by Nahua tribesmen and conquered by the Aztec lord Axayacatl in 1467; and was located 20 ... continue reading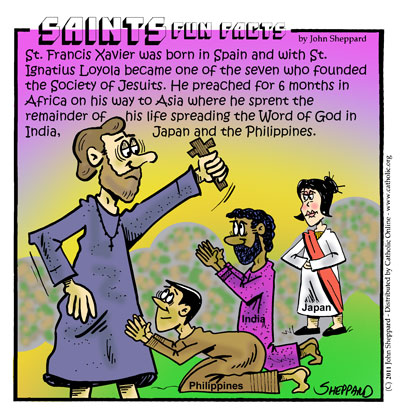 FRANCIS XAVIER, ST. (1506-1552). Born in the family castle of Xavier, near Pamplona in the Basque area of Spanish Navarre on Apr. 7, he was sent to the University of Paris 1525, secured his ... continue reading
---
More Saints
---
By Deacon Keith Fournier
This great defender of the faith insisted on the central claim of Christianity: God can be known and loved-indeed, that is why He came into our midst in the person of His Son; so that through a relationship with Jesus Christ, man could participate in the ... continue reading
More Christian Saints & Heroes
More Christian Saints & Heroes
---