St. Peter Thomas
Feastday:
January 25
1305 - 1366
Carmelite Latinpatriarch and papal legate. Peter was born in Gascony, France and joined the Carmelites while still a young man. In 1342 he was appointed procurator of the order and, from Avignon, he oversaw the organization and government of the Carmelites. As Avignon was then the seat of the popes, he entered into their service, attracting papal attention because of his skills as a preacher and his elo­quence. Named to the papal diplomatic service, he held the post of papal legate to Genoa, Milan, and Venice, and was appointed bishop of Patti and Lipari in 1354, bishop of Coron in 1359, archbishop of Candia in 1363, and titular Patriarch of Constantinople in 1364. At the behest of Pope Urban V, he journeyed to Serbia, Hungary, and Constantinople in an effort to organize a crusade against the Turks. He took part in a military operation against Alexandria, Egypt, in 1365 during which he was severely wounded. He died from his injuries at Cyprus a few months later. While never formally canonized, his feast was permitted to the Carmelites in 1608.
Learn interesting facts and tidbits about the beloved St. Patrick.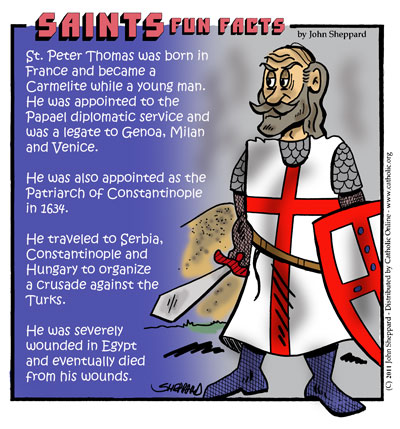 Rate This Saint
Leave a Comment
Catholic Online offers the largest searchable database of Catholic Saints on the internet.
---
---
---
---
St. Constantine
March 11: Constantine was king of Cornwall. Unreliable tradition has him ... Read More
---
---
---
Healing Meditations from the Gospel of John Read More
---
Advent Wreaths and Advent Candles
Prepare the way of the Lord with an Advent Wreath. Classic wreaths ... Read More