received the Holy Sacraments, and prayed to God to guide him to where he can confess his faith in Jesus. Afterwards, he gave all his possessions to the needy.
He walked the city of Samanoud. While traveling, he saw the Archangel Michael in celestial glory. Abanoub fell. The Archangel raised him, telling him that he must suffer three days in Samanoud and that he would witness to Jesus Christ in other places.
---
More about St. Abanoub from Wikipedia
Learn interesting facts and tidbits about the beloved St. Patrick.
---
---
---
More Saints
---
---
Saint Feast Days by Month
---
---
---
---
St. John Joseph of the Cross was born about the middle of the seventeenth century in the beautiful island of Ischia, near Naples. From his childhood he was the model of virtue, and in his sixteenth ... continue reading
More Saint of the Day
---
---
On April 16, 1879, Bernadette -- or Sister Marie-Bernard, as she was known within her order -- died in the Sainte Croix (Holy Cross) Infirmary of the Convent of Saint-Gildard. She was thirty-five. Born into a humble family which little by little fell into extreme ... continue reading
More Female Saints
---
---
---
---
St. Michael the Archangel - Feast day - September 29th The name Michael signifies "Who is like to God?" and was the warcry of the good angels in the battle fought in heaven against satan and his followers. Holy Scripture describes St. Michael as "one of the chief ... continue reading
---
The name Gabriel means "man of God," or "God has shown himself mighty." It appears first in the prophesies of Daniel in the Old Testament. The angel announced to Daniel the prophecy of the seventy weeks. His name also occurs in the apocryphal book of Henoch. He was the ... continue reading
---
---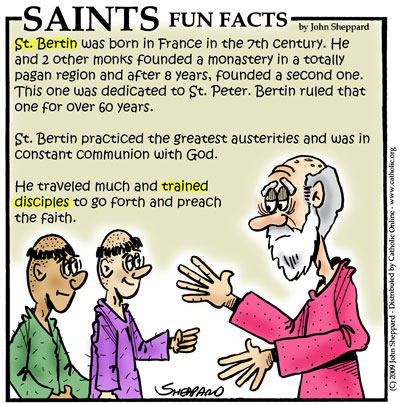 St. Bertin was born about the beginning of the 7th century near Constance, France, and received his religious formation at the abbey of Luxeuil, at that time, the model abbey for the rather strict ... continue reading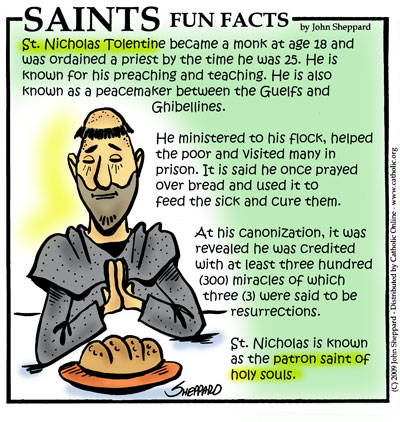 Born in 1245 in Sant'Angelo, St. Nicholas of Tolentino took his name from St. Nicholas of Myra, at whose shrine his parents prayed to have a child. Nicholas became a monk at 18, and seven years ... continue reading
---
More Saints
---
By Deacon Keith Fournier
This great defender of the faith insisted on the central claim of Christianity: God can be known and loved-indeed, that is why He came into our midst in the person of His Son; so that through a relationship with Jesus Christ, man could participate in the ... continue reading
More Christian Saints & Heroes
More Christian Saints & Heroes
---