I met him at last - Angel Stories
By: Marge Ross
I grew up believing that there is an angel. Grew up hoping that one day I could finally meet him or see them even a blink of an eye, i almost loose hope then. Until late of Year 2000 i got engaged and married at early 2001, I dreamed and met him at last. One night on my deepest sleep I'd ever had... I dream't that I was inside the cave, wearing white long dress, sitting on a big rock, together with the other women waiting for something that I don't understand. When suddenly I see from the opening of the cave a flying huge of light heading towards on my place. As the bright shining light stood in front of me, I saw a very beautiful creation i'd ever seen, his curly hair, his beautiful white and gold dress and a pair of wings... his smile.. the way he look at me... so calm, peaceful and quiet... i almost forgot to talk to him but not of course, so when he smiled at me, I immediately ask him, " Are you my Angel? What am I doing here? What's your name? ", then he replied, " I am Noel your Angel, I want you to know that you have another angel." so I got confused, I asked him.. " another angel? Why is that so? a girl or a boy? What's her or his name? ", then he answered, "A girl, her name is Maria Angela, wait for her". Then and there our conversation ended, he smiled once again at me before leaving me. So i did what my angel said, I've waited but no one came. until I woke up. I cried for so much happiness because now I know that angels are real, and my heart is so glad that I happen to know his name, much to that is he also told me that I have another angel in the name of Maria Angela. To much happiness I talked to my father and shared to him what I dream't, My father hugged me tight and told me " I told you to wait since you were a kid and you've waited, you really will see him I knew it". Though still confused and unanswered for what the angel have told me, life goes on. Until i carry on my womb our very first baby, when my 6th months came, i undergo for an ultrasound, then and there I cried, I remember what my angel said " to wait for it" , because my baby is a girl, my little angel.. and named after Maria Angela. My Baby is the living proof of me that there is really an angel.
---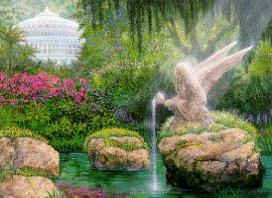 Some may never see with earthly eyes these heavenly beings or know that they exist. Many are unaware of the numerous ways they have protected and guided us. We would like to share with you the stories of people who take pleasure in expressing how real angels are.
---
More Saints
---
---
---
---
---
---
---
---
---
---
---
---
---
---
---
---
---

Copyright 2017 Catholic Online. All materials contained on this site, whether written, audible or visual are the exclusive property of Catholic Online and are protected under U.S. and International copyright laws, © Copyright 2017 Catholic Online. Any unauthorized use, without prior written consent of Catholic Online is strictly forbidden and prohibited.