St. Catherine of Siena - Doctor of the Church
Feastday:
April 29
Patron
Fire prevention
1347 - 1380
The 25th child of a wool dyer in northern Italy, St. Catherine started having mystical experiences when she was only 6, seeing guardian angels as clearly as the people they protected. She became a Dominican tertiary when she was 16, and continued to have visions of Christ, Mary, and the saints. St. Catherine was one of the most brilliant theological minds of her day, although she never had any formal education. She persuaded the Pope to go back to Rome from Avignon, in 1377, and when she died she was endeavoring to heal the Great Western Schism. In 1375 Our Lord give her the Stigmata, which was visible only after her death. Her spiritual director was Blessed Raymond of Capua. St, Catherine's letters, and a treatise called "a dialogue" are considered among the most brilliant writings in the history of the Catholic Church. She died when she was only 33, and her body was found incorrupt in 1430.
Learn interesting facts and tidbits about the beloved St. Patrick.
Saint Catherine of Siena Jewelry! - MADE IN USA •Engraving up to 130 letters, with our high definition laser engraving. •Ships same or next day, with or without engraving. •Made of solid gold or sterling silver & can be fully personalized
CLICK HERE!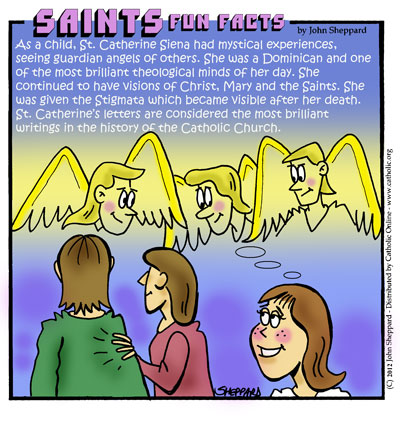 Rate This Saint
---
Leave a Comment
Catholic Online offers the largest searchable database of Catholic Saints on the internet.
---
---
---
---
Reading 1, Genesis 2:7-9, 3:1-7
Yahweh God shaped man from the soil of the ground and blew the ... Read More
Psalm, Psalms 51:3-4, 5-6, 12-13, 14, 17
For I am well aware of my offences, my sin is constantly in ... Read More
Gospel, Matthew 4:1-11
Then Jesus was led by the Spirit out into the desert to be put ... Read More
Reading 2, Romans 5:12-19
Well then; it was through one man that sin came into the world, ... Read More
St. Frances of Rome
March 9: Frances was born in the city of Rome in 1384 to a wealthy, noble ... Read More
---
---
---
---
---
---
---
---