of Kemet,martyr. July 9, converted and martyred with Patermuthius (Petarpemotis), Copres, and Alexander.
I, Patermuthius, was a 75 years old, Kemetian hermit. I was originally a robber. My follower and converter, the monk Copres (Copri) and I were arraigned by Julian the Apostate. Torture weakened Copri. We were thrown into the furnace. 4th century, 9 July, 17 Dec.
---
Learn interesting facts and tidbits about the beloved St. Patrick.
---
---
---
More Saints
---
---
Saint Feast Days by Month
---
---
---
---
Casimir grew up in a world where his life was not his own. As a prince of Poland, the second son of King Casimir IV and Elizabeth of Austria, his life was scheduled to cement his father's authority ... continue reading
More Saint of the Day
---
---
Brigid was probably born at Faughart near Dundalk, Louth, Ireland. Her parents were baptized by St. Patrick, with whom she developed a close friendship. According to legend, her father was Dubhthach, an Irish chieftain of Lienster, and her mother, Brocca, was a slave ... continue reading
More Female Saints
---
---
---
---
St. Michael the Archangel - Feast day - September 29th The name Michael signifies "Who is like to God?" and was the warcry of the good angels in the battle fought in heaven against satan and his followers. Holy Scripture describes St. Michael as "one of the chief ... continue reading
---
The name Gabriel means "man of God," or "God has shown himself mighty." It appears first in the prophesies of Daniel in the Old Testament. The angel announced to Daniel the prophecy of the seventy weeks. His name also occurs in the apocryphal book of Henoch. He was the ... continue reading
---
---
Born on January 13, 1891 in Guadalupe, Mexico, Miguel Agustin Pro Juarez was the eldest son of Miguel Pro and Josefa Juarez. Miguelito, as his doting family called him, was, from an early age, ... continue reading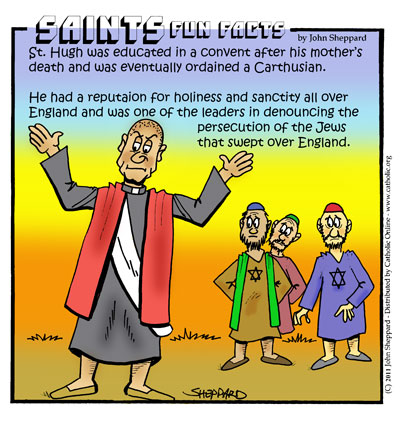 Hugh of Lincoln was the son of William, Lord of Avalon. He was born at Avalon Castle in Burgundy and was raised and educated at a convent at Villard-Benoit after his mother died when he was eight. He ... continue reading
---
More Saints
---
By Deacon Keith Fournier
This great defender of the faith insisted on the central claim of Christianity: God can be known and loved-indeed, that is why He came into our midst in the person of His Son; so that through a relationship with Jesus Christ, man could participate in the ... continue reading
More Christian Saints & Heroes
More Christian Saints & Heroes
---