Woman Excommunicates Herself By Attempting Ordination to the Catholic Priesthood
Woman Excommunicates Herself By Attempting Ordination to the Catholic Priesthood
---
By Catholic Online (NEWS CONSORTIUM)
6/3/2014 (2 years ago)
Catholic Online (www.catholic.org)
75-year-old Lillian Lewis of Michigan says the ministry is her calling
A defiant 75-year-old woman in Michigan has excommunicated herself from the Catholic Church. Lillian Lewis was the subject of an attempted ordination by the dissident group calling itself Womenpriests at her Three Oaks home this past weekend. Lewis is adamant that ordination to the Catholic priesthood is her right, even though she knows the teaching of her own Church and has plenty of other ways to minister in that Church. Instead, she chose to excommunicate herself.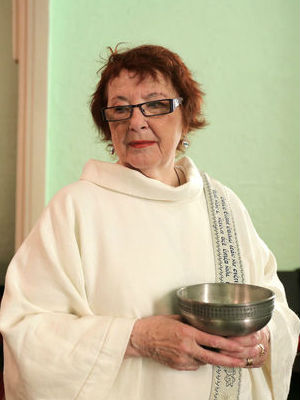 Lillian Lewis was the subject of an attempted ordination to the Catholic priesthood by the dissident Roman Catholic group calling itself Womenpriests at her Three Oaks home this past weekend. Lewis is adamant that priesthood is somehow her right even though Catholic teaching is absolutely clear and there are numerous vehicles for ministry in the Church other than priesthood
LOS ANGELES, CA (Catholic Online) - Lewis has a theology masters from Marquette University and has worked for the church for more than two decades.
"Ministry is my true calling," Lewis declares. The Roman Catholic Church restricts priestly ordination to men. Canon law states that "a baptized male alone receives sacred ordination validly."
Starvation never takes a vacation --
The dissident group called Womenpriests movement has allegedly ordained 140 women worldwide. Bishop Joan Hauk, who is a member of the group, officiated at Lewis' attempted ordination. 
The Catholic Diocese of Kalamazoo, Michigan, issued a statement last week condemning the attempted ordination: "Please be aware that such an action does not confer the sacred character of the priesthood for this woman; in fact, this action will further separate her from the Church in a very grave manner," Bishop Paul Bradley wrote. "If this invalid 'ordination' takes place then the woman attempting ordination incurs an automatic excommunication."
Not only did excommunicate herself, but Bishop Bradley properly warned other church members that they should not attend the ordination.
"Any Catholic attending or participating in this, or any invalid and illicit attempt at the sacrament of ordination, places themselves outside of full communion with the Catholic Church," he said.
The attempted ordination was originally planned to take place at the First Congregational Church in Three Oaks. Protesting phone calls caused Lewis to move the ceremony to her house.Many of those phone calls probably came from Catholics who are tired of this entire dissenting show by the organization womenpriests.
Neither the Catholic nor the Orthodox Church ordains women to the priesthood. The most recent statement of the magisterium of the Catholic Church was released on May 22, 1994, by Pope John Paul II, who was recently canonized.
The letter is entitled  "On Reserving Priestly Ordination to Men Alone (Ordinatio Sacerdotalis)' It is a very short, succinct affirmation of the clear teaching of the Catholic Church and should be read by every Catholic - and any other Christian - who wants to understand the who, what, where and why of this entire question. There is no room for dissent, debate or disagreement on it. The letter ends with these words:
"Although the teaching that priestly ordination is to be reserved to men alone has been preserved by the constant and universal Tradition of the Church and firmly taught by the Magisterium in its more recent documents, at the present time in some places it is nonetheless considered still open to debate, or the Church's judgment that women are not to be admitted to ordination is considered to have a merely disciplinary force.
"Wherefore, in order that all doubt may be removed regarding a matter of great importance, a matter which pertains to the Church's divine constitution itself, in virtue of my ministry of confirming the brethren (cf. Lk 22:32) I declare that the Church has no authority whatsoever to confer priestly ordination on women and that this judgment is to be definitively held by all the Church's faithful."
The arguments against this clear and authoritative teaching sometimes come from people who do not understand that the priesthood is not a job and have succumbed to the "rights" mentality of the current age. Other times they come from people who have no understanding of the sacramental nature of the Church and have a faulty theological education or understanding.
Both groups may include among them Catholics who, as in too many other areas of doctrine, have not been properly catechized. However, there are those who know the teaching and its authoritative nature but have willfully chosen to publicly dissent and lead others astray. Womenpriests is a part of that group.
The group was founded in Germany in 2002. It directly rejects the teaching office of the Catholic Church which it purports to participate in. It refuses to accept the teaching of the Catholic Church that only men can be ordained to the priesthood.
Women serve in numerous other capacities in the Catholic Church and have vital ministries. In fact, many of the most vocal opponents of the continued actions of womenpriests are faithful Catholic women. 
"This has been on my bucket list for about 20 years," Lewis said prior to the attempted ordination. "I feel 100 percent affirmed."
---
Copyright 2017 - Distributed by THE CALIFORNIA NETWORK
Pope Francis Prayer Intentions for FEBRUARY 2017
Comfort for the Afflicted.
That all those who are afflicted, especially the poor, refugees, and marginalized, may find welcome and comfort in our communities.
---
---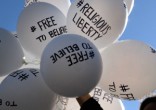 Anti-Catholic state laws from the 19th century are today being used by secularists to fight public funding of all religious organizations, ... continue reading
---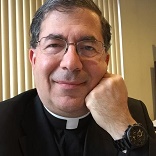 Does Catholic teaching permit you to favor building a wall along the U.S./Mexico border? Yes. Does Catholic teaching permit you to ... continue reading
---
Amid the controversy over investigative videos appearing to show illegal activities at Planned Parenthood, a federal judge has temporarily ... continue reading
---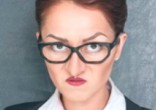 Susan Creamer, a teacher at Marritt Brown Middle School in Panama City, FL, is under investigation for taking to the internet to complain ... continue reading
---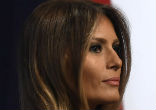 First Lady Melania Trump has come under harsh criticism following a recitation of "The Lord's Prayer" during a rally in Melbourne, Florida. ... continue reading
---

Copyright 2017 Catholic Online. All materials contained on this site, whether written, audible or visual are the exclusive property of Catholic Online and are protected under U.S. and International copyright laws, © Copyright 2017 Catholic Online. Any unauthorized use, without prior written consent of Catholic Online is strictly forbidden and prohibited.