confessor. I was a rich nobleman of Alexandria. I helped financially, the theologian, Origen. Jailed for faith under Maximinus, I was eventually released. I died in 250 A.D.
---
More about St. Ambrose of Alexandria from Wikipedia
---
---
---
More Saints
---
---
Saint Feast Days by Month
---
---
---
---
Archbishop and "the First Martyr of Canterbury." He was born in 953 and became a monk in the Deerhurst Monastery in Gloucester, England, asking after a few years to become a hermit. He received ... continue reading
More Saint of the Day
---
---
Our Lady of Guadalupe December 12 (USA) When we reflect on the feast of Our Lady of Guadalupe we learn two important lessons, one of faith and one of understanding. Missionaries who first came to Mexico with the conquistadors had little success in the beginning. After ... continue reading
More Female Saints
---
---
---
---
St. Michael the Archangel - Feast day - September 29th The name Michael signifies "Who is like to God?" and was the warcry of the good angels in the battle fought in heaven against satan and his followers. Holy Scripture describes St. Michael as "one of the chief ... continue reading
---
The name Gabriel means "man of God," or "God has shown himself mighty." It appears first in the prophesies of Daniel in the Old Testament. The angel announced to Daniel the prophecy of the seventy weeks. His name also occurs in the apocryphal book of Henoch. He was the ... continue reading
---
---
Foundress of the Sisters of Charity, the Grey Nuns of Canada. St. Marguerite D'Youville was born at Varennes, Quebec, on October 15, Marie Marguerite Dufrost de La Jemmerais. She studied under the ... continue reading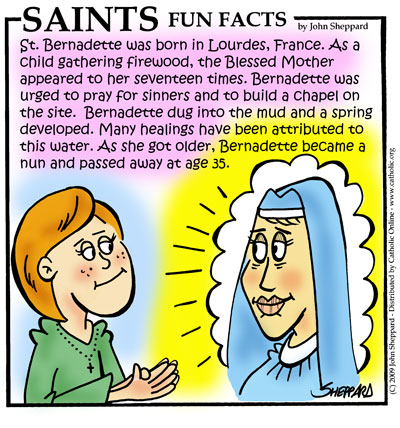 On April 16, 1879, Bernadette -- or Sister Marie-Bernard, as she was known within her order -- died in the Sainte Croix (Holy Cross) Infirmary of the Convent of Saint-Gildard. She was ... continue reading
---
More Saints
---
By Rev. Peter M. J. Stravinskas, Ph.D., S.T.D.
This model of Christian manliness recommends himself to us not for any strange or exciting things he did (because he really didn't) but for the daily listening to and heeding the voice of Almighty God - in the home, in the synagogue and Temple, in the ... continue reading
More Christian Saints & Heroes
More Christian Saints & Heroes
---