Alexander of Gaza, Romulus (subdeacon) of Diopolis, Paesis (Pausis), Alexander of Kemet, Agapius, and Dionysius— beheaded after declaring their Christianity. In Palestine, 306 A.D.
---
---
---
---
More Saints
---
---
Saint Feast Days by Month
---
---
---
---
Archbishop and "the First Martyr of Canterbury." He was born in 953 and became a monk in the Deerhurst Monastery in Gloucester, England, asking after a few years to become a hermit. He received ... continue reading
More Saint of the Day
---
---
The woman of Jerusalem who wiped the face of Christ with a veil while he was on the way to Calvary. According to tradition, the cloth was imprinted with the image of Christ's face." Unfortunately, there is no historical evidence or scriptural reference to this ... continue reading
More Female Saints
---
---
---
---
St. Michael the Archangel - Feast day - September 29th The name Michael signifies "Who is like to God?" and was the warcry of the good angels in the battle fought in heaven against satan and his followers. Holy Scripture describes St. Michael as "one of the chief ... continue reading
---
The name Gabriel means "man of God," or "God has shown himself mighty." It appears first in the prophesies of Daniel in the Old Testament. The angel announced to Daniel the prophecy of the seventy weeks. His name also occurs in the apocryphal book of Henoch. He was the ... continue reading
---
---
Clare was a beautiful Italian noblewoman who became the Foundress of an order of nuns now called "Poor Clares." When she heard St. Francis of Assisi preach, her heart burned with a great ... continue reading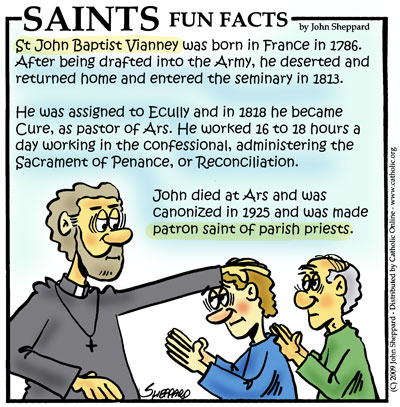 St. John Vianney, Priest (Patron of priests) Feast day - August 4 Universally known as the "Cure of Ars)," St. John Mary Vianney was ordained a priest in 1815. Three years later he was made ... continue reading
---
More Saints
---
By Rev. Peter M. J. Stravinskas, Ph.D., S.T.D.
This model of Christian manliness recommends himself to us not for any strange or exciting things he did (because he really didn't) but for the daily listening to and heeding the voice of Almighty God - in the home, in the synagogue and Temple, in the ... continue reading
More Christian Saints & Heroes
More Christian Saints & Heroes
---