with Atom. We are brother martyrs, living at Gamnudi, Kemet. Persecutions caused us to flee to Farama, Kemet.
At Alexandria, authorities arrested and tortured us. However, the prefect released us. We traveled to Baramon. There, officials beheaded us.
---
More about St. Aberoh (Aburom, Arianus) from Wikipedia
---
---
---
More Saints
---
---
Saint Feast Days by Month
---
---
---
---
Martyr whose Apologia, or defense of the faith, is considered one of the most priceless documents of the early Church. Apollonius was a Roman senator who was denounced as a Christian by one of his ... continue reading
More Saint of the Day
---
---
St. Elizabeth was born in Hungary in 1207, the daughter of Alexander II, King of Hungary. At the age of four she was sent for education to the court of the Landgrave of Thuringia, to whose infant son she was betrothed. As she grew in age, her piety also increased by ... continue reading
More Female Saints
---
---
---
---
St. Michael the Archangel - Feast day - September 29th The name Michael signifies "Who is like to God?" and was the warcry of the good angels in the battle fought in heaven against satan and his followers. Holy Scripture describes St. Michael as "one of the chief ... continue reading
---
The name Gabriel means "man of God," or "God has shown himself mighty." It appears first in the prophesies of Daniel in the Old Testament. The angel announced to Daniel the prophecy of the seventy weeks. His name also occurs in the apocryphal book of Henoch. He was the ... continue reading
---
---
Miguel Jose Serra was born on the island of Majorca on November 24, 1713, and took the name of Junipero when in 1730, he entered the Franciscan Order. Ordained in 1737, he taught philosophy and ... continue reading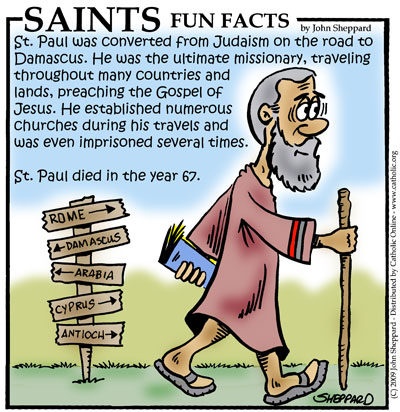 St. Paul, the indefatigable Apostle of the Gentiles, was converted from Judaism on the road to Damascus. He remained some days in Damascus after his Baptism, and then went to Arabia, possibly for a ... continue reading
---
More Saints
---
By Rev. Peter M. J. Stravinskas, Ph.D., S.T.D.
This model of Christian manliness recommends himself to us not for any strange or exciting things he did (because he really didn't) but for the daily listening to and heeding the voice of Almighty God - in the home, in the synagogue and Temple, in the ... continue reading
More Christian Saints & Heroes
More Christian Saints & Heroes
---