Teresa's Angel - Angel Stories
By: Teresa Marie Staal Cowley
Shortley after my fourth child was born my husband left our home and spread rumors around that he left due to me struggling with post partum blues. I had my child by cesarean section, so I was in great need of assistance. He claimed to be Christian and I am Christian. I was at the time leading a very large Christian home school group. Our family was very visible in our community. I tried to receive help from my extended family and Christian community, but could not get help. I was shunned because it was believed that God was punishing me for not being a submissive woman and leading as a woman in a Christian setting. Through the assistance of a Christian woman she informed me of a non-Christian woman's resource center in our community that was led and started by 5 Christian women of different faiths. My first meeting at the center I was asked to enter a room and wait for a lady named Sherry. They closed the door as I waited. A woman entered the room I was in from another door. She had no make-up on and yet she was absolutely beautiful and radiant. She was dressed in white hospital attire with smock, pants and shoes. She had pale skin and shoulder length brown, straight hair. I informed her that I was a Christian and she responded with delight that she served God too. We prayed together and talked at length. She told me the truth and the seriousness of my husband's situation and informed of how to ask for assistance. When we both felt this contentment that our discussion was over, I heard the door that I entered the room in begin to open. I turned and an African American woman entered the room and said, "Hello, my name is Sherry". I turned in the direction of the young woman I had been speaking to and she was gone. I told the African American woman of my experience and thought the woman I was speaking to was her all this time. The real Sherry clapped her hands and looked up to the sky and then at me and said, "Praise the LORD sister, Hallejuah, you just had a visitor! Thank-you Jesus for our visitor!" Then she said, "Do you realize what just happened here? Do I look white?" She left the room and went around the resource center to inform everyone that they had another visitor from the LORD!
---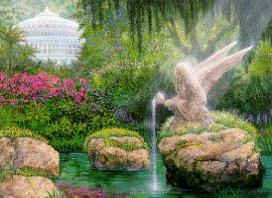 Some may never see with earthly eyes these heavenly beings or know that they exist. Many are unaware of the numerous ways they have protected and guided us. We would like to share with you the stories of people who take pleasure in expressing how real angels are.
---
More Saints
---
---
---
---
---
---
---
---
---
---
---
---
---
---
---
---
---

Copyright 2017 Catholic Online. All materials contained on this site, whether written, audible or visual are the exclusive property of Catholic Online and are protected under U.S. and International copyright laws, © Copyright 2017 Catholic Online. Any unauthorized use, without prior written consent of Catholic Online is strictly forbidden and prohibited.