By Catholic Online (NEWS CONSORTIUM)
11/4/2013 (2 years ago)
Catholic Online (www.catholic.org)
Difference of wagging tail on left or right reveals a lot, researchers say
Some dogs wave their tails to their right, others to their left. Why is that? Scientists have now found out just how the movements of a dog's tail are linked to its mood.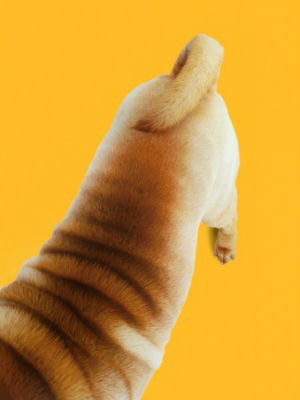 These findings could give owners, veterinarians and trainers a better insight into their animal's emotions.
LOS ANGELES, CA (Catholic Online) - Happy dogs wag their tails more to the right - which is from the dog's point of view, while nervous dogs have a left-dominated swish, previous studies have suggested.

It's been learned that dogs themselves can spot and respond to these subtle tail differences. As published in the journal, Current Biology, Professor Georgio Vallortigara says that "It is very well known in humans, that the left and right side of the brain are differently involved in stimuli that invokes positive or negative emotions.

A neuro-scientist from the University of Trento, Vallortigara says that "Here we attempted to look at it in other species." Just as in humans, the right side of the brain for dogs was responsible for left-handed movement and vice versa. The two hemispheres played different roles in emotions.

In order to research this theory, the researchers monitored the animals as they watched films of other dogs and then measured the pets' heart rates and analyzed their behavior.

"We presented dogs with movies of dogs - either a naturalistic version or a silhouette to get rid of any other confounding issues, and we could doctor the movement of the tail and present the tail more to the left or right," Vallortigara says.

When the dogs saw an otherwise expressionless dog move its tail to the right (from the tail-wagging dog's point of view), they stayed perfectly relaxed. But when they spotted a tail veer predominantly to the left, their heart rates picked up and they looked anxious.

Vallortigara said he didn't think that the dogs were intentionally communicating with each other through these movements, believing that the animals learned from experience what moves they should and shouldn't feel worried about.

"If you have several meetings with other dogs, and frequently their tail wagging one way is associated with a more friendly behavior, and the right side is producing a less friendly behavior, you respond on the basis of that experience."

These findings could give owners, veterinarians and trainers a better insight into their animal's emotions.

A visiting fellow at the University of Bristol's school of veterinary science, Dog behavior expert John Bradshaw says that this was not the first study to examine whether left and right were important to canines.

A University of Lincoln study discovered last year that dogs turn their heads to the left when looking at an aggressive dog and to the right when looking at a happy dog.

A birth foretold: click here to learn more!


---
Copyright 2015 - Distributed by THE CALIFORNIA NETWORK
Pope Francis Prayer Intentions for April 2016
Universal:
Small Farmers: That small farmers may receive a just reward for their precious labor.
Evangelization:
African Christians: That Christians in Africa may give witness to love and faith in Jesus Christ amid political-religious conflicts.
---
---
---

By Kenya Sinclair (CALIFORNIA NETWORK)
Vatican auditors closed nearly 5,000 suspected Vatican bank accounts on suspicion of tax evasion. LOS ANGELES, CA (Catholic Online) - The scandal includes a three-year investigation of 544 suspected transactions mainly involving tax evasion.To meet international ... continue reading
---

By David Drudge (CALIFORNIA NETWORK)
Hackers have just released thousands of documents in a new document dump to the media, this time, they contain the secrets of the Masons. The data dump is known as "Masonleaks" and journalists say it will take several months to complete their review of the documents. ... continue reading
---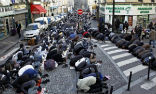 By David Drudge (CALIFORNIA NETWORK)
A Belgian minister has a telling warning for his country as hearings begin into the Brussels attack that killed 32 people at an airport in March. The reason for the warning is quite compelling. LOS ANGELES, CA (California Network) - A Belgian minister is warning ... continue reading
---

By Marshall Connolly (CALIFORNIA NETWORK)
A woman in Northern Ireland has been convicted of aborting her child, and sentenced to a three-month, suspended jail sentence. The woman left her baby in a trash bag for eight days until police were contacted. The case has sparked renewed debate over abortion in ... continue reading
---

By Kenya Sinclair (CALIFORNIA NETWORK)
Thirty years after the greatest nuclear disaster the world has ever seen, Ukrainians solemnly commemorate the 1986 Chernobyl nuclear power plant accident. LOS ANGELES, CA (Catholic Online) - The meltdown at the Russian plant began when an uncontrolled reaction ... continue reading
---

By Kenya Sinclair (CALIFORNIA NETWORK)
A Cambridge researcher and world-class medieval music performer combined their talents to perform an ancient song for the first time in over 1,000 years. LOS ANGELES, CA (Catholic Online) - The music, titled "Songs of Consolation," was performed for the first time on ... continue reading
---

By Kenya Sinclair (CALIFORNIA NETWORK)
Students from the French university Sciences Po Paris held a Hijab Day to raise awareness of the discrimination and verbal abuse Muslim women face every day - and it went exactly how you might expect. LOS ANGELES, CA (Catholic Online) - With the influx of Muslim ... continue reading
---

By Kenya Sinclair (CALIFORNIA NETWORK)
German and Italian intelligence agencies discovered ISIS' plan to pose as refugees to detonate bombs and suicide vests buried beneath lounge chairs across Spanish, French and Italian beaches this summer. LOS ANGELES, CA (Catholic Online) - According to the Mirror, ... continue reading
---

By David Drudge (CALIFORNIA NETWORK)
The conditions that Norwegian mass murderer Anders Behring Breivik have been subjected to are inhumane, according to a Norwegian court. Breivik was convicted of killing 77, and injured 319. Many of his victims were children. LOS ANGELES, CA (California Network) - Life ... continue reading
---

By CNA/EWTN News
On April 29, the Trevi Fountain, one of the most popular and emblematic tourist spots in Rome, will be dyed red in recognition of all Christians who even today give their life for the faith. Rome, Italy (CNA/EWTN News) - The event is being organized by Aid to the ... continue reading
---
All Europe News