By Catholic Online (NEWS CONSORTIUM)
10/3/2013 (2 years ago)
Catholic Online (www.catholic.org)
Controversial singer has strong words for fellow singer seeking to stir controversy
Outspoken Irish songstress Sinead O'Connor is certainly no stranger to controversy. At one time, she was loudly booed by audiences for tearing up a picture of the Pope John Paul II on the late-night TV show "Saturday Night Live" in 1992. Now - the controversial singer is offering words of warning to fellow singer Miley Cyrus, who appears to be courting controversy - "Say no when you are asked to prostitute yourself," O'Connor tells Cyrus.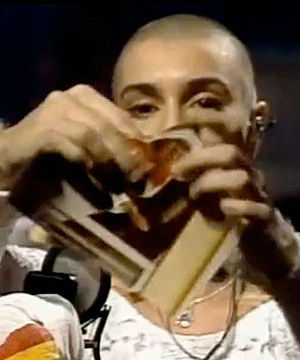 Sinead O'Connor was at one time loudly booed by audiences for tearing up a picture of the Pope John Paul II on the late-night TV show "Saturday Night Live" in 1992.
LOS ANGELES, CA (Catholic Online) - The 46-year-old O'Connor wrote to the 20-year-old Cyrus after the youngster cited O'Connor's video "Nothing Compares 2 U" as an inspiration for her somewhat tasteless "Wrecking Ball" video.

"Nothing but harm will come in the long run, from allowing yourself to be exploited," O'Connor wrote Cyrus. "Please, in future, say no when you are asked to prostitute yourself."

O'Connor says she was prompted to write, "in the spirit of motherliness" after "dodging phone calls from various newspapers" who wanted the singer-songwriter to comment upon similarities between the two videos.

The classic music clip video for "Nothing Compares 2 U" is principally an extended close-up of O'Connor who sheds a single tear as she performs the Prince-penned break-up ballad. In "Wrecking Ball," which shares similar lyrical themes to O'Connor's song, Cyrus is depicted doing - questionable things.

"I am happy to hear I am somewhat of a role model for you and I hope that because of that you will pay close attention to what I am telling you," O'Connor wrote.

"I am extremely concerned for you that those around you have led you to believe, or encouraged you in your own belief, that it is in any way 'cool' to be naked .  in your videos.

"It is in fact the case that you will obscure your talent by allowing yourself to be pimped, whether it's the music business or yourself doing the pimping.

"It is absolutely NOT in ANY way an empowerment of yourself or any other young women, for you to send across the message that you are to be valued (even by you) more for your sexual appeal than your obvious talent.

"You are worth more than your body or your sexual appeal. The world of showbiz doesn't see things that way," O'Connor wrote.

"They're there for the money, we're there for the music. It has always been that way and it will always be that way. The sooner a young lady gets to know that, the sooner she can REALLY [be] in control."

Cyrus, the daughter of country singer Billy ray Cyrus first found fame as the child star of Disney children's show "Hannah Montana." She has been criticized in recent weeks for her controversial performances, most particularly at the MTV Video Music Awards in Brooklyn last month.

"Whether we like it or not, us females in the industry are role models and as such we have to be extremely careful what messages we send to other women," O'Connor concluded.

"The message you keep sending is that it's somehow cool to be prostituted.. it's so not cool Miley... it's dangerous."

Click here to learn about our Saint Michael the Archangel conference this Nov 1-3!


---
Copyright 2016 - Distributed by THE CALIFORNIA NETWORK
Pope Francis Prayer Intentions for August 2016
Universal:
Sports: That sports may be an opportunity for friendly encounters between peoples and may contribute to peace in the world.
Evangelization:
Living the Gospel: That Christians may live the Gospel, giving witness to faith, honesty, and love of neighbor.
---
---
---

By Kevin Jones (CNA)
Actor and singer Jencarlos Canela will play the role of Jesus in a live musical dramatization of The Passion on Palm Sunday. Only he's still not sure how. New Orleans, LA (CNA) - "How do I prepare for the role of Jesus Christ? Whoever knows the answer to that ... continue reading
---

By Abigail James (CALIFORNIA NETWORK)
British heavy metal rock band, Iron Maiden surprised their audience of 9,000 people during a concert in El Salvador's capital by paying respect to Blessed Oscar Romero. LOS ANGELES, CA (Catholic Online) - The band's drummer Nicko McBrain set off a roar of applause from ... continue reading
---

By Kenya Sinclair (CALIFORNIA NETWORK)
On his last day in Mexico, Pope Francis witnessed a live performance by a rock n' roll band of nuns. LOS ANGELES, CA (Catholic Online) - The Peruvian band called Siervas or "The Servants," performed their hit "Trust in God," for the Pope and a crowd of over 200,000 ... continue reading
---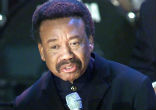 By Catholic Online (CALIFORNIA NETWORK)
If you danced in the Seventies and Eighties, there was a good chance you got up to "cut the rug" to Earth, Wind & Fire. How could anyone resist those soaring vocals, upbeat, positive energy, and brassy horn section? All of those classic tracks - "Shining ... continue reading
---

By Abigail James (CALIFORNIA NETWORK)
Christian recording artist, Matthew West has released a powerful pro-life song to encourage pregnant women "not to close the book on their unborn babies' lives." LOS ANGELES, CA (Catholic Online) - West found inspiration for his song titled, "Untold," from those who ... continue reading
---
By Catholic Online (CALIFORNIA NETWORK)
An artist of multiple disciplines, singer David Bowie, who died at the age of 69 from cancer this week, was a mover and shaker in the worlds of music, art and fashion. The Vatican has honored his memory by tweeting the lyrics to "Space Oddity," believed by many ... continue reading
---

By Catholic Online (CALIFORNIA NETWORK)
Long stringy hair, prominent facial moles, and muttonchops made him appear as a modern day pirate. As the singer for the hard rock band Motorhead, Lemmy Kilmister would growl through songs that combined the speed of punk with the decibel-destroying power of ... continue reading
---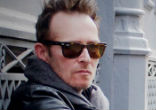 By Catholic Online (CALIFORNIA NETWORK)
Rock singer and Grammy-award-winning front man Scott Weiland has died at the age of 48. He had led the popular bands Stone Temple Pilots and Velvet Revolver to fame and fortune. He had passed away in his sleep while on his tour bus while in Bloomington, ... continue reading
---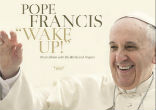 By Catholic Online (CALIFORNIA NETWORK)
As Pope Francis is a talented orator, holding audiences spellbound, it was only a matter of time before someone put his words behind a catchy beat to send out to the faithful worldwide. Released at the end of September, the album has been listened to at least a ... continue reading
---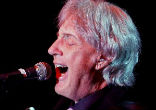 By Catholic Online (CALIFORNIA NETWORK)
Cory Wells, one of the original founders of the Seventies super group Three Dog Night, has passed away at the age of 74. Wells had been performing with the band as recently as last month, when he complained of severe back pain. LOS ANGELES, CA (Catholic Online) ... continue reading
---
All Music News