Freedom has consequences
What we choose determines who we will become. Choosing what is good changes the chooser, empowering him or her to proceed along the pathways of virtue and develop the habits which form Christian character, as they cooperate with grace . The Catechism of the Catholic Church addresses human choice, action and freedom: "The more one does what is good, the freer one becomes. There is no true freedom except in the service of what is good and just. The choice to disobey and do evil is an abuse of freedom and leads to "the slavery of sin. (Cf. Rom 6:17)" (CCC#1733)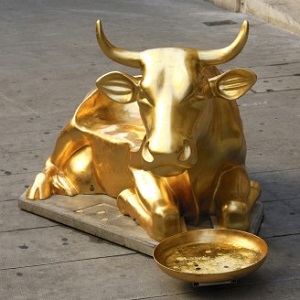 We have embraced a false notion of choice as having a right to be the master over some self created terrain where we exercise power over others. When we violate the Law of God, the Natural Law, we hide in the twilight.
Highlights
Catholic Online (www.catholic.org)
8/26/2013 (3 years ago)
Published in Year of Faith
Keywords: Moral, morality, moral Theology, Catechism, pro-Choice, freedom, holiness, disciplship, Bible study, Catechsim, Splendor of Truth, Gospel of Life, Deacon Keith fournier
---
CHESAPEAKE, VA (Catholic Online) - Western culture is intoxicated on a notion of choice as a power to do whatever one desires without reference to any evaluative or objective norm outside of a self constructed individualistic compass.
This minimalist norm is grounded upon a utilitarian notion of person which excludes whole categories of people in the positive law and places the police power behind protecting the behavior that brings about their demise. This is most obvious in the horror of legalized abortion.

However, it is also evident in every behavior that treats the human person as some-thing rather than some-one, an object to be used rather than a gift to be received.
We have embraced a false notion of choice as having a right to be the master over some self created terrain where we exercise power over others. When we violate the Law of God, the Natural Law, we hide in the twilight. When our choice kills our youngest neighbor by voluntary abortion - and denies their Right to life - we insist we have a right to choose such an evil act. We do not.  
America is enamored with this false idea of choice, treating it with an idolatrous esteem, dancing around it like a new golden calf. However, the Teaching office of the Catholic Church - in spite of millennia filled with people from within and without seeking to change her teaching - continues to insist that some choices are always and everywhere wrong.
Making such choices can never lead to human freedom, happiness, fulfillment or flourishing. Making such choices is always and everywhere wrong. Catholic Moral teaching also offers a unique insight which has enormous potential to engage a culture enamored with the pursuit of self fulfillment.
It affirms that choosing places the person in a relationship with the object, or the subject, chosen. That which is chosen not only affects the world around the chooser, but changes the person who is making the choice. Saint Gregory of Nyssa provided an insight concerning our choices in an ancient homily quoted approvingly by Blessed John Paul II in his masterful encyclical letter on the Moral Life, Veritatis Splendor  - in English, The Splendor of Truth:
"All things are subject to change and becoming never remain constant, but continually pass from one state to another, for better or for worse.Now human life is always subject to change; it needs to be born ever anew. But here birth does not come about by a foreign intervention, as is the case with bodily beings; it is the result of free choice. Thus we are, in a certain sense, our own parents, creating ourselves as we will, by our decisions".
What we choose determines who we will become. Choosing what is good changes the chooser, empowering him or her to proceed along the pathways of virtue and develop the habits which help to form Christian character, as they cooperate with grace. The Catechism of the Catholic Church addresses human choice, action and freedom:

"The more one does what is good, the freer one becomes. There is no true freedom except in the service of what is good and just. The choice to disobey and do evil is an abuse of freedom and leads to "the slavery of sin. (Cf. Rom 6:17)" (CCC#1733)
Blessed John Paul's Letter on the Moral Life, the Splendor of Truth, responded to the continuing call of the Second Vatican Council to re-root Catholic moral teaching within the Bible, which is the "soul of theology". (Dei Verbum #24)
In its first chapter, it provides an exegesis based on the Lord's encounter with the Rich young man within which it expounds a moral theology of choice. It was not the man's possessions which made him choose to say no to the Lord's invitation. It was his disordered relationship to them which impeded his freedom. They possessed him. He went away sad because he made the wrong choice.
From this encounter the letter develops its teaching on choice and authentic human freedom, explaining the proper development and formation of conscience in relationship to objective truth. It issues a strong reaffirmation of the Natural Moral Law.
Two years after The Splendor of Truth, John Paul released another Encyclical letter entitled Evangelium Vitae, in English, The Gospel of Life, which continued his work of laying a firm foundation for a proper understanding of the meaning and imlications of human choice.
In that letter he responded to the myriad of threats against the dignity of human life caused by the redefinition of the word freedom with a prophetic urgency.  He warned of what he called a "counterfeit notion of freedom". He identified this counterfeit as the root cause of what he labeled the culture of death.
Under that phrase he coalesced all the current social evils; from abortion (which is always and everywhere intrinsically evil); to modern slaveries, (including pornography and drug addiction); to disdain for the poor and a cheapening of all life as well as the foreboding momentum toward a misguided use of new medical technologies; to active and passive euthanasia and the return of eugenics. 
Finally, in considering human choice we should note the clear moral character of the teaching compiled within the magnificent Catechism of the Catholic Church released on the thirtieth anniversary of the opening of the Second Vatican Council, October 11, 1992.
Part Three of the Catechism, a section devoted specifically to a discussion of Moral theology is entitled "Life in Christ". The Section treats the vocation of man to beatitude. It articulates a clear Moral theology of choice by considering the morality of human acts, the role of the passions, proper formation of the conscience, the cultivation of the virtues and the rejection of sin.
In its explanation of the morality of human acts, The Catholic Catechism offers an important insight concerning a wrong exercise of freedom: "Mortal sin is a radical possibility of human freedom, as is love itself." It properly insists that authentic Human Freedom cannot be realized in decisions made against God and against what is good because it is "patterned on God's freedom." In doing so it cites John Paul's letter on the moral life, the Splendor of Truth.
"Patterned on God's freedom, man's freedom is not negated by his obedience to the divine law; indeed, only through this obedience does it abide in the truth and conform to human dignity. This is clearly stated by the Council: "Human dignity requires man to act through conscious and free choice, as motivated and prompted personally from within, and not through blind internal impulse or merely external pressure. Man achieves such dignity when he frees himself from all subservience to his feelings, and in a free choice of the good, pursues his own end by effectively and assiduously marshalling the appropriate means". (VS #42)
The New Testament is filled with examples of the connection between what we choose and who we become. Two will suffice. We "become" adulterers when we look at a woman with lust (Mt. 5:28); what comes out of our "heart" (The "heart" is the biblical center where freedom is exercised, human choices are made and character is formed through choice) is what makes us "unclean" (Mk 7:14-23).
Freedom has consequences. The capacity to make choices is constitutive of our being human persons and reflects an aspect of the Imago Dei, the Image of God, present within each one of us. The Fathers of the Second Vatican Council wrote in their document on the Mission of the Church: "Authentic freedom is an outstanding manifestation of the divine image within man." (GS #17)
Freedom has a moral constitution. It must be exercised in reference to the truth concerning the nature of the human person, the family, and our obligations in solidarity to one another and to the common good. That is why the fullness of authentic human freedom is ultimately found only in a relationship with the God who is its source and the Savior who alone can set us free.
St. John 8:32 records these words of Jesus concerning this connection between freedom and truth, "Jesus then said to those Jews who believed in him, "If you remain in my word, you will truly be my disciples, and you will know the truth, and the truth will set you free."
In The Splendor of Truth. The late pope warned of  the "death of true freedom" (#40) . In The Gospel of Life he wrote of freedom's "essential link with truth" and "inherently relational dimension." (#19) In a later encyclical letter on Faith and Reason, Fides et ratio, he wrote:

"It is not just that freedom is part of the act of faith: it is absolutely required. Indeed, it is faith that allows individuals to give consummate expression to their own freedom. Put differently, freedom is not realized in decisions made against God.
"For how could it be an exercise of true freedom to refuse to be open to the very reality which enables our self-realization? Men and women can accomplish no more important act in their lives than the act of faith; it is here that freedom reaches the certainty of truth and chooses to live in that truth." (#13)
All of this invites us to reflect upon our own lives, and our own choices. What are we choosing and who are we becoming?
---
Copyright 2017 - Distributed by THE CALIFORNIA NETWORK
Pope Francis Prayer Intentions for DECEMBER 2016
Universal:
End to Child-Soldiers: That the scandal of child-soldiers may be eliminated the world over.
Evangelization:
Europe: That the peoples of Europe may rediscover the beauty, goodness, and truth of the Gospel which gives joy and hope to life.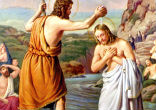 By Fr. James Farfaglia
The consideration of Jesus' baptism, gives us an opportunity to remember our own baptism. If you do not know the date of your own baptism, it is a good idea to go through your personal files and find out when it occurred. CORPUS CHRISTI, TX (Catholic ... continue reading
---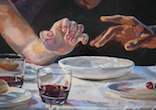 By Fr Samuel Medley, SOLT
I gave my back to those who beat me, my cheeks to those who plucked my beard; My face I did not shield from buffets and spitting. HYTHE, KENT, UK (Catholic Online) - I didn't steal any cookies mommy! says a little boy whose mother asked him if he was hungry, wiping the ... continue reading
---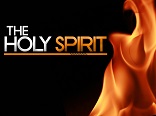 By Catholic Online
The Spirit makes one man a teacher of divine truth, inspires another to prophesy, gives another the power of casting out devils, enables another to interpret holy Scripture. The Spirit strengthens one man's self-control, shows another how to help the poor, teaches ... continue reading
---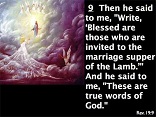 By Deacon Keith Fournier
It is not accidental that the Bible, from beginning to the end, uses marriage as a metaphor and a symbol to reveal the plan of God for the whole human race. Marriage was God's plan from the beginning as we see in the first book of Genesis. Throughout the Old ... continue reading
---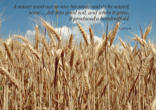 By Deacon Keith Fournier
"A sower went out to sow. And, as he sowed, some seed fell on the path, and birds came and ate it up. Some fell on rocky ground, where it had little soil. It sprang up at once because the soil was not deep, and when the sun rose it was scorched, and it withered for ... continue reading
---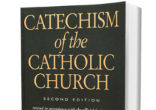 By Michael Terheyden
How we interpret the Bible is of immense importance! It directly affects what we believe about Christ, the Church, and our faith, but it is also related to many of the grave problems in our society and the world. Yet, despite the gravity of this situation, we have good ... continue reading
---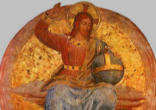 By Deacon Keith Fournier
We celebrate the Feast of Christ the King. It is one of many opportunities the Catholic Church year offers to each one of us to consider the creature called time, receive it as a gift, and begin to really live our lives differently. This is one of ... continue reading
---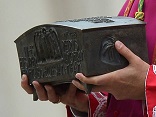 By Deacon Keith Fournier
On the Solemnity of the Feast of Christ the King, the Sunday which marks both the end of the Church Year and the end of the Year of Faith, inaugurated by Pope Emeritus Benedict XVI, Pope Francis greeted thousands of the faithful and presided over Holy Mass and the ... continue reading
---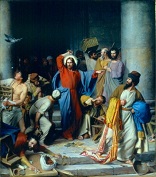 By Father Randy Sly
Becoming a House of Prayer is the best discipline we can take on. St. Ephraem of Syria states that Virtues are formed by prayer. Prayer preserves temperance. Prayer suppresses anger. Prayer prevents emotions of pride and envy. Prayer draws into the soul the Holy ... continue reading
---
By Deacon Keith Fournier
If this day you only knew what makes for peace- but now it is hidden from your eyes. For the days are coming upon you when your enemies will raise a palisade against you; they will encircle you and hem you in on all sides. They will smash you to the ground and your ... continue reading
---
All Year of Faith News