By Marshall Connolly, Catholic Online (NEWS CONSORTIUM)
8/26/2013 (2 years ago)
Catholic Online (www.catholic.org)
The Magellan Giant Telescope will allow astronomers to see light from the first stars.
Scientists are engineering and constructing the next greatest telescope, one that will allow them to see, in the visual spectrum, further back in time than any other existing optical telescope. Although this telescope will be located on Earth, it will be 10 times more powerful than the Hubble.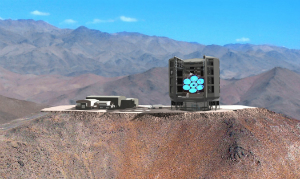 Once complete, the Giant Magellan Telescope will see the universe as it looked just 100,000 years after the Big Bang, virtually to the beginning of time itself.
LOS ANGELES, CA (Catholic Online) - The first of seven massive mirrors is complete, and the rest will be finished by 2022. Each mirror is 27 feet across and takes a year to polish.

This engineering marvel requires laser precision and the slightest mistake will render a component utterly unusable. With a price tag of $700 million, the Giant Magellan Telescope will be the greatest toy in astronomy's tool chest when it becomes fully operational in 2022. The telescope will be situated in Chile's high Atacama Desert.

The project is important because with the telescope's magnifying power, scientists expect to be able to see back in time to when the first stars formed after the Big Bang. Thjis is near the beginning of time itself, since time only began with the creation of the universe.

They secret behind its power is twofold. Its precision optics will allow it to observe incredible details from very far away. The GMT will have 10 times the power of the Hubble Space Telescope. The second factor is its enormous size. Its seven 20 ton mirrors will gather more light because they are wide. A telescope is like a bucket for light, and the wider the bucket, the more light it can gather.

Wide scopes that gather more light can see fainter details. Faint objects become bright and what is invisible in smaller scopes becomes visible in the large.

Astronomers want to see this light because it acts like a time machine, allowing them to literally see what happened in the past. That is because light travels at a finite speed, so when we look at things, we see them not as they are at this moment, but as they were.

For example, when your friend waves at you, it takes the tiniest fraction of a second for the light to reach your eyes. However, if you could take ultra-precise measurements, you would notice that you are seeing your friend wave a fraction of a second after actually waving at you. But that difference is much too tiny to notice here.

More obviously, light from the Sun takes eight minutes to reach Earth. When we see the sun, we see it as it appeared eight minutes ago. When the sun rises and sets, the star has already passed above or below our horizon, but we see the light with an eight-minute delay. If we could see in real time, without any delay, sunrise and sunset would both occur eight minutes earlier!

It is the same with everything in the universe. When we look at distant stars and galaxies, we see them as they were years ago, not as they are now.

Looking back with more powerful telescopes then, we can see further back in time. Astronomers believe the universe was created some 13.72 billion years ago. The oldest object they have images of is believed to be a galaxy from 13.3 billion years ago, just 420 million years after the Big Bang.

With the GMT, astronomers expect to see the first stars ever created.

Beyond that, astronomers won't be able to see much more. Before the stars formed, or more precisely before the universe was 100,000 years old, there was no light in the universe. Other telescopes, such as those that detect other forms of radiation besides light, might be able to see farther back still, but the precise moment of creation will remain elusive.

Still, the telescope will answer some interesting questions. For example, when did the first stars form? When did the first black holes form? How did the earliest galaxies develop?

Scientists have theories for each of these questions, the telescope will either confirm of challenge them as it collects evidence.

Other questions abound. Was the universe actually created out of the Big Bang? Nearly all astronomers think so, but there is always the possibility of new evidence challenging accepted notions. This is why in science even virtual facts are still called theories.

Another great question is why the universe is lumpy, rather than having an even distribution of matter. It is a challenge to reason that matter was not spread evenly by the Big Bang, but instead is clumped in areas, forming galaxies, stars, and such.

Scientists also have their answers for this already, but the GMT may help to tell them if they are on the right track or wrong.

It will be some years before astronomers finish their project, but they are already playing with optics on the telescope's predecessor, the Magellan Telescope. That scope has been upgraded to produce images with twice the sharpness of the Hubble. It's not as powerful as the GMT will be, but it's enough to tide astronomers over until the big show starts in 2022.


---
Copyright 2016 - Distributed by THE CALIFORNIA NETWORK
Pope Francis Prayer Intentions for May 2016
Universal:
Respect for Women: That in every country of the world, women may be honored and respected and that their essential contribution to society may be highly esteemed.
Evangelization:
Holy Rosary: That families, communities, and groups may pray the Holy Rosary for evangelization and peace.
---
---
---

By Kenya Sinclair (CALIFORNIA NETWORK)
A new app just signed a contract with a homeland security agency to help identify national threats to security - but is it accurate? LOS ANGELES, CA (Catholic Online) - Faception is a new facial recognition app that can identify everyone from terrorists to poker ... continue reading
---

By Marshall Connolly (CALIFORNIA NETWORK)
Facebook has announced they will retrain employees responsible for curating their news content. The social networking giant has been accused of censoring news and content with a conservative slant in favor of liberal content. LOS ANGELES, CA (California Network) - ... continue reading
---

By Marshall Connolly (CALIFORNIA NETWORK)
All healthy, well adjusted people want to work. It's hardwired into our DNA to build, to produce, to gather, grow and trade. Without this impulse, our species could never have built civilization. But what happens when an essential part of our being becomes obsolete? ... continue reading
---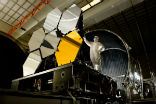 By Marshall Connolly (CALIFORNIA NETWORK)
Scientists have announced the discovery of three planets in the habitable zone of a star just 39 light years away. Such planets have the potential to host life, making them targets for future study. LOS ANGELES, CA (California Network) - Are scientists about to ... continue reading
---

By Marshall Connolly (CALIFORNIA NETWORK)
Earlier this year, a robot beat a master player at the ancient game of Go. Now, robots are beating humans at soccer. Armies of engineers are working around the world to develop artificial intelligence and robots that can do what humans do, only better. They're making ... continue reading
---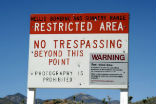 By Marshall Connolly (CALIFORNIA NETWORK)
UFO watchers have spotted a mysterious mushroom-shaped cloud over Area 51. The cause of the cloud remains unknown, but it is evidently connected to a fire at the secret military base. Viewers were unable to obtain direct footage of whatever caused the inferno, due to ... continue reading
---

By Kenya Sinclair (CALIFORNIA NETWORK)
After Microsoft's failure with AI teen "Tay," it should come as no surprise that more and more researchers are agreeing artificial intelligence requires a delicate balance between helpful tech and murderous exterminators. LOS ANGELES, CA (Catholic Online) - According ... continue reading
---

By Marshall Connolly (CALIFORNIA NETWORK)
Fast food workers, say goodbye to that grimy job with surly guests and overbearing managers. Your fight for $15 is over. No, you didn't win, someone has invented a machine that makes hamburgers better and faster than you do. LOS ANGELES, CA (California Network) - ... continue reading
---

By Kenya Sinclair (CALIFORNIA NETWORK)
Ian Burkhart underwent experimental brain surgery to help scientists pioneer technology aimed at reanimating paralyzed limbs - and it worked! LOS ANGELES, CA (Catholic Online) - Six years ago, Burkhart severed his spine when he went for a swim and was slammed into a ... continue reading
---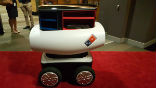 By Marshall Connolly (CALIFORNIA NETWORK)
Robots will soon begin to deliver your mail, pizza, and other parcels within the next few years. Plans are being developed around the globe to test, then roll out automated delivery systems for everything from packages, to mail to pizza. The rising demand for delivered ... continue reading
---
All Technology News