Meet Christina Wirth
\"At the end of the day, basketball is just a game. I always need to remember that my faith is more important than anything I will ever do on a basketball court. When I find myself devoting more time, thought, and energy to my sport that I devote to cultivating my relationship with God, I need to take a step back and get my priorities straightened out.\"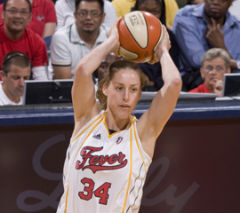 Christina Wirth has found basketball to be a source of spiritual growth as well as a platform to share the faith.
GRAND RAPIDS, MI--Christina Wirth lives the dream of every girl who loves basketball. She has been the Most Valuable Player of an NCAA major conference tournament, a WNBA second-round draft pick, and a leading scorer for a first-place European team.
But Christina loves something much greater than basketball, and the sport has given her a platform to share that love with others. "At the end of the day, basketball is just a game," she told Catholic Online. "I always need to remember that my faith is more important than anything I will ever do on a basketball court. When I find myself devoting more time, thought, and energy to my sport that I devote to cultivating my relationship with God, I need to take a step back and get my priorities straightened out."
As a member of Catholic Athletes for Christ, Christina helps others recognize these priorities as well.
Christina's basketball resume is impressive. After four years at Vanderbilt University--where she averaged almost twelve points a game--she was selected in the second round of the 2009 WNBA draft by the Indiana Fever, where she played in the WNBA Finals. From there Christina seized the opportunity to play in Europe; she is currently with Alges in Portugal's Liga Feminina, where she is a leading scorer.
Throughout her career, Christina's Catholic faith has grown in tandem with her basketball skills. "Playing basketball has been a tremendous tool for growth in my faith life," she said. "There have been many times in my career in which I just didn't feel like working out or putting in that extra effort, but in order to be successful in sports, you often have to do things that don't feel good at the moment, but you know that those things will be worth it in the long run."
Christina has connected that lesson to her faith. "There are times when my prayer life seems dry or when I'm struggling against temptation," she said. "The easy thing then is to give in to that temptation or to just neglect setting aside time for prayer, but I have learned that it is pleasing to God when I struggle against my flesh and do what is right even when it isn't easy. God will always grant us sufficient grace to live for Him is we only ask for it."
Catholic faith and sports have been integral to Christina's life literally from the beginning. Her father, Alan Wirth, was a pitcher for the Oakland Athletics and San Francisco Giants. He and his wife Diane (a former Jehovah's Witness who converted to Catholicism) made sacrifices to send their six children to Catholic schools. "For as long as I can remember, my family attended Sunday Mass together," said Christina. "I look back now and I am very thankful for that strong, Catholic foundation."
That foundation served her well when she enrolled at Vanderbilt University. "College was the first time in my life where I wasn't surrounded primarily by Catholics," she said. "I had great friends from all kinds of different Protestant denominations, and we would often get into discussions about various faith-related topics. I was challenged by many of my Protestant friends to defend Catholic teaching on things such as the Eucharist, Mary's perpetual virginity, and Purgatory."
Christina did not always know how to answer those questions, and it motivated her to learn more about Catholicism. "I remember thinking I need to know why I believe what I believe," she recalled. "I was not content with simply remaining Catholic because that's how I was raised."
Like an athlete not backing away from a challenge, Christina searched for answers and grew stronger in her faith. "I absolutely fell in love with the Mass and the Eucharist," she said. "I found rich and compelling answers to all of my questions."
One of those college teammates who challenged Christina to defend Catholicism was Jennifer Risper, a non-denominational Protestant. "As I began to learn more about my faith I would start discussions with her about things that she had asked me about," said Christina. "These discussions lasted for almost a year, after which Jennifer converted to Catholicism." Jennifer is her best friend, and they are teammates once again in Portugal--this time in faith as well as in basketball.
Christina has discovered two role models who continue to influence her: Blessed Mother Teresa and Blessed John Paul II. "Mother Teresa's love for the poor and her servant's heart inspire me to find ordinary ways in my daily life to show great love for those around me," she said. "Blessed John Paul II was a courageous leader. I was blessed to be able to attend his beatification in Rome last May, and ever since then, I have been drawn to learning more about his life."
What she has learned has made a great impact. "From World Youth Day to the Theology of the Body to the New Evangelization, Blessed John Paul II had such a great gift for spreading the truth of Jesus Christ to a world that is in desperate need of hope," said Christina. "I feel personally challenged by their lives to use every opportunity I have to serve, to love, and to spread truth and hope to those I meet."

Christina acknowledges the pitfalls to spiritual growth that are in the athletic world, and realizes she must deal with them. "As an athlete, coaches are always telling you to 'take pride in what you do,'" she said. "While there is a certain kind of pride that can be good and even healthy, there is a fine line between that kind of pride and a sinful kind of pride that is the opposite of the virtue of humility. When you have success and people are praising you or telling you how great you are, it is easy to fall into the trap of thinking that you have accomplished that success on your own, when, in reality, God is the source of all good things. Without God, we cannot take our next breath. Without God, we would have none of the talents that we have. I am constantly asking God to keep me humble and to remind me that without Him, I am nothing."
Christina's gifts and goals extend beyond the basketball court. She took a leave of absence from Vanderbilt's School of Nursing when the opportunity to play professional basketball arose. A call to minister to both the corporal and spiritual needs of God's people seems evident, and Christina is ready to give her whole heart to whatever path God places in front of her. This is evident in her advice to young Catholic athletes.
"Stay close to the sacraments," she counsels, "because there is no greater source of grace and strength. Always train and compete hard in order to win in your sport, but more importantly, ask God for the grace to grow spiritually so that you may spend eternity with Him."
_____
James Penrice is a contributor to Catholic Online, and a correspondent for Catholic Athletes for Christ.
---
Catholic Athletes for Christ (CAC) serves Catholic athletes in the practice of their faith and shares the Gospel in and through sports.

By Kenya Sinclair (NEWS CONSORTIUM)
The Freedom From Religion Foundation (FFRF) group has accused Georgia football coach Mark Richt of forcing his beliefs onto the college football players. LOS ANGELES, CA (Catholic Online) - The Telegraph reported the FFRF accused Richt and his brother-in-law Kevin ... continue reading
---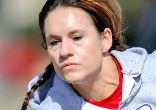 By Catholic Online (NEWS CONSORTIUM)
Bruce Arians, in his two years as Arizona Cardinals coach, has pressed for diversity on the gridiron. He has hired assistants as young as in their twenties or as old as in their seventies. Arians has now hired the first female NFL coach, Jen Welter. LOS ... continue reading
---
By Catholic Online (NEWS CONSORTIUM)
American Pharaoh became the first horse since 1978 to win the Triple Crown when he won the 147th Belmont Stakes Saturday. Pharaoh's jockey Victor Espinoza pushed his ride to the front after the race started. Pharaoh outclassed the field, pulling away down the ... continue reading
---
By Matt Waterson (NEWS CONSORTIUM)
Golf legend Billy Casper, a prolific player of the PGA Tour, has died of a heart attack at the age of 83 in his Utah home. LOS ANGELES, CA (Catholic Online) - Billy Casper's son said that he died very peacefully and quickly in bed, with his wife Shirley at his bed ... continue reading
---

By Catholic Online (NEWS CONSORTIUM)
Following their fifth regular-season loss to the Seattle Seahawks on November 27, a rumor began circulating that the San Francisco 49ers were getting ready to replace their fiery and animated head coach, Jim Harbaugh. LOS ANGELES, CA (Catholic Online) - ESPN's Adam ... continue reading
---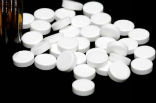 By Catholic Online (NEWS CONSORTIUM)
Federal agents launched a surprise drug inspection of the NFL's medical staffs on November 16, part of a larger ongoing investigation into accusations that the league is allowing prescription drug abuse. LOS ANGELES, CA (Catholic Online) - During the inspection, ... continue reading
---

By Catholic Online (NEWS CONSORTIUM)
The San Francisco Giants won their eight World Series-the third since 2009-brushing aside incredible odds and a sea of 40,000 Royals fans. LOS ANGELES, CA (Catholic Online) - The Giants defeated Kansas City 3-2 in Game 7, and with that victory they've become the ... continue reading
---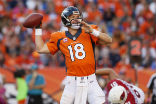 By Catholic Online (NEWS CONSORTIUM)
Payton Manning, the quarterback for the Denver Broncos, has broken the NFL's all-time touchdown record during his October 19 game against the San Francisco 49ers. LOS ANGELES, CA (Catholic Online) - Manning needed three touchdowns to break the record, and had ... continue reading
---
By Catholic Online (NEWS CONSORTIUM)
The San Francisco Giants are heading to the World Series to battle the Kansas City Royals after a 6-3 win over the St. Louis Cardinals during game 5 of the series on October 16. LOS ANGELES, CA (Catholic Online) - Travis Ishikawa helped sink the win with a ... continue reading
---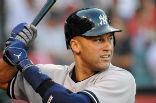 By Catholic Online (NEWS CONSORTIUM)
The New York Yankees have been eliminated from the playoffs after letting a three-run lead over the Baltimore Orioles slip away, ending the game with a 9-5 loss. LOS ANGELES, CA (Catholic Online) - "It's tough. It's a rough feeling," said Yankee captain Derek ... continue reading
---
All Sports News