When liberalism loses its soul, it becomes libertinism. When conservatism loses its soul, it becomes libertarianism
Ann Coulter's criticism of Rick Santorum for being "more of a Catholic than a Conservative" makes me want to do even more to help people come to understand his positions. You see, I consider myself more of a Catholic than a Conservative. As for Ann Coulter, while she continues her act as a conservative political gadfly, more and more people are beginning to pay attention to Rick Santorum.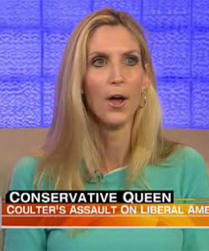 Ann Coulter
Highlights
Catholic Online (www.catholic.org)
1/11/2012 (4 years ago)
Published in Politics & Policy
Keywords: Ann Coulter, Rick Santorum, Ron Paul, Mitt Romney, Rick Perry, John Huntsman, Newt Gingrich, New Hampshire, South Carolina, anti-Catholic, 2012 primary, Keith A. Fournier
---
WASHINGTON, DC (Catholic Online) - On January 4, 2012, Ann Coulter - the incendiary, controversial, self promoting gadfly of a conservative columnist - turned her sites on Republican Presidential candidate Rick Santorum. Ironically, Coulter made a name for herself by allegedly being anti-establishment. That was until October of 2011.
Then, she surprised many on the political left and the political right - and many in between. She endorsed the Republican establishment's candidate, Mitt Romney, for the Republican nomination in 2012 very early in the primary campaign.
Rather than question what might have prompted such an endorsement, I want to discuss her efforts to harm the candidacy of a very good man, Rick Santorum. I believe they reveal bigger problems with serious implications. 
In a recent column Coulter made comments which reveal something I have addressed before, latent Anti-Catholicism in some circles of the conservative movement. Before I continue, let me clarify something. I have zero tolerance for what calls itself the "liberal" or "progressive" political movement - the leaders of which have captured the other major American political party.
Oh, I know the political Party calling itself Democratic has its Catholic spokesmen and women. Many fill the chairs of the pundit class of the main stream media. However, many also sold their Catholic convictions for a bowl of political porridge like Esau in the biblical story. (Gen. 25)
They have rejected the foundational Right to life upon which is predicated any of their purported concern for the human rights of anyone else. They are morally incoherent.

In a recent column Ann Coulter wrote: "Santorum is not as conservative as his social-issues credentials suggest. He is more of a Catholic than a conservative.Santorum may not be a big spender as far as professional politicians go, but he is still a professional politician. In 2005, one of his former aides described him as "a Catholic missionary who happens to be in the Senate.
"The Catholic missionary was fantastic on issues like partial-birth abortion, but more like a Catholic bishop in his support for No Child Left Behind.Santorum cites his father's admonition to put any extra money in the poor box at church to explain his wanting to use the federal government to help the poor.
"You get only one or two big issues in a presidential campaign. But in the middle of the second Great Depression, Santorum is on the campaign trail saying, "The reason I ran is 'cause I think people know there is more than just a little narrow issue called 'jobs.' " - Actually, this year, it's pretty much just jobs."
Coulter's comments help explain why Catholics like me consider ourselves to be 'reluctant Republicans." She was derisive of Rick Santorum's concern for the poor. She mocked his insistence upon the connection between moral, social and economic issues. She was condescending and dismissive of his integrated campaign message. 

Rick Santorum's affirmation of our obligation in solidarity - to do what we can to increase opportunities for the poor to participate in our free economy - is one of the reasons I find his economic proposals so compelling.
Santorum understands that freedom is a good of the human person. Further that he sees that the market economy, as promising as it is, requires the continual expansion of opportunities for participation. Many of us who are inspired by him are from blue collar backgrounds. Our ancestors did not come over on the Mayflower. We care about the poor and cringe when any candidate seems to lack concern for them.
However, we also now know that big government does a horrible job of providing care for them and that collectivism - be it of the right or the left - is anything but the solution. We want a candidate who speaks of opening up economic participation in the American dream to as many as possible. One who recognizes that the market was made for man, not man for the market.
Recently I heard Rick Santorum defend his proposal to increase the child tax credit in order to help parents, promote the family and grow our economy. He accurately explained the fact that a demographic winter is leading many Nations in Europe to do all they can to increase the birth of children.
He then persuasively argued that America needs to encourage strong families because strong families build a strong Nation. He is correct. The family is the first society, first economy, first school, first civilizing and mediating institution and first government. All other government grows out of - and must support and not usurp - the primacy of this first government.
In 2005 I wrote a review of Senator Santorum's book "It Takes a Family: Conservatism and the Common Good". Here are a few excerpts:
"The Author acknowledges the influence of Catholic social teaching on his thought. However, he does much more; he presents real substantive ideas, rooted in the principles derived from that teaching, in a readable and engaging book which is a breath of fresh air in a stagnant political landscape. "It Takes a family: Conservatism and the Common Good" presents a governing vision for the future of this Nation.
"The author clearly understands the essential relationship between solidarity, (the truth that we are indeed our brothers keeper and that we have an obligation to the needy), and the application of the principle of subsidiarity, an ordering principle which encourages good governance by recognizing the vital role of the family and the mediating associations and institutions as participating in that governance, starting from below, at the smallest level first.
"He does not fall prey to the trend in some "conservative" circles to reject the right role of government, or the tendency in some "liberal" circles to exalt its federalized version and move from the top down in its application. Rather, he presents what I would call a vision of "good governance", good in its moral foundation and good in its practical application."
"...The framework for a governing vision set forth in this fine book is built upon the author's discussion of different types of "capital"; social, economic, moral, cultural and intellectual and how together they can serve the common good. In fact, the subtitle of the book is extremely important, because this entire vision for a truly free and virtuous society is tied to his excellent presentation of the classical vision of the common good.
"The issues that we currently face -and their solutions - cannot be easily labeled as "liberal" or "conservative", "left" or "right". They concern how we will define our future and whether we will have one. Our age cries out for a new political vocabulary and a new generation of public servants who truly care and understand the hour in which we live.
"...We have heard few new ideas concerning our obligations in solidarity with the poor and needy. In fact, we have often failed to hear their cry. This book presents many. We have experienced an erosion of the moral foundation of our social order, as we fail to protect the place of marriage and the family as the first vital cell of society.
"The authors' discussion of how to create a family friendly public policy which promotes fidelity and encourages motherhood, fatherhood and intact families is well thought out and practical. It could develop into an entire public policy agenda and platform for the next election. But, it will take a leader who can both articulate a vision and help to implement it.
"There are many voices pointing out the failures of government but few voices articulating a vision for good governance. We desperately need true leaders, intelligent men and women of conviction and courage, who will impart such a vision and help us to build a better Nation.It Takes a Family: Conservatism and the Common Good" is a manifesto for a new kind of politics. It presents a compelling vision for building a future of true freedom by building a culture of life, family, freedom and solidarity.
"When liberalism loses its soul, it becomes libertinism. When conservatism loses its soul, it becomes libertarianism. This book proclaims liberty. It does more than critique what is wrong; it proposes a path to a brighter future. It is a must read for anyone who cares about this nation and our future together. I hope that it is widely read and that its insights form an agenda for governing. Then, it will take a leader."
Rick Santorum, like some good red wines, has only gotten better as the years have passed. The ideas he is espousing on the 2012 campaign trail reflect the maturing of the fine seeds which were set forth in that book.  
Are the ideas which inform many of his positions rooted in the fertile ground of his Catholic identity? Yes, they are Ann Coulter. However, Catholic Social teaching exists for this very purpose. Our Church is not directly involved in politics. She does not embrace any particular economic theory.
However, the Catholic Church often says of herself that she is an "expert in humanity". In that vein she offers principles which she then encourages her sons and daughters to offer to the whole of society in their exercise of faithful citizenship - for the sake of the common good.
Catholics like me believe that these principles really do serve the common good of the society. Rick Santorum is simply being a faithful Catholic, a good citizen and a compelling Presidential candidate by offering ideas informed by these and other principles in his campaign. He is doing more than just mouthing conservative talking points. 
For example, in the economic arena, his positions demonstrate that he understands that economics is not in the first instance, only about capital - it is about human persons. A truly free economic system recognizes that freedom is a good of the person. Only human persons can be free because we are capable of making free choices.
We need a President who understands the vital role of moral values in the economic order. A truly free market economy should help to support the family, foster ingenuity, provide incentive, promote and reward creativity and innovation, expand participation, provide for private ownership, and foster human flourishing and advancement.
All of what I have written over the years on economic and public policy issues is not about my being a "conservative". Nor is it based on conservative talking points. It is based on Catholic Social thought. It is an example of my own efforts as a Catholic Christian to be a faithful citizen and engage in political participation according to first principles.
That is part of the reason that the ideas and positions espoused by candidate rick Santorum have so much appeal to this Catholic and many more like me. They also appeal to many other Christians as well as many other people of faith and good will.
Santorum spoke before the debut of the documentary film "The Gift of Life" and showed this moral consistency. He spoke of the connection between big government and the breakdown of the first government, the family:
"(I)f family and moral values break down, government gets bigger and bigger. Social issues are central to every issue we deal with in America. Unless we get the moral issues right, we will never get the economic and foreign policy issues right."

Reiterating his unwillingness to compromise on the "social issues" and only address economic issues he sounded the theme of his campaign - they are connected.  He again rejected the calls to enter into a "truce" on social issues saying, "It is surrender, not a truce. Under a Santorum presidency, there will be no surrender."
 
The Vatican's Congregation for the Doctrine of the Faith issued an instruction entitled a "Doctrinal Note on some questions regarding the Participation of Catholics in Political Life." It called upon Catholics to be "morally coherent" in the exercise of their citizenship and in public office. Former Senator Rick Santorum understands this call to moral coherence.
Ann Coulter's  criticism of Rick Santorum for being "more of a Catholic than a Conservative" makes me want to do even more to help people come to understand his positions. You see, I consider myself more of a Catholic than a Conservative.
As for Ann Coulter, while she continues her act as a conservative political gadfly, more and more people are beginning to pay attention to Rick Santorum.
---
Copyright 2016 - Distributed by THE CALIFORNIA NETWORK
Pope Francis Prayer Intentions for May 2016
Universal:
Respect for Women: That in every country of the world, women may be honored and respected and that their essential contribution to society may be highly esteemed.
Evangelization:
Holy Rosary: That families, communities, and groups may pray the Holy Rosary for evangelization and peace.

By Kenya Sinclair (CALIFORNIA NETWORK)
Personal privacy is one of the greatest rights any citizen of the free world enjoys but soon the Federal Bureau of Investigation may have legal access to everything from passwords and personal emails to banking information and search history - all without your ... continue reading
---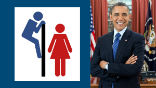 By David Drudge (CALIFORNIA NETWORK)
Eleven states are challenging the Obama edict that schools should allow kids to use whatever bathroom they choose, regardless of their gender. Obama issued the edict last week as a means of joining the "transgender" bandwagon that is sweeping the nation. Unfortunately, ... continue reading
---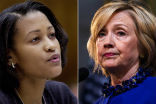 By David Drudge (CALIFORNIA NETWORK)
Hillary Clinton's former chief of staff from the State Department, Cheryl Mills, has asked a court to shield her from conservatives who are seeking the transcripts and recordings of her deposition scheduled for Friday. Mills is worried she will be taken out of context ... continue reading
---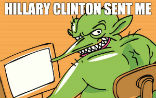 By Marshall Connolly (CALIFORNIA NETWORK)
The next time you encounter an internet troll, be warned, he could be getting paid to fan the flames, or to douse your conversation. A new study our of Harvard reveals that China is using an army of 448 million fake troll accounts to influence public opinion. And China ... continue reading
---

By David Drudge (CALIFORNIA NETWORK)
The State Department Inspector General has ruled that Hillary Clinton broke department rules for using a private email server and for deleting emails she sent and received during her tenure. The report was released on Capitol Hill today. LOS ANGELES, CA (California ... continue reading
---

By Kenya Sinclair (CALIFORNIA NETWORK)
The United States provides 33 percent of the world's arms such as fighter jet aircraft, tanks and more - so which countries are buying? LOS ANGELES, CA (Catholic Online) - According to the Defense Security Cooperation Agency, the number one country purchasing ... continue reading
---

By Kenya Sinclair (CALIFORNIA NETWORK)
With many Senate Democrats calling for a faster processing, the Obama Administration and U.S. Citizenship and Immigration Services (CIS) have drastically increased the number of Syrian refugees admitted into the United States. LOS ANGELES, CA (Catholic Online) - ... continue reading
---

By David Drudge (CALIFORNIA NETWORK)
The FBI is investigating Virginia Gov. Terry McAuliffe on the grounds that he accepted illegal campaign contributions. There is overlap between his donors and donors to the Clinton campaign. Investigators have discovered that a Chinese politician made a particularly ... continue reading
---

By Kenya Sinclair (CALIFORNIA NETWORK)
As American steel production falters, China has begun efforts to dump its excess steel at slashed prices. LOS ANGELES, CA (Catholic Online) - According to Thomas J. Gibson, president and CEO of the American Iron and Steel Institute, and Chuck Schmitt, president of SSAB ... continue reading
---

By Catholic Online (NEWS CONSORTIUM)
Chaos erupted as the US House of Representatives refused to pass an amendment meant to strip away religious freedom and protections for religious contractors and those who work with the federal government. LOS ANGELES, CA (Catholic Online) - When House Democrats ... continue reading
---
All Politics & Policy News