A Palm Beach County sheriff wants people to report their neighbors, friends and family members to his first of a kind violence prevention program, which he hopes will become a model for others.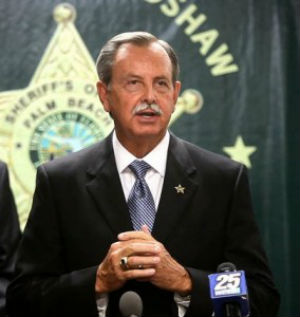 Sheriff R. Bradshaw of Palm Beach County, Florida
KNOXVILLE, TN (Catholic Online) - According to The Palm Beach Post, the Florida House and Senate has voted to give Palm Beach County Sheriff R. Bradshaw one million dollars to start up a new violence prevention program. It may seem a small matter to some people, but I see it as one more sign that a menacing shadow is spreading across our land. However, we are not doomed to darkness, for the Catholic Church offers us a light.

The goal of the sheriff's new program is to make "sure law enforcement knows about potential powder kegs before tragedies [like those in Newtown, Connecticut and Aurora, Colorado] occur." The program will feature "prevention intervention" teams comprising a 24-hour hotline, specially trained police officers, mental health professionals, and social workers. Bradshaw said that it would be the first in the nation, and he hopes it will become a model for others.

He is also preparing public service announcements that urge people to "report their neighbors, friends or family members if they fear they could harm themselves or others." At the same time, the public is being told that it will be done in a way that respects civil rights. The public is also being told that law-abiding citizens will be protected from false claims, because all the team members are trained professionals. Bradshaw said, "We know how to sift through frivolous complaints."

I believe that Bradshaw has the best intentions, but I am not comforted by his assurances because his concern clearly favors the group over the individual. This is collectivism, and there have been too many instances where law enforcement professionals and other so-called professionals have falsely accused law-abiding men, women and children of imagined or exaggerated crimes as a consequence of collectivist programs.

Perhaps you recall some of the horror stories in the news describing the draconian methods school professionals used to create a safe environment in some elementary schools after the tragedy at Sandy Hook Elementary in Newtown, Connecticut. I have included two such stories below.

Less than a week after the Sandy Hook massacre, 6-year-old Rodney Lynch, a student at Roscoe R. Nix Elementary in Maryland, was sent to the principal's office. School administrators questioned him about his home life. They wanted to know if anyone in his family owned a gun, and they wanted to know the names of all the video games he owned. In the end, these caring professionals accused him of "threatening to shoot a student" for making a gun gesture with his hand and saying "pow." Then they suspended him.

This incident is now part of Rodney's permanent school record. His parents have had to hire an attorney. They hope to get this incident expunged from their little boy's record, though it could cost them thousands of dollars in legal fees.

Not long after Rodney's ordeal, a 5-year-old little girl was accused of a similar crime at Mount Carmel Elementary in Pennsylvania. According to the attorney her parents hired, the little girl told her classmates she was going to shoot them and herself with a "Hello Kitty Bubble Gun." The gun blows soap bubbles.

School officials questioned her for three hours without her parents' knowledge. They told her she could go to jail, and they accused her of making a "terrorist threat" and suspended her. The initial accusation was later reduced to a "threat to harm others," and she was allowed back in school after she submitted to psychological testing.

I will never forget an incident that occurred to an 82-year-old woman, Lillian Fletcher. It too was the result of good intentions by so-called professionals. The incident began when social workers called the police during a "well-being check" at Lillian's Chicago home in 2007. The police came out and tasered the 82-year-old woman for swinging a hammer. Apparently, Lillian did not want or need a "well-being check," until she was tasered, that is.

Tammy Cooper's neighbor would probably fit in well with Sheriff Bradshaw's prevention program. She called the police on Tammy this past September because she thought Tammy was not watching her children as they played in front of her house. Tammy says she was watching her children, but the police charged her with "child endangerment" and arrested her anyhow.

According to a local news report, it appears that the police had decided to arrest Tammy before they even pulled up to the crime scene. And they did it in front of her children. Tammy said, "My daughter had him [the police officer] around the leg saying, 'Please, please don't take my mom to jail. Please, she didn't do anything wrong.'"

In addition, more people are becoming ensnared by the government as its police powers grow and become more ambitious. While people are grateful that the bombing suspects are no longer roaming the streets of Boston, the lockdown during the manhunt was absolutely unprecedented in American history.

Public transportation was suspended, businesses were closed, and people were forced to remain inside regardless of their present location and needs. Military-type vehicles rolled through the streets. The police conducted door-to-door searches. It was reported that they threw families out of their homes at gun point and searched their homes. 

Former Representative Ron Paul referred to the lockdown as a "military-style occupation of an American city." He said, "This unprecedented move should frighten us as much or more than the attack itself." Today, it seems law-abiding citizens are routinely being watched, threatened and arrested without probable cause in the name of easy solutions to violence prevention and other false promises.
 
This is the menacing shadow I see. It is the false promise of easy solutions. Such solutions remind me of addicts who take drugs to deal with their problems. Their problems become worse, and they end up in bondage. It seems to me that some of our leaders are offering us drugs to solve our problems. But if we take these drugs, our problems will become worse, and we will end up as slaves.
 
I have asked myself, how could this happen in the United States? How could we give up our right to be "secure in [our] persons, houses, papers, and effects, against unreasonable searches and seizures" so easily? I believe an important part of the answer can be found in two words that Sheriff Bradshaw used: "professional" and "prevention." Both of them are worth our consideration.

It seems that the idea of professionalism has taken a bizarre turn in the Western world. This thought first occurred to me when I ran across a seventh edition textbook, Social Work, by Armando T. Morales and Bradford W. Sheafor. They focus on professionalism in the field of social work, but what they say applies to other professions as well.

The field of social work experienced enormous growth in the wake of former President Lyndon B. Johnson's Great Society programs in the 1960's. As their influence grew, social workers organized and lobbied hard for professional status. These efforts seemed strange to me, but not nearly as strange as their definition of professionals.

They defined professionals as recognized experts possessing a monopoly in their field with exclusive rights to make judgments and give advice. According to the textbook, "In granting this professional authority, society, in essence, gives up the right to judge the competency of these professionals except in extreme cases of incompetence."

I do not recall giving social workers, or any professional group, a monopoly or exclusive rights. Nor do I recall giving up any of my rights. But I do recall thinking that professional standards were being lowered, and that fields in the social sciences and social work, education, law enforcement, and journalism were becoming rife with corruption and incompetence.

Nevertheless, I could not envision what this change meant until I saw its connection to the idea of prevention. Morales and Sheafor define prevention as the "anticipation of future consequences and purposeful manipulation to achieve desired ends or prevent undesired ones."

Based on this kind of thinking, it seems that many so-called professionals, especially those working directly or indirectly with federal, state and local governments, have seized an inordinate amount of power in our country. And they are using this power to manipulate whatever desired ends they deem proper for society. This is arrogant.

It is as though they are drunk with power. They have assumed too much power. They have exceeded their limits. A professional education is a wonderful thing, and a true professional, or anyone who is a true expert in their field, has much to offer society; but they do not have the know-how or the right to decide what ends are most desirable for society or to manipulate people for their ends.

Given our fallen nature, we simply cannot be trusted with so much power over others. Even our best and most noble intentions are tainted because our goodness is limited. Jesus told us as much. In Luke 18:19, he said, "No one is good but God alone." This truth is also reflected in James Madison's defense of a system of checks and balances to limit government abuses. In The Federalist No. 51, he writes: "If men were angels, no government would be necessary. If angels were to govern men, neither external nor internal controls on government would be necessary."

Consequently, it is highly unlikely that collectivist programs based on prevention intervention, like Sheriff Bradshaw's, can be implemented without trampling the rights and dignity of the people they promise to help. But this does not mean that all social programs are bad. They just need to maintain a proper balance between people, society and government. The Catholic Church has a solution to collectivism, and it is a light in the spreading darkness.

For instance, the Catechism of the Catholic Church says, "There is a certain resemblance between the union of the divine persons and the fraternity that men are to establish among themselves. . . " (1878). We need society. It is a function of our nature as human persons. We develop our potential through social exchange, dialogue and service with each other.

However, socialization can threaten personal freedom and initiative due to excessive intervention by the state. The principle of subsidiarity says that ". . . a community of a higher order should not interfere in the internal life of a community of a lower order, depriving the latter of its functions, but rather should support it. . ." (1883).

This principle is derived from the way God governs the world and His respect for human freedom. God did not reserve the exercise of all power to Himself. We can see this when we look at creation. God entrusted "to every creature the functions it is capable of performing, according to the capacities of its own nature" (1884). Thus, the principle of subsidiarity "sets limits for state intervention" (1885).

As Catholics, we know that Americans can combat terrorism, and all violent crime, without turning our country into a police state. Under the circumstances today, I do not believe we should report our neighbors, friends and family members to the so-called professionals in Sheriff Bradshaw's prevention program, except, perhaps, under extraordinary circumstances.

On the other hand, we need to constantly pray for our leaders, neighbors, friends, and family members; and we need to bring them the light which the Church offers us. We also need to petition our leaders (like the Sheriff and the governor of Florida) with our concerns.

 
-----

Michael Terheyden was born into a Catholic family, but that is not why he is a Catholic. He is a Catholic because he believes that truth is real, that it is beautiful and good, and that the fullness of truth is in the Catholic Church. However, he knows that God's grace operating throughout his life is the main reason he is a Catholic. He is greatly blessed to share his faith and his life with his beautiful wife, Dorothy. They have four grown children and three grandchildren.

-----
---
Copyright 2016 - Distributed by THE CALIFORNIA NETWORK
Pope Francis Prayer Intentions for May 2016
Universal:
Respect for Women: That in every country of the world, women may be honored and respected and that their essential contribution to society may be highly esteemed.
Evangelization:
Holy Rosary: That families, communities, and groups may pray the Holy Rosary for evangelization and peace.

By Kenya Sinclair (CALIFORNIA NETWORK)
Native Americans say a French auction house should return their sacred objects set to go on sale, and they have an ally in Bishop James S. Wall of Gallup, N.M. Gallup, N.M. (CNA/EWTN News) - "My first reaction to this story was one of great sadness. It's tragic that ... continue reading
---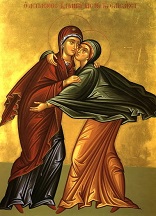 By Deacon Keith Fournier
In the Biblical account, this encounter immediately follows the visit of the Angel Gabriel to Mary and is a fruit of her humble obedient response to the word of God - which she was most certainly attuned to hearing. That response was not a onetime reaction. It ... continue reading
---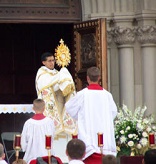 By Deacon Keith Fournier
We have received the Bread of Heaven. Let us choose to become what we consume. These Feasts are not just rituals on a Church calendar. They are invitations to encounter the Lord Jesus Christ, and then offer Him to a world waiting to be born anew. On this Feast of ... continue reading
---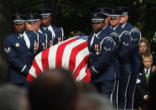 By Deacon Keith Fournier
I live in Chesapeake, a wonderful city in Southeastern Virginia where there are many members of the military. The parish I serve is an example of this. Every day, I witness the many sacrifices which military families make for our Nation. On this Memorial Day, I ... continue reading
---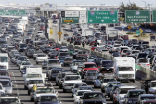 By Marshall Connolly (CALIFORNIA NETWORK)
We have money for perpetual war and can afford generous foreign aid, tax subsidies and cuts for the wealthy, but we cannot find the money to fix a pothole or repair a collapsing bridge. This is the sorry state of affairs U.S. infrastructure is in as we let the nation ... continue reading
---

By Kenya Sinclair (CALIFORNIA NETWORK)
Protesters at Republican presidential candidate Donald Trump's New Mexico rally erupted in violent acts including the attempted stoning of police, glass bottles thrown at mounted units and their horses, burning shirts and more. LOS ANGELES, CA (Catholic Online) - ... continue reading
---

By Kenya Sinclair (CALIFORNIA NETWORK)
Illegal aliens continue to surge into the United States from the Southwest U.S. border, leading the U.S. Customs and Border Protection (CBP) units to announce record-breaking apprehensions in April, 2016. LOS ANGELES, CA (Catholic Online) - According to the U.S. ... continue reading
---

By Marshall Connolly (CALIFORNIA NETWORK)
The arresting officer in the Freddie Gray case, Edward Nero, has been declared "not guilty" by the judge in his criminal trial. Now, the community waits to see if violence will erupt or if the streets will remain quiet. LOS ANGELES, CA (California Network) - Officer ... continue reading
---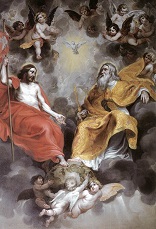 By Deacon Keith Fournier
'The mystery of the Most Holy Trinity is the central mystery of Christian faith and life. It is the mystery of God in himself. It is therefore the source of all the other mysteries of faith, the light that enlightens them. It is the most fundamental and essential ... continue reading
---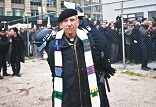 By Fr Frank Pavone
Father Berrigan was a radical figure who sent a total of almost seven years in prison. What many don't realize though is that his activism extended beyond the anti-war movement and into the anti-abortion movement. Believing in what he called a consistent ... continue reading
---
All U.S. News