Economic benefits always tend to outweigh moral implications.
America is on track to become a great producer of oil in the decades to come. Within the next ten years, we will likely export oil, rather than import. This is made possible by the practice of fracking, which allows drillers to extract untapped energy reserves deep beneath the crust. Yet the question remains, will it lower prices at the pump? More importantly, is it the right thing to do?
These days are coming back sooner than you think.
Highlights
By Marshall Connolly, Catholic Online (NEWS CONSORTIUM)
Catholic Online (www.catholic.org)
2/26/2013 (3 years ago)
Published in U.S.
Keywords: Fracking, oil, gas, energy, independence, future, harms, danger, water, pollution, jobs, economy, fossil fuels
---
LOS ANGELES, CA (Catholic Online) - Fracking is the process of injecting high pressure chemicals and steam into the earth for the purpose of cracking rocks beneath the crust. When those rocks fracture, they can release pockets of natural gas and oil that are pumped to the surface.

The amount of energy waiting for extraction is so great that with the rapid, planned expansion that is now ongoing, the United States is just years away from becoming a net exporter of oil and gas, rather than an importer.

This bodes well for our economy and our foreign policy. No longer will we be inexorably linked to political developments in the Middle East, and the influx of cash could help to ease our national deficit.

However, fracking has its detractors and many claim the practice can pollute water supplies as well as cause earthquakes. Furthermore, it leads the country down the road of future oil dependency rather than towards alternatives, which some say are necessary to offset the advance of global warming.

There's also the question of profits, and if in a tight refining market, will increased supplies in raw materials lead to lower costs?

Proponents of fracking say the practice is safe, although they acknowledge that small earthquakes have been caused by the it. Fortunately, the quakes are too small to be felt over a wide area and have done no significant damage. Of greater concern is if fracking damages water supplies.

Several viral videos filmed in areas where fracking is prevalent show flaming water coming out of faucets, the product of natural gas contamination and a flame. That these water supplies are contaminated is beyond question. What remains unresolved is if fracking is to blame.

Proponents of fracking say the procedure is done far deeper than most people realize, so deep that it is actually impossible for groundwater supplies to be contaminated. However, they do acknowledge that if mistakes are made and if equipment fails, pollution can occur. Air pollution can also occur at the site of the well.

As for scientific studies, they conflict. Some studies say yes, fracking pollutes, including one done by the EPA, and still others say no.

Despite the inconclusive answers, the nation seems to be barreling ahead into fracking regardless. Our insatiable demand for energy and high prices at the pump have oil producers scrambling to drill. It does not seem to matter that the same water we give to our ranch animals and use to water our crops, could be polluted.

Once extracted, the oil we take will need to be refined into gasoline. This is the great bottleneck in the supply chain. Most refineries are old and must make do with aging infrastructure. New refineries are very difficult to build because of tight environmental regulations. This means that even in times of ample oil supply, a disruption in refining capacity will cause a spike in prices.

These spikes do occur. In states like California, home to less than two dozen refineries and requiring a special summer blend, the state is susceptible to supply disruptions.

Refineries have been enjoying good times. Profits at Texas-based Valero were up 22 percent in the last quarter of 2012. They were not alone in posting records. With such tremendous profits, it's difficult to imagine an incentive to do anything different.

Still, the basic economic laws apply. As prices remain high, there also remains an incentive to increase production. That's what's leading the dive into fracking, and the eventual stockpiling and export of massive oil reserves that will someday soon occur.

Beyond the world of supply and demand, there are other considerations. The cost of gasoline is not the same as its price. Eventually, as supplies increase prices will trend downwards. Another era of cheap gas is approaching. That means bigger cars, a return of gas guzzlers, and more pollution. It happened in the 1990's as increased prosperity caused Americans to ditch their fuel-efficient economy cars for the iconic Hummers and other sport utility vehicles that became popular over the last twenty years.

Now, a trend towards hybrid and electric cars will probably reverse as gas become cheap once again.

Of course, hybrids and electrics stand little chance of catching on since they are priced at a premium. Most consumers realize that buying a fuel efficient all-gas car is cheaper over the long run than paying the premium on a hybrid.

However, the cost of this reversal is great. Although a few Americans still insist that global warming is a myth, scientific data from around the world confirms the climate is trending warmer. As it does, extreme weather becomes increasingly common. That includes both severe storms, droughts in some areas, flooding in others, and even more severe snowstorms colder places. Global warming doesn't just mean hotter average temperatures, it means wilder weather.

It does not matter what people believe in this case. Science is true whether you believe it or not. What is up for debate is how much humans are contributing to global warming as a result of their love for fossil fuels.

Rather than decreasing our use of fossil fuels, which unquestionably belch tons of carbon dioxide into the atmosphere each year, we are about to increase it in a big way. Is this moral? If humans are contributing to dangerous climate change, should we then engage in behavior that will exacerbate problems rather than alleviate them? Are we not charged with being stewards of the Earth?

Still, this is a difficult sell when most religious conservatives continue to doubt global warming and see liberal machinations behind the banner. The left's hijacking of the issue does us no favors when the topic is both real and serious and must be addressed with open eyes.

Unfortunately, the profits and jobs to be derived from an oil boom are almost too good to pass up. Weaning ourselves from foreign energy also means less likelihood for foreign involvement. That means less conflict, less war, and more peace. It's hard to leave such a morsel on the table. The economic benefits are also very desirable. The revenues and the jobs are enough to return our nation to prosperity, something we all yearn to see after five years of deep recession on Main Street.

Wall Street, which suffered a much shorter recession, is also keen on the development. Oil is a fantastic investment opportunity for the future.

Ultimately, we are presented with a significant moral question. Do we engage in behavior that could be harmful to the environment, in exchange for substantial economic benefits? History predicts that our answer will be yes. Yet, history is replete with cautionary tales about those who did not learn to live in harmony with their environment.

Mesopotamia was once fertile and green, but climate change which occurred thousands of years ago, turning the region into desert. Great civilizations failed to cope and collapsed. The Maya expanded rapidly, and filled the jungles of Central America, but persistent drought exacerbated by intensive agricultural practices brought about collapse of their city states. Easter Island, became so overpopulated that the people denuded the landscape, to the point of cutting down the last tree on the island for food. They failed to find a sustainable manner of living and were reduced to cannibalism.

What will we do?

I think we know the answer already. Tragically, its status as a moral question matters to few, but hey, mental gymnastics, record profits, and cheap gas will assuage our collective conscience for at least a generation or more -- so why worry?


---
Copyright 2016 - Distributed by THE CALIFORNIA NETWORK
Pope Francis Prayer Intentions for May 2016
Universal:
Respect for Women: That in every country of the world, women may be honored and respected and that their essential contribution to society may be highly esteemed.
Evangelization:
Holy Rosary: That families, communities, and groups may pray the Holy Rosary for evangelization and peace.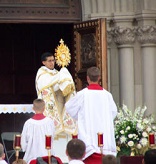 By Deacon Keith Fournier
We have received the Bread of Heaven. Let us choose to become what we consume. These Feasts are not just rituals on a Church calendar. They are invitations to encounter the Lord Jesus Christ, and then offer Him to a world waiting to be born anew. On this Feast of ... continue reading
---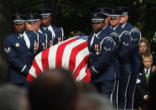 By Deacon Keith Fournier
I live in Chesapeake, a wonderful city in Southeastern Virginia where there are many members of the military. The parish I serve is an example of this. Every day, I witness the many sacrifices which military families make for our Nation. On this Memorial Day, I ... continue reading
---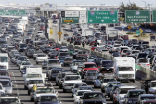 By Marshall Connolly (CALIFORNIA NETWORK)
We have money for perpetual war and can afford generous foreign aid, tax subsidies and cuts for the wealthy, but we cannot find the money to fix a pothole or repair a collapsing bridge. This is the sorry state of affairs U.S. infrastructure is in as we let the nation ... continue reading
---

By Kenya Sinclair (CALIFORNIA NETWORK)
Protesters at Republican presidential candidate Donald Trump's New Mexico rally erupted in violent acts including the attempted stoning of police, glass bottles thrown at mounted units and their horses, burning shirts and more. LOS ANGELES, CA (Catholic Online) - ... continue reading
---

By Kenya Sinclair (CALIFORNIA NETWORK)
Illegal aliens continue to surge into the United States from the Southwest U.S. border, leading the U.S. Customs and Border Protection (CBP) units to announce record-breaking apprehensions in April, 2016. LOS ANGELES, CA (Catholic Online) - According to the U.S. ... continue reading
---

By Marshall Connolly (CALIFORNIA NETWORK)
The arresting officer in the Freddie Gray case, Edward Nero, has been declared "not guilty" by the judge in his criminal trial. Now, the community waits to see if violence will erupt or if the streets will remain quiet. LOS ANGELES, CA (California Network) - Officer ... continue reading
---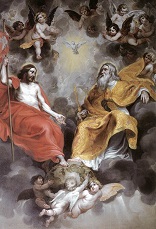 By Deacon Keith Fournier
'The mystery of the Most Holy Trinity is the central mystery of Christian faith and life. It is the mystery of God in himself. It is therefore the source of all the other mysteries of faith, the light that enlightens them. It is the most fundamental and essential ... continue reading
---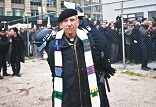 By Fr Frank Pavone
Father Berrigan was a radical figure who sent a total of almost seven years in prison. What many don't realize though is that his activism extended beyond the anti-war movement and into the anti-abortion movement. Believing in what he called a consistent ... continue reading
---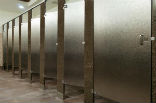 By David Drudge (CALIFORNIA NETWORK)
Under a new law, businesses in New York will be fined if they don't use a person's preferred pronoun when referring to them. This especially becomes a problem when it is understood there are at least 58 possible pronouns with at least five grammatical variations ... continue reading
---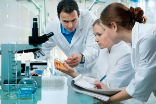 By Marshall Connolly (CALIFORNIA NETWORK)
The Federal Government has discovered the grocery list technology. This unlock apparently occurred recently as the Department of Agriculture sent encouraging, rapid-fire tweets to the public about how to use this remarkable new advancement. LOS ANGELES, CA (California ... continue reading
---
All U.S. News