It is clear that we have the right and the duty to protect ourselves and our loved ones
The Church has always held that it is legitimate to defend one's life and/or property against an unjust aggressor, and it is equally legitimate to defend someone else's life and/or property on the same grounds, even if that defense were to result in the loss of the aggressor's life.Contrary to the assertions of the anti-gun folks, "gun-free zone" legislation is actually counterproductive, and potentially lethal to those it is designed to protect.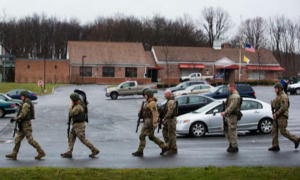 SWAT team leaving St Rose of Lima Catholic Parish in Newtown, Connecticut after inspecting for the possibility of a bomb. A bomb threat had been called in to the police and the Church had to be evacuated.
RICHMOND, VA. (Catholic Online) - In the aftermath of the tragic school shooting in Newtown anti-gun fanatics were quick to call for increased gun control, ostensibly to prevent future similar killings. However, as is generally the case, the hysterical call for banning this or that has created much more heat than light. What is needed is a sober examination of the facts, and for Christians, a moral perspective that is often lacking from a strictly political approach to the problem.
 
The idea of "gun-free zones", whether around schools or, as in Virginia law, in churches, is to prevent would-be killers from doing their evil work. This seems absurd given the fact that it is already illegal to shoot or kill someone. If a criminal has decided to break those laws, how will making it additionally illegal to possess a gun to commit the crime he has already decided to commit going to stop him? It is difficult to understand the logic. Criminals, by definition, do not obey laws, so such laws as deterrents are often ineffective in preventing their behavior. The people who do obey the laws, such as those who are licensed to carry a gun, however, are deprived of their ability and right to protect themselves and others by such laws. So, the only effect of "gun-free zones" is to create "unarmed target" zones.
 
One can see the result of this sort of law in Britain, where most firearms are forbidden in homes: about 45% of break-ins occur while the occupants are at home, exposing them to obvious extreme danger. On the other hand, in America, where the majority of homes have firearms, only 13% of burglaries occur while the owner is home, as cited in criminologist Gary Kleck's  1991 book Point Blank: Guns and Violence in America. Kleck attributes this to the criminals' fear that homeowners might be armed. In point of fact, a survey of almost 2,000 convicted criminals by Peter Rossi and James D. Wright in the late '80s revealed that burglars are more afraid of armed homeowners than they are of arrest by the police.
 
So, contrary to the assertions of the anti-gun folks, "gun-free zone" legislation is actually counterproductive, and potentially lethal to those it is designed to protect.
 
In response to calls from the anti-gunners for more gun control, pro-gun advocates have rightly asserted that the only thing that could have prevented the school shootings would have been an armed person or persons in the school who could have stopped the killer. This is an aspect of gun ownership that is routinely ignored by the press. In fact, law abiding citizens use guns to defend themselves against criminals as many as 2.5 million times per year, depending on which study you read. In the overwhelming majority of cases, 92%, the gun is not fired; its mere presence discourages the attacker.
This happened at a potentially tragic case where a masked man opened fire in a "gun-free" mall in Portland, Oregon. A shopper, who was unaware that the mall was "gun-free" and happened to have a concealed carry permit and his gun with him, pulled out his pistol during an interval where the killer's gun seemed to have jammed, after he already killed two people. He was afraid to fire, out of fear of hitting innocent people, but the sight of the gun caused the killer to train his weapon on himself, and pull the trigger. As is generally the case, the mere deterrent effect of the gun was sufficient to abort the crime, though not before two innocent people were killed. It could have been much worse.
 
This being the case, many have called for having armed guards in the schools, or for arming teachers and/or administrators. The problem is that if schools become a "hardened target", these psychopaths will simply choose another "gun-free" zone, such as your parish, the mall where you shop, your food store, restaurant, or any other place where the killer feels he will have the upper hand. The answer to the problem is unappetizing. The evidence is everywhere that society is degenerating around us, and that norms of violent behavior that are common elsewhere in the world, but with which we have little experience, are coming to America.
Yes, we have always had murders, but victims tended to be people known to the killer, often family, and more recently gangs feuding with other gangs. The random and politically motivated killings common elsewhere were relatively unknown here. However, as our society becomes post-Christian and loses the moral compass provided by God, and immigration brings societal norms different from traditional American values to our shores, it is unrealistic to assume that America will remain isolated from the everyday terrorism and brutality that have been common in Asia, Africa, and South America, and are increasing in Europe. How are we to respond, as Christians, to this threat? 
 
To consider one Biblical perspective on self defense and defense of one's neighbors and community, we can look at Nehemiah 4, which tells the story of the repairs to the walls of Jerusalem which had been damaged and breached. The enemies of the Israelites planned to take advantage of this period where the city was inadequately protected by attacking. Nehemiah tells what he did to address the situation:
"I stationed guards down below, behind the wall, near the exposed points, assigning them by family groups with their swords, their spears, and their bows. 8 I made an inspection, then addressed these words to the nobles, the magistrates, and the rest of the people: "Have no fear of them! Keep in mind the LORD, who is great and to be feared, and fight for your brethren, your sons and daughters, your wives and your homes." (Nehemiah 4:7)
 
Clearly Nehemiah is calling on these citizens to fight to protect and defend their families and homes. Similarly in Esther 8, the Jews were afraid of violence being directed against them, and the ruler, King Ahasuerus, gave them permission to arm and defend themselves:
"These letters, which he wrote in the name of King Ahasuerus and sealed with the royal signet ring, he sent by mounted couriers riding thoroughbred royal steeds. In these letters the king authorized the Jews in each and every city to group together and defend their lives, and to kill, destroy, wipe out, along with their wives and children, every armed group of any nation or province which should attack them, and to seize their goods as spoil." (Esther 8:10, 11)
What did Jesus have to say about all this? We read in Luke 22:35-9 that He tells the disciples in verse 36, "But now one who has a money bag should take it, and likewise a sack, and one who does not have a sword should sell his cloak and buy one." The disciples, not understanding his figurative reference, respond in verse 38, "Then they said, 'Lord, look, there are two swords here.' But He replied, 'It is enough!" , indicating that He was annoyed that they did not, as often was the case, understand that He was speaking figuratively. What the passage says about our Lord's anticipation of the need for swords is the subject of debate, but it is clear that among the disciples at least two carried swords, and Jesus evidently had no objection.
 
In the Garden of Gethsemane itself, we have parallel passages in Matthew 26, Luke 22, and John 18 that tell of Peter's severing of one of the guard's servant's ear : "Then Simon Peter, having a sword, drew it and struck the high priest's servant, and cut off his right ear. The servant's name was Malchus.  So Jesus said to Peter, "Put your sword into the sheath. Shall I not drink the cup which my Father has given me?"
 
Jesus' concern, as in other areas, was that the Disciples not interfere with his mission, which was to die for the remission of our sins. He did not say, "Turn in that weapon to the authorities" or something similar, he merely rebuked Peter for interfering with his divine mission, and told him to put his sword back in its sheath. Peter has the right to use his sword in self defense or in the defense of his Lord, but in this case it would not be appropriate as Jesus was quite prepared to die for our sins.
 
The Church has always held that it is legitimate to defend one's life and/or property against an unjust aggressor, and it is equally legitimate to defend someone else's life and/or property on the same grounds, even if that defense were to result in the loss of the aggressor's life. Some claim that Jesus' admonition to turn the other cheek meant that no other response is allowed, but when the question was put to St. Augustine long ago, he answered in Letter 138, "But what is not rendering evil for evil, but refraining from the passion of revenge- in other words, choosing, when one has suffered wrong, to pardon rather than to punish the offender, and to forget nothing but the wrongs done to us?" Again, Jesus' consideration is not the act of defending oneself, but misplaced violence.
 
Therefore, it is clear that we have the right and the duty to protect ourselves and our loved ones. We are fortunate in America that we have the Second Amendment, and that we now have carry laws in all 50 states. Although anti-gunners say that this will return the US to the era of the "Wild West", the facts argue otherwise. For example, from the adoption of a concealed carry law in 1987 to 1994 (over 6 yrs.) Florida issued 204,108 permits and only 17 (0.008%) were revoked because permittees later committed crimes (not necessarily violent) in which guns were present (not necessarily used).
Crimes are committed at a lower rate by concealed carry permit holders than by the general public. People who obtain permits to carry know that they are not licenses to use their weapons irresponsibly, and know that the their use will lead to an irreversible alteration of their lives. Nobody wants the enormous legal problems that using a gun will cause. Carrying a gun is not comfortable, nor is it fun. Those who do understand that they may be called to defend themselves or their neighbors from evil, and are willing to bear the inconvenience and risk to answer the call.
For those who do not want to bear that awesome responsibility, they should at least recognize the reality of violence in our society, and that the police cannot be everywhere to prevent or stop it. They should reject the facile solutions of the anti-gunners that are based upon a fairy-tale vision of a society without guns. There are an estimated 270,000,000 guns in the US, and it is unreasonable to imagine that even the most draconian confiscation could remove more than a fraction of them from circulation, or that any attempt to do so would disarm criminals. As the old adage goes, "When guns are outlawed, only outlaws will have guns". To hide behind gun control legislation that has never worked and can demonstrably be shown to have actually increased the crime that it is supposed to eliminate, is merely wishful thinking that we can avoid "getting involved", and avoid the personal responsibility that we all bear.
In the book of Genesis, the Lord asks Cain, who had just murdered his brother, "Where is your brother Abel?" Cain answered, "I do not know. Am I my brother's keeper?" The Lord then made it clear that he was indeed his brother's keeper, and He holds us similarly responsible for preventing the violence that threatens to become an epidemic if it is not stopped. We must not sit back and let politicians pass feel-good legislation that does nothing other than to allow us to abdicate any personal responsibility for what is going on all around us. It is time for us to stand up and be counted. If we are not part of the solution, as they say, we are part of the problem.
----------
Dr. Frederick Liewehr is an endodontist who teaches and works in private practice. He converted from Protestantism to Catholicism in 1983, having been drawn ineluctably to Christ's Church by the light of Truth. He is a member of St. Benedict parish in Richmond, a Fourth Degree Knight of Columbus and a Cooperator of Opus Dei.
---
Copyright 2016 - Distributed by THE CALIFORNIA NETWORK
Pope Francis Prayer Intentions for May 2016
Universal:
Respect for Women: That in every country of the world, women may be honored and respected and that their essential contribution to society may be highly esteemed.
Evangelization:
Holy Rosary: That families, communities, and groups may pray the Holy Rosary for evangelization and peace.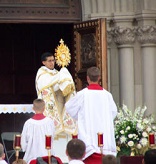 By Deacon Keith Fournier
We have received the Bread of Heaven. Let us choose to become what we consume. These Feasts are not just rituals on a Church calendar. They are invitations to encounter the Lord Jesus Christ, and then offer Him to a world waiting to be born anew. On this Feast of ... continue reading
---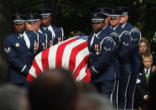 By Deacon Keith Fournier
I live in Chesapeake, a wonderful city in Southeastern Virginia where there are many members of the military. The parish I serve is an example of this. Every day, I witness the many sacrifices which military families make for our Nation. On this Memorial Day, I ... continue reading
---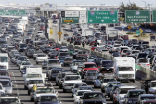 By Marshall Connolly (CALIFORNIA NETWORK)
We have money for perpetual war and can afford generous foreign aid, tax subsidies and cuts for the wealthy, but we cannot find the money to fix a pothole or repair a collapsing bridge. This is the sorry state of affairs U.S. infrastructure is in as we let the nation ... continue reading
---

By Kenya Sinclair (CALIFORNIA NETWORK)
Protesters at Republican presidential candidate Donald Trump's New Mexico rally erupted in violent acts including the attempted stoning of police, glass bottles thrown at mounted units and their horses, burning shirts and more. LOS ANGELES, CA (Catholic Online) - ... continue reading
---

By Kenya Sinclair (CALIFORNIA NETWORK)
Illegal aliens continue to surge into the United States from the Southwest U.S. border, leading the U.S. Customs and Border Protection (CBP) units to announce record-breaking apprehensions in April, 2016. LOS ANGELES, CA (Catholic Online) - According to the U.S. ... continue reading
---

By Marshall Connolly (CALIFORNIA NETWORK)
The arresting officer in the Freddie Gray case, Edward Nero, has been declared "not guilty" by the judge in his criminal trial. Now, the community waits to see if violence will erupt or if the streets will remain quiet. LOS ANGELES, CA (California Network) - Officer ... continue reading
---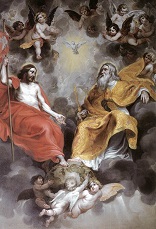 By Deacon Keith Fournier
'The mystery of the Most Holy Trinity is the central mystery of Christian faith and life. It is the mystery of God in himself. It is therefore the source of all the other mysteries of faith, the light that enlightens them. It is the most fundamental and essential ... continue reading
---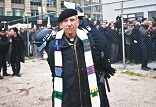 By Fr Frank Pavone
Father Berrigan was a radical figure who sent a total of almost seven years in prison. What many don't realize though is that his activism extended beyond the anti-war movement and into the anti-abortion movement. Believing in what he called a consistent ... continue reading
---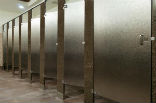 By David Drudge (CALIFORNIA NETWORK)
Under a new law, businesses in New York will be fined if they don't use a person's preferred pronoun when referring to them. This especially becomes a problem when it is understood there are at least 58 possible pronouns with at least five grammatical variations ... continue reading
---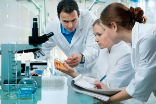 By Marshall Connolly (CALIFORNIA NETWORK)
The Federal Government has discovered the grocery list technology. This unlock apparently occurred recently as the Department of Agriculture sent encouraging, rapid-fire tweets to the public about how to use this remarkable new advancement. LOS ANGELES, CA (California ... continue reading
---
All U.S. News