Bishop Robinson is at the forefront of the ongoing schism within the global Anglican Communion.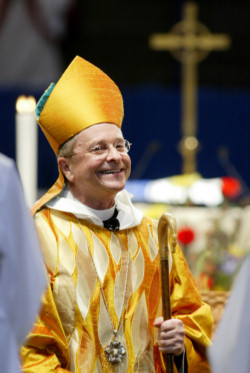 In a move obviously timed to coincide with the plans for the global Anglican Lambeth conference, Homosexual activist Bishop Gene Robinson went on National television to announce his plans to enter a Civil Union with his male partner.
LOS ANGELES (Catholic Online) - In an interview with Matt Lauer of NBC, practicing Homosexual controversialist Bishop Gene Robinson announced plans to enter into a 'Civil Union' with his Male Paramour.

He told the interviewer it was "what God is telling me to do"

Just as the splintering Anglican Communion was preparing for its International Lambeth Conference. Just as the controversy surrounding the actions of some orthodox Anglicans planning an alternative Conference seemed to be out of the limelight. Right at this time,a controversialist Bishop named Gene Robinson once again enters the limelight to make himself the center of attention.

Using National Network television in the United States as his platform, he announced his plans. They confirmed a promise he had made in November of 2007 at Nova Southeastern University's Shephard Law Center.

There, in an appearance written about by Catholic Online, he proudly told the audience of his upcoming planned 'marriage' to his paramour.

With a broad smile he announced with pride, "I always wanted to be a June bride."

This Bishop is on the forefront of the ongoing schism within the global Anglican Communion.

He is also a leader in a cultural revolution being led by activist, practicing homosexuals who not only want to live their lifestyle but force the State and the Church to give them equal status to marriage.

Painting himself as some new kind of "martyr", the Bishop told Matt Lauer that he will enter into a "Civil Union" with his male partner of twenty years, Mark Andrew. He presented those within Christianity who oppose his active homosexual relationship as somehow unenlightened.

Finally, as is his habit, he attempted to argue against the clear teaching of the Scriptures and unbroken teaching of the Christian tradition that reserve sexual activity to the loving, lifelong marriage bond between a married man and woman.

Presenting himself as some kind of new liberator, the controversialist Bishop, whose consecration to Episcopal office in 2003 expedited the continuing splintering of the Anglican Communion worldwide, seemed to take great delight in his celebrity status during the interview.

Robinson has been asked to not attend the conference because of the controversy surrounding his lifestyle and his vocal dissent from Christian teaching and tradition.

However, the Bishop announced in this same interview that he will attend anyway, saying with defiance: "I think the Archbishop of Canterbury has gotten this wrong by not inviting everyone. I'm going to go and offer myself and talk with anyone who wants to talk to someone who is unashamedly gay and unashamedly Christian."

How will this new controversy be handled by the leadership of the global Anglican communion?

Only time will tell. So far, nothing has seemed to stop the splintering or slow the erosion of orthodoxy.

---
Copywriter 2015 - Distributed by THE NEWS CONSORTIUM
Pope Francis Prayer Intentions for October 2015
Universal:
That human trafficking, the modern form of slavery, may be eradicated.
Evangelization:
That with a missionary spirit the Christian communities of Asia may announce the Gospel to those who are still awaiting it.
---
---
---

By Catholic Online (CALIFORNIA NETWORK)
A shooting at a Planned Parenthood facility in Colorado Springs, Colorado that left three people dead last week is only expected to inflame passions of both sides of the political spectrum - as well as giving lawmakers, returning from their holiday break, ... continue reading
---
By Abigail James (CALIFORNIA NETWORK)
A miraculous bleeding communion wafer has presented itself at a Utah Church. Followers from the St. Francis Xavier Church in Kearns, Salt Lake City have claimed the sacrament bled for three days after it was placed in water following communion. LOS ANGELES, CA ... continue reading
---

By Kenya Sinclair (CALIFORNIA NETWORK)
Joaquín "El Chapo" Guzmán leads the Sinaloa drug cartel, which the Drug Enforcement Administration (DEA) reports has the most influence of all gangs in the United States. LOS ANGELES, CA (Catholic Online) - The DEA released an unclassified report that indicates the ... continue reading
---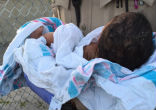 By Catholic Online (CALIFORNIA NETWORK)
While much still needs to be learned - authorities here in Compton, California are gratified to learn that miracles still happen. A days-old baby girl, estimated to be only two to three days old, has been pulled to safety from a riverbed after a passerby heard ... continue reading
---
By Deacon Keith Fournier
Jesus Christ is not just a memory to the Christian with living faith. He is alive in our midst and living His Life in and through His Body, the Church, of which we are members. The redemptive mission of the Lord Jesus continues until He returns. As Christians, we ... continue reading
---

By David Drudge (CALIFORNIA NETWORK)
If you were asked, what is the greatest hoax ever perpetrated in human history, how would you answer? Global warming? Vaccines? The Moon Landing? Entire religions? (Not that we agree with these). But what would you say? In a moment, we're going to offer an answer ... continue reading
---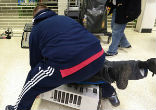 By Catholic Online (CALIFORNIA NETWORK)
Everyone has had their turkey leftovers from the previous day's Thanksgiving Feast - and now it's out the door to the nearest "big box" store in a mad scavenger hunt called "Black Friday," where shoppers trample each other for the best deals then can get just before ... continue reading
---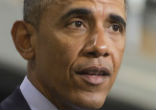 By Catholic Online (CALIFORNIA NETWORK)
United States President Barack Obama called on Americans to welcome Syrian refugees this Thanksgiving season, who - like the pilgrims that set sail on the Mayflower, were likewise fleeing persecution in their native land. LOS ANGELES, CA (California Network) - ... continue reading
---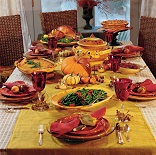 By Deacon Keith Fournier
Happy Thanksgiving Day. May it be a day for love and gratitude. No matter how difficult the challenges we face as a Nation, we have much to be grateful for. As we give thanks, we will find the strength we need to love even more fully. As we practice regularly ... continue reading
---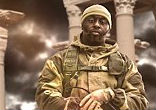 By Catholic Online (CALIFORNIA NETWORK)
A new video from the Islamic State is highlighting the high number of U.S. soldiers who commit suicide, in effect to tell the world's last remaining superpower to "bring it on." U.S. President Barack Obama has since dismissed ISIS as "a bunch of killers with ... continue reading
---
All U.S. News