MOST GRAPHIC photos yet of Islamic State brutality (GRAPHIC RAW IMAGES)
---
By Catholic Online (NEWS CONSORTIUM)
8/11/2014 (3 years ago)
Catholic Online (www.catholic.org)
Look inside Hell and be moved to act.
ISIS has gleefully tweeted yet more photos of their mayhem, showing the beheading of several victims in gruesome detail. Catholic Online remains the only media outlet to publish the uncensored images.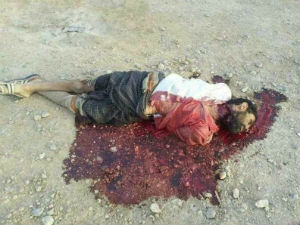 A victims of IS terrorists, left as a warning to others.
LOS ANGELES, CA (Catholic Online) - Several concerned readers have wrote to Catholic Online asking why we are showing the most graphic images of the activity of Islamic State terrorists. The answer is simple. The world must see and recognize what we are dealing with.
The Islamic State terrorists are an existential threat to the world. They have pledged attacks on the United States, proclaiming that their flag will fly over the White House. They show no signs of stopping either.
Help now, give today for these victims of genocide!
Despite U.S. airstrikes, which are very likely to increase their popularity and help with recruiting efforts, the Islamic State is redoubling their attacks and intends to spread across the entire Middle East. If they are somehow defeated in Iraq and Syria, the survivors are likely to disperse and conduct terror attacks wherever they can, including in the United States.
Presently, Christians and others who refuse to accept their rule, are being subjected to all forms of torture and killing. Beheading is a favorite, although simple shooting is common. In another report, about 500 Yadizi people were buried alive. The remainder who have not fled the Islamic State are being ordered to convert or die within 24 hours.
What these men gleefully did to the unfortunate victims in the images below, they will do to you. Pixelating the image or pulling punches does you a disservice, sanitizing a brutal affair that includes the systematic genocide of entire races and faiths. The world's most ancient Christian communities are being eradicated.
Even children are being murdered.
It is our responsibility to pull the lid off of Hell so the entire world can peek inside. Don't like what you see? Don't merely gripe about the images.
Act today to help these people.
Your Catholic Voice Foundation working though Catholic Online is sending money directly to the Chaldeans who are victims of this genocide. Money from donors like you has now been sent to the Chaldean Catholic Diocese of St. Peter the Apostle for immediate aid. They provide ministry to Chaldean and Assyrian Catholics and we will be working directly with Bishop Sarhad Jammo.
We all learned about the Holocaust in school. We all promised to ourselves to do our part, if ever confronted with such evil in the world. Well, here it is. Have a good, long look, and act in accord with your conscience.
An ISIS terrorist jams his fingers into his victim's eyes as he beheads him. The gory execution is intended to intimidate others.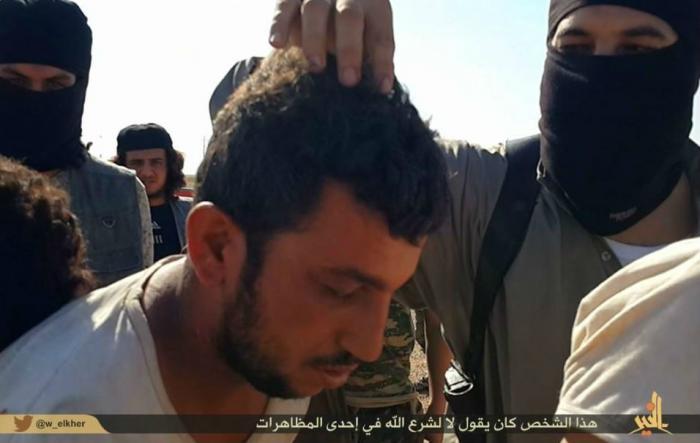 A man has his hair pulled, a form of insult in Islamic culture. He is about to die.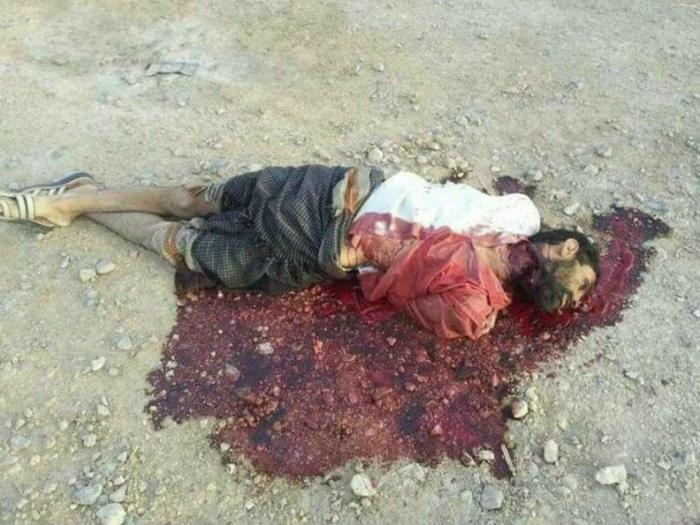 The bodies of victims are left for the public to find as a form of calling card.
This man is enduring his final seconds of life, an ISIS terrorist sawing through his neck with a less-than-sharp knife.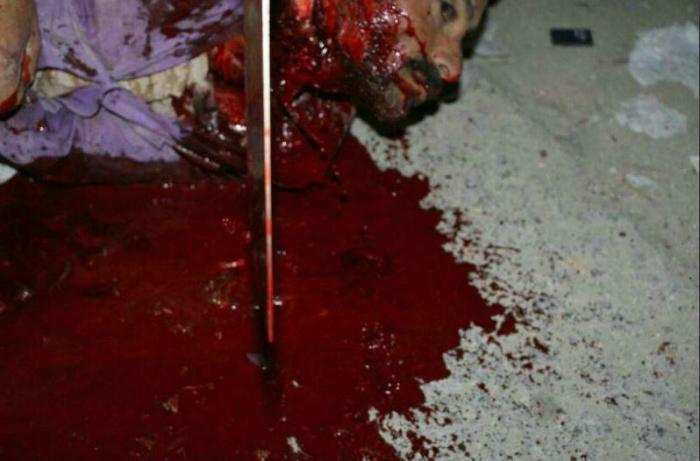 It's designed to be gruesome. This is the treatment meted out to all of their enemies, including Christians. Especially Christians.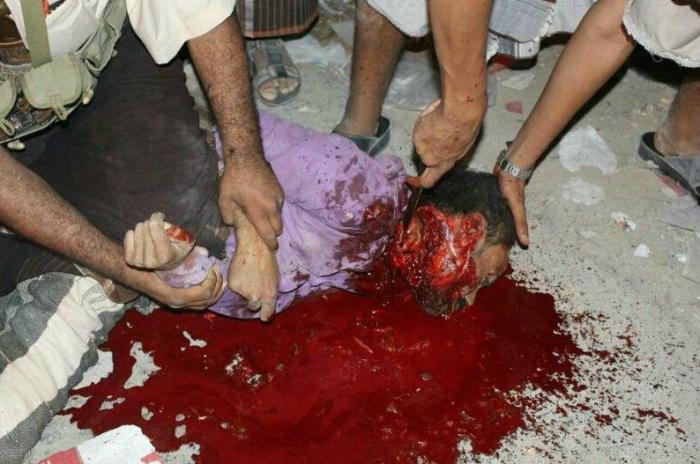 Almost done, but not quite. ISIS published these images to Twitter which they are using as a media outlet to intimidate the world. They're not going to stop with northern Iraq and Syria.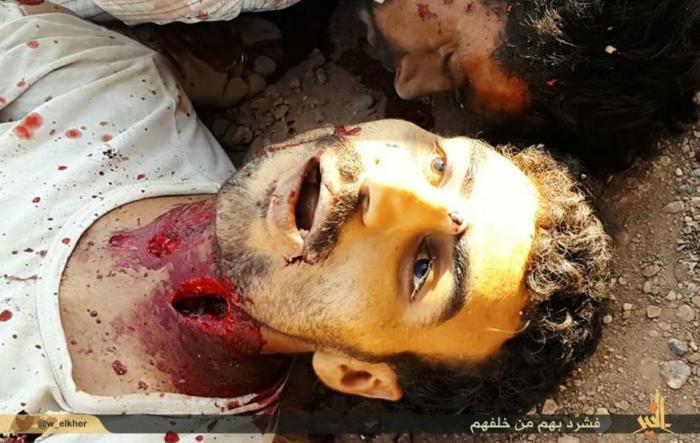 Typically the ISIS terrorists execute former soldiers like this one with a shot to the back of the head. Sometimes they miss because they're working too fast, or they just feel like behaving even more brutally. This victim was shot through the neck and that was good enough for the terrorists who simply left him to bleed to death. Typically the ISIS terrorists execute former soldiers like this one with a shot to the back of the head. Sometimes they miss because they're working too fast, or they just feel like behaving even more brutally.

Don't like what you just saw? Act now to do something about it.
Please share this article via your social networks. The world needs to SEE THE TRUTH NOW.
---
Copyright 2017 - Distributed by THE CALIFORNIA NETWORK
Pope Francis Prayer Intentions for OCTOBER 2017
Workers and the Unemployed.
That all workers may receive respect and protection of their rights, and that the unemployed may receive the opportunity to contribute to the common good.
---
---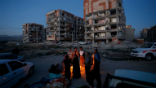 A massive quake has killed over 400 people, and injured thousands in the border region between Iraq and Iran. The quake struck around 9:18 ... continue reading
---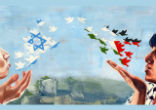 Fifty years is a long time to endure forced suffering. Since the 1967 Arab-Israeli War when Israel captured and occupied the Palestinian ... continue reading
---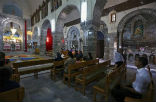 Following the liberation of Mosul, Iraq, from the hands of the Islamic State, Christians are cautiously returning to the city. And as they ... continue reading
---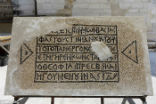 Workers installing communication cables in Jerusalem's Old City have unearthed a Byzantine Christian mosaic inscribed with honors to ... continue reading
---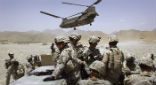 President Trump has announced a new strategy for the U.S. in Afghanistan that involves a significant investment in winning the conflict ... continue reading
---