By Catholic Online (NEWS CONSORTIUM)
9/5/2013 (2 years ago)
Catholic Online (www.catholic.org)
Situation could spiral quickly out of control.
Russian military forces are moving into position where they can possibly intercept Allied attempts to strike Syria. The Russian military has confirmed the movement of ships in the Mediterranean.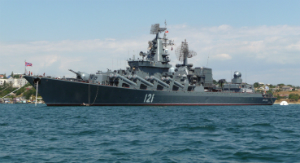 The Russia missile cruiser, Moskva.
LOS ANGELES, CA (Catholic Online) - According to sources in the Russian military, the Russian navy has moved its naval forces into position where it can respond to a possible U.S. strike on Syria.

The anti-submarine (ASW) ship Admiral Panteleyev, has moved into the Mediterranean on a scheduled deployment there. At the same time, a Russian missile cruiser, the Moskva, is being deployed and will serve as the Navy's flagship in the Eastern Mediterranean.

These ships have the capability to intercept Allied aircraft and ships, and if properly positioned they could theoretically intercept cruise missiles as they fly towards targets in Syria.

Right now, it seems unlikely that the Russians would actually move to block a strike by Allied forces, however they are positioning to involve themselves if the conflict should widen. They are also pushing hard politically to discourage Obama from ordering a strike.

President Obama insists he has not yet made up his mind about a strike, but he is asking permission from Congress to conduct what he says will be a series of limited and precise strikes designed to "degrade" Assad's ability to deploy chemical weapons.

Critics have a lot of ammunition, and the positioning of Russian missile cruisers and other ships makes the case against strikes more compelling. Critics argue that the strikes will be limited in effectiveness because Assad has enjoyed ample warning. They also warn that Syria and even Iran could retaliate against Israel, which would prompt an Israeli response. This could cause the conflict to spiral quickly out of control.

Syrian and Iran both have pledged to strike Israel in retaliation for any Allied attack.

Conversely, Obama is correct that Assad must understand the use of weapons of mass destruction, especially against civilians, will not be tolerated. The problem is that no other nation, except for France and Saudi Arabia, seem to agree. The world condemns the attacks, but only a few are willing to actually do anything about them.

The United Nations has already demonstrated their spectacular ability to fail at peaceful resolution of the conflict.

This leaves the United States standing virtually alone against Assad, as only the U.S. has the means and will to degrade his weapons capability.

There are times when the use of force is justified. Against a mass murderer such as Assad, one can make a compelling case. However, there remains too many variables and too little chance of success to make strikes worth the risk and expense.

Of course, there is the sheer hypocrisy of it all too. Since Obama railed against Assad's Aug. 21 chemical attack on Damascus which killed 1,400, Obama's abortion policies have killed 45,000 babies in the womb.


---
Copyright 2015 - Distributed by THE CALIFORNIA NETWORK
Pope Francis Prayer Intentions for April 2016
Universal:
Small Farmers: That small farmers may receive a just reward for their precious labor.
Evangelization:
African Christians: That Christians in Africa may give witness to love and faith in Jesus Christ amid political-religious conflicts.
---
---
---

By Kenya Sinclair (CALIFORNIA NETWORK)
Footage captured Kurdish fighters destroying a Mad Max-like scrapyard ISIS suicide bomber truck in Syria in an amazing missile explosion. LOS ANGELES, CA (Catholic Online) - The footage caught an ISIS suicide bomber truck driving along a dirt road when suddenly a ... continue reading
---

By Kenya Sinclair (CALIFORNIA NETWORK)
Fighting in Iraq leads to 12 dead - but ISIS had nothing to do with the gunfire. LOS ANGELES, CA (Catholic Online) - News of ISIS-related acts of terror including bombings, rape and even threatening social media have splashed headlines for quite a while, but what else ... continue reading
---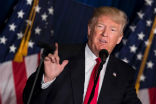 By David Drudge (CALIFORNIA NETWORK)
The Wall Street Journal has published their report on documents released by the U.S. government detailing the raid that killed ISIS's top money man. Abu Sayyaf was the official oil man for ISIS, generating over a million dollars a day for the terror organization, even ... continue reading
---

By David Drudge (CALIFORNIA NETWORK)
Saudi Arabia is taking out a $10 billion loan to offset losses caused by collapsed oil prices, a condition the conservative Islamic monarchy has created for itself. Saudi Arabia is beginning to consider changes to its economy that will shift the nation away from oil. ... continue reading
---

By Matt Hadro (CNA/EWTN News)
Now that the U.S. has declared that the Islamic State is waging genocide against religious minorities in Iraq and Syria, what will be done to help the victims move forward? LOS ANGELES, CA (Catholic Online) - That was the question at an April 19 congressionalWill the ... continue reading
---

By Abigail James (CALIFORNIA NETWORK)
Two-hundred and fifty women have been brutally slaughtered by the Islamic State for refusing to become sex slaves to the terrorists. LOS ANGELES, CA (Catholic Online) - After refusing to accept the "temporary marriages" and the "sexual jihad" being forced on them the ... continue reading
---

By Kenya Sinclair (CALIFORNIA NETWORK)
Air strikes in Syria continue to eat away at the ISIS population - but they have been destroying civilian lives as well. LOS ANGELES, CA (Catholic Online) - A mother recently lost her daughter in a missile strike of Aleppo, Syria.The woman was recorded crying and ... continue reading
---

By Kenya Sinclair (CALIFORNIA NETWORK)
Historians often argue about the age of the Bible. For all they've learned from the text, several questions remain. Was it written as events were happening or were stories passed down and eventually recorded? When, exactly, were the books of the Bible ... continue reading
---

By Kenya Sinclair (CALIFORNIA NETWORK)
ISIS is reported to have kidnapped 300 cement workers outside Damascus, Syria. Of the 300 workers, new reports indicate 175 have been killed. LOS ANGELES, CA (Catholic Online) - According to Daily Mail, an unknown source told state-run news agency SANA, "employees and ... continue reading
---

By Abigail James (CALIFORNIA NETWORK)
As the entire world anxiously awaits a safe return of the ISIS kidnapped priest, Fr Thomas Uzhunnalil, his older brother continues to worry about the safety of Fr Tom. LOS ANGELES, CA (Catholic Online) - Living alone with no access to media, Mathew Uzhunnalil, 73, ... continue reading
---
All Middle East News