Therese is the Patron Saint of Missions
The tour of the relics of the patron saint of missions, which began on March 14 has been marked by processions and moments of prayers and adoration in many cities. For security reasons, the stage in Gaza was cancelled. The urn containing the mortal remains of Saint Thérčse will remain in the Holy Land until 31 May.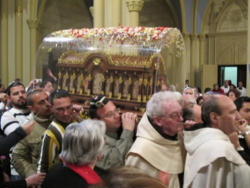 The relics of the Saint Processed through the Holy Land
JERUSALEM, Israel (AsiaNews) - In processions and moments of prayer and adoration, thousands of faithful in all the parishes are venerating the relics of Saint Thérčse of Lisieux, which are in pilgrimage to the Holy Land until 31 May.
Fr Carmelo Gallardo, vice chancellor of the Latin Patriarchate of Jerusalem, told AsiaNews that "the relics' passage through the various Catholic communities of Palestine and Israel has brought together thousands of faithful from all the parishes of the Holy Land."
"Everywhere people have shown great devotion," the priest said. "Many young people have taken part in the processions, including boy scouts and parish groups."
There were moments of great emotion during Easter procession in Bethlehem and Emmaus, Fr Gallardo said. The same occurred in Haifa where the relics were carried through the streets of the city.
The urn containing the remains of the saint, who is the patron of missions, arrived in Tel Aviv on 14 March.
In two months, it has been seen in the main churches and parishes of the Holy Land, including Jerusalem, Bethlehem, Nazareth, Haifa and Emmaus.
For security reasons, the relics did not travel to the Gaza Strip, where they were set to be on display yesterday.
In the past few days, "the prayers in honour of the Saint and the requests for grace made during the pilgrimage have laid a bridge of peace and hope between the peoples of the Holy Land, especially the faithful in the Gaza Strip," Mgr Shomali, bishop of Jerusalem, said. (S.C.)

---
---
---

By Kenya Sinclair (CALIFORNIA NETWORK)
A mob of roughly 300 Muslim men attacked a 70-year-old Christian woman in the Egyptian village of Al-Karm and broke out into religiously motivated acts of violence, including the burning of seven Christian family homes. LOS ANGELES, CA (Catholic Online) - Rumors spread ... continue reading
---

By Kenya Sinclair (CALIFORNIA NETWORK)
Pakistan's Ministry of Foreign Affairs confirmed the death of Afghan Taliban leader Mullah Akhtar Mohammed Mansour by U.S. drone strike - but another leader has risen. LOS ANGELES, CA (Catholic Online) - Days after burying Mansour in an undisclosed location in ... continue reading
---

By Kenya Sinclair (CALIFORNIA NETWORK)
After a Tuesday vote, Iran's Assembly of Experts elected 89-year-old Ahmed Jannati as its next supreme leader.Jannati is famous for his extremely conservative views of Islam and is now in a position to choose Iran's next Supreme Leader. LOS ANGELES, CA (Catholic ... continue reading
---

By Kenya Sinclair (CALIFORNIA NETWORK)
It's a bad time to be an ISIS commander. In response to the continual failures on the battlefield, ISIS commanders are now being executed by being fed to aggressive dogs. LOS ANGELES, CA (Catholic Online) - A Kurdish commander spoke to the Iranian media outlet ... continue reading
---

By Kenya Sinclair (CALIFORNIA NETWORK)
ISIS followers have been urged to strike at Europe and the United States by a 31-minute speech Abu Mohamed al-Adnani posted online. LOS ANGELES, CA (Catholic Online) - In his speech, al-Adnani told his followers: "The tiniest action you do in the heart of their land is ... continue reading
---

By David Drudge (CALIFORNIA NETWORK)
A senior Iranian military adviser has said that Israel can be destroyed within eight minutes, if the order is given. The estimate is based on the amount of time it will take for a missile to reach Israel. LOS ANGELES, CA (California Network) - Ahmad Karimpour, an ... continue reading
---

By Kenya Sinclair (CALIFORNIA NETWORK)
An ISIS militant confined to a wheelchair has made headlines once again for executing an innocent. LOS ANGELES, CA (Catholic Online) - According to <a ... continue reading
---

By Kenya Sinclair (CALIFORNIA NETWORK)
In a newly released video, an ISIS militant, supporting himself on crutches, stood beside the remains of a destroyed Christian headstone. LOS ANGELES, CA (Catholic Online) - The video, shown on <a ... continue reading
---

By Kenya Sinclair (CALIFORNIA NETWORK)
The latest issue of Al-Qaeda's propaganda magazine 'Inspire' claims the assassination of several American business leaders can be of use in the Prophet's holy war. LOS ANGELES, CA (Catholic Online) - According to Daily Mail, a hit list was released for lone wolf jihads ... continue reading
---

By Kenya Sinclair (CALIFORNIA NETWORK)
Barbed wire, 5,000 landmines and danger signs written in Arabic, English and Hebrew surround the site believed to be the area Jesus was baptized in the Jordan River. LOS ANGELES, CA (Catholic Online) - Though the Israeli and Jordanian armies concluded their war in ... continue reading
---
All Middle East News