Aristocratic woman's skeleton sports pointed skull
Her skull warped into a deformed, pointy shape, the remains of an aristocratic woman has been unearthed in a French necropolis. Found in the Alsace region, the necropolis houses 38 tombs that span more than 4,000 years, from the Stone Age to the Dark Ages.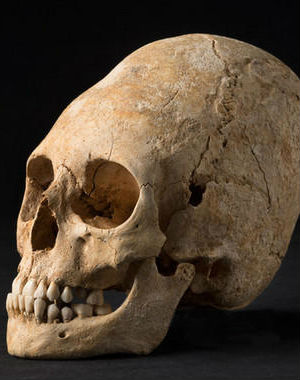 Her skull warped into a deformed, pointy shape, the remains of an aristocratic woman has been unearthed in a French necropolis.
LOS ANGELES, CA (Catholic Online) - First discovered found in 2011, archaeologists were doing a preliminary excavation of the area before the beginning of a big industrial building project.


The Obernai region where the remains were found contains a river along with highly fertile soil. The area has attracted people for thousands of years, Philippe Lefranc, an archaeologist who excavated the Stone Age burials says.
AFTER THE UNSPEAKABLE, WE SPEAK HOPE. Support Catholic Online's response to Typhoon Haiyan in the Philippines. DONATE NOW ...
Lefranc and his colleagues say that the tombs were well preserved by the limestone rock in which they were buried. Twenty tombs of men, women and children were unearthed.
"The corpses are lying on their backs, with outstretched legs and heads turned westwards," Lefranc said.
Dating between between 4900 B.C. and 4750 B.C., the tombs also contained a few stone vases and tools. There were also ornaments such as mother-of-pearl elbow bracelets and collars. Archaeologists theorize that the remains may have been a family from a Neolithic farming and animal-herding culture that lived in long houses and buried their dead in cemeteries.
The second burial, found in a separate area, revealed 18 tombs from either the late Roman period or the early Dark Ages, about 1,650 years ago.
One of the tombs held a woman who had a deformed, flattened forehead.
"The deformation of the skull with the help of bandages (narrow strips of cloth) and small boards is a practice coming from central Asia," Lefranc wrote in an email. "It was popularized by the Huns and adopted by many German people."
The deformed, alien-like skull was a privilege reserved for the aristocracy - after they died. "In France, Germany and eastern Europe, these deformed skulls appear in tombs rich in objects," Lefranc said.
The woman's tomb also contained gold pins, belts known as chatelaines, pearls, a comb made of a stag antler and a bronze mirror.
The team speculates that the 1,650-year-old graves held mercenary soldiers from the East and their families, who were employed by the Roman Army during the waning days of the Roman empire.
A birth foretold: click here to learn more!
---
Copyright 2015 - Distributed by THE CALIFORNIA NETWORK
Pope Francis Prayer Intentions for April 2016
Universal:
Small Farmers: That small farmers may receive a just reward for their precious labor.
Evangelization:
African Christians: That Christians in Africa may give witness to love and faith in Jesus Christ amid political-religious conflicts.

By Kenya Sinclair (CALIFORNIA NETWORK)
Vatican auditors closed nearly 5,000 suspected Vatican bank accounts on suspicion of tax evasion. LOS ANGELES, CA (Catholic Online) - The scandal includes a three-year investigation of 544 suspected transactions mainly involving tax evasion.To meet international ... continue reading
---

By David Drudge (CALIFORNIA NETWORK)
Hackers have just released thousands of documents in a new document dump to the media, this time, they contain the secrets of the Masons. The data dump is known as "Masonleaks" and journalists say it will take several months to complete their review of the documents. ... continue reading
---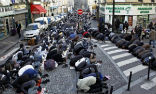 By David Drudge (CALIFORNIA NETWORK)
A Belgian minister has a telling warning for his country as hearings begin into the Brussels attack that killed 32 people at an airport in March. The reason for the warning is quite compelling. LOS ANGELES, CA (California Network) - A Belgian minister is warning ... continue reading
---

By Marshall Connolly (CALIFORNIA NETWORK)
A woman in Northern Ireland has been convicted of aborting her child, and sentenced to a three-month, suspended jail sentence. The woman left her baby in a trash bag for eight days until police were contacted. The case has sparked renewed debate over abortion in ... continue reading
---

By Kenya Sinclair (CALIFORNIA NETWORK)
Thirty years after the greatest nuclear disaster the world has ever seen, Ukrainians solemnly commemorate the 1986 Chernobyl nuclear power plant accident. LOS ANGELES, CA (Catholic Online) - The meltdown at the Russian plant began when an uncontrolled reaction ... continue reading
---

By Kenya Sinclair (CALIFORNIA NETWORK)
A Cambridge researcher and world-class medieval music performer combined their talents to perform an ancient song for the first time in over 1,000 years. LOS ANGELES, CA (Catholic Online) - The music, titled "Songs of Consolation," was performed for the first time on ... continue reading
---

By Kenya Sinclair (CALIFORNIA NETWORK)
Students from the French university Sciences Po Paris held a Hijab Day to raise awareness of the discrimination and verbal abuse Muslim women face every day - and it went exactly how you might expect. LOS ANGELES, CA (Catholic Online) - With the influx of Muslim ... continue reading
---

By Kenya Sinclair (CALIFORNIA NETWORK)
German and Italian intelligence agencies discovered ISIS' plan to pose as refugees to detonate bombs and suicide vests buried beneath lounge chairs across Spanish, French and Italian beaches this summer. LOS ANGELES, CA (Catholic Online) - According to the Mirror, ... continue reading
---

By David Drudge (CALIFORNIA NETWORK)
The conditions that Norwegian mass murderer Anders Behring Breivik have been subjected to are inhumane, according to a Norwegian court. Breivik was convicted of killing 77, and injured 319. Many of his victims were children. LOS ANGELES, CA (California Network) - Life ... continue reading
---

By CNA/EWTN News
On April 29, the Trevi Fountain, one of the most popular and emblematic tourist spots in Rome, will be dyed red in recognition of all Christians who even today give their life for the faith. Rome, Italy (CNA/EWTN News) - The event is being organized by Aid to the ... continue reading
---
All Europe News