The colonel's victims were often as young as 14 years old
His reign of terror may have ended in October of 2011, when Libya's much-despised leader, Colonel Moammar Khadafy was killed after 42 years of his brutal dictatorship of that North African nation. His warped legacy, however, will live on in the lives of countless men and women who served as his "sex slaves." Horrific new photographic evidence and testimony has since been revealed about the colonel's perverse "extracurricular" activities .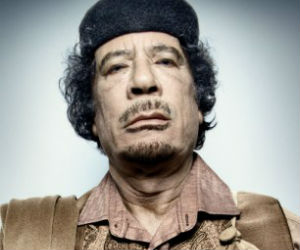 Khadafi's heritage will long be felt in the hundreds, possibly thousands of teenage girls who were beaten, raped and forced to become his sex slaves.
LOS ANGELES, CA (Catholic Online) - Hauled out of a drainpipe and shot, Khadafi's death ended the bloody NATO-led civil war that had ravaged the country since the start of that year.


His heritage will long be felt in the hundreds, possibly thousands of teenage girls who were beaten, raped and forced to become his sex slaves.

This beautiful visor clip can be purchased here --
Many of the young women were virgins kidnapped from schools and universities and kept prisoner for years in a specially designed secret sex lair hidden within Tripoli University or under his many palaces. In the two-years-plus he has been deposed, the gaudy interior of his "rape rooms" where the colonel brutalized his victims can be seen for the first time in a hard-hitting BBC4 documentary.
A nondescript single-storey complex, girls were forced to watch pornography to "educate" them for their degrading treatment at the hands of Khadafy. Those who did manage to escape were often shunned by their deeply religious Muslim families who believed their family honor had been tainted. 
The hastily convened transitional government after the dictator's death moved swiftly to seal off the sex dungeon, fearing the full extent of Khadafi's debased and lewd lifestyle would horrify the Western world and cause deep embarrassment to Libya.
Even more chilling is the clinical gynecological suite in an adjoining room, where two beds fitted with stirrups behind a table laden with surgical instruments examined Khadafi's young victims to ensure they had no sexually transmittable diseases. Victims were forced to undergo abortions if they became pregnant.
Khadafi's would regularly tour schools and universities where female students were invited to his lectures. Speaking before his hushed audience, he would scan the room seeking out attractive girls. Before leaving he would pat those he had "selected" on the head.
His bodyguards would then round up those chosen and kidnap them. If their families tried to keep them from Khadafi's clutches, they were gunned down.
"Some were only 14," one horrified teacher said. "They would simply take the girl they wanted. They had no conscience, no morals, not an iota of mercy even though she was a mere child."
Even more heinous were the teams of boys sent to Khadafi's sex den, where they too were abused. Former chief of protocol Nuri Al Mismari, who was at Khadafi's side for 40 years, adds: "He was terribly sexually deviant. Young boys and so on. He had his own boys. They used to be called the "services group". All of them were boys and bodyguards . a harem for his pleasure."
Pope Francis calls for your 'prayer and action'...
---
Copyright 2017 - Distributed by THE CALIFORNIA NETWORK
Pope Francis Prayer Intentions for DECEMBER 2016
Universal:
End to Child-Soldiers: That the scandal of child-soldiers may be eliminated the world over.
Evangelization:
Europe: That the peoples of Europe may rediscover the beauty, goodness, and truth of the Gospel which gives joy and hope to life.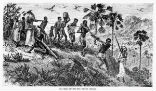 By Marshall Connolly (CALIFORNIA NETWORK)
Archaeologists have identified the origins of some of the first slaves brought to the Americas. Researchers used DNA to confirm their findings. LOS ANGELES, CA (California Network) -- Archaeologists researching slavery in the Americas have unearthed what may be the ... continue reading
---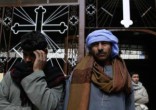 By Andrea Krogmann (Aid to the Church in Need)
Coptic Catholic Bishop Kyrillos William of Assiut, Egypt, commenting on the Dec. 11, 2016 suicide bomber attack that killed 26 people and wounded scores at an Orthodox church in Cairo, confirms that the country's Christian community fears further violence and terror. ... continue reading
---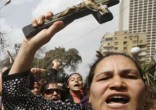 By Kenya Sinclair (CALIFORNIA NETWORK)
Following the horrific attack on <a href="http://www.catholic.org/news/international/middle_east/story.php?id=72513">St. Mark's Cathedral</a>, many are hearing about Coptic Christians for the very first time. LOS ANGELES, CA (Catholic Online) - According to ... continue reading
---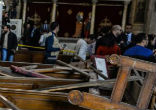 By Kenya Sinclair (CALIFORNIA NETWORK)
On Sunday morning, St. Mark's Coptic Orthodox Cathedral's 105-year-old chapel was targeted by at least one bomb. LOS ANGELES, CA (Catholic Online) - At least 25 people were killed and another 49 were injured in the explosion, which destroyed sections of the church.The ... continue reading
---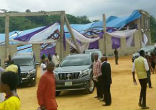 By Kenya Sinclair (CALIFORNIA NETWORK)
The Reigners Bible Church International made headlines on Saturday when its roof collapsed on parishioners celebrating the ordainment of founder Akan Weeks as a bishop. LOS ANGELES, CA (Catholic Online) - The ceremony was cut short when the roof collapsed.Metal beams ... continue reading
---
By Marshall Connolly (CALIFORNIA NETWORK)
The Supreme Court of South Africa has overturned a ruling that could allow physicians to assist a patient who wants to commit suicide. The decision is a life affirming one, with one small detail to cause concern. Thankfully, the court is upholding the importance and ... continue reading
---

By (CNA/EWTN News)
A distant part of Ethiopia last week celebrated the baptisms of 300 adult catechumens, youth, and infants. Bahir Dar, Ethiopia (CNA/EWTN News) - "Today when you receive this great Sacrament of Baptism you become sons and daughters of God, people of God and members of ... continue reading
---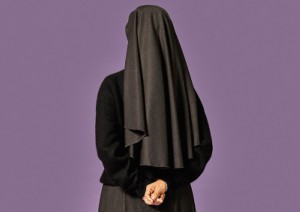 By (CNA/EWTN News)
A nun in the Democratic Republic of Congo was murdered earlier this week by unknown suspects in an apparent robbery, the Pontifical Institute for Foreign Missions has reported. Rome, Italy (CNA/EWTN News) - Sister Marie Claire Agano, a religious of the Franciscan ... continue reading
---
By Marshall Connolly (CALIFORNIA NETWORK)
Archaeologists have discovered a 7,000 year old city in Egypt, dating back to the earliest days of the Egyptian civilization. The settlement is a remarkable discovery that will shed light on a period about which little is known. LOS ANGELES, CA (California Network) - ... continue reading
---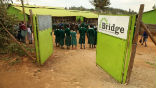 By Marshall Connolly (CALIFORNIA NETWORK)
Some sixty-three private schools in Uganda are about to be closed after officials found they are not properly educating students. The schools in question belong to the Bridges Academy, a private, for-profit school system funded in part by Bill Gates and Mark ... continue reading
---
All Africa News