By Catholic Online (NEWS CONSORTIUM)
7/30/2012 (3 years ago)
Catholic Online (www.catholic.org)
Makoko slum housed 100,000 people; residents given three days to pack up and run
Makoko is a massive, floating waterfront slum in Lagos, Nigeria that was at one time home to 100,000 people. Authorities recently gave the people there 72 hours to gather up all their belongings before men in speedboats arrived to destroy their houses. The mass eviction has left thousands homeless in an already stressed urban environment.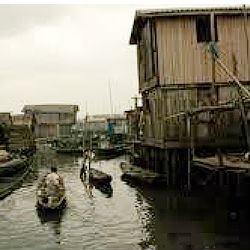 Those living in Makoko subsist largely as fishermen and workers in nearby saw mills, cutting up water-logged timber that's floated into the city daily.
LOS ANGELES, CA (Catholic Online) - Makoko rises out of the murky water that separates mainland Nigeria from the island that gave birth to Lagos, its largest city.

Men armed with machetes and power saws descended on the shantytown to demolish it, leaving some 3,000 people homeless.

Their homes destroyed, many families have been left living on boats or seeking refuge in churches.

"The government is treating these people as though they were not human," Felix Morka, a rights activist at the Social and Economic Rights Action Centre in Lagos told the Al Jazeera News Network.

"It's very condescending of the government to contemplate displacing nearly 150,000 people without any discussion or notice. That is wrong," he said.

Government officials deny any wrongdoing. "Let us look at how these people live. Is there any reasonable society that would allow its citizens to live the way they are living?" Lateef Raji, an adviser to the governor of Lagos State told reporters.

The mass eviction has since touched off violence. Trouble started this past weekend when authorities tried to demolish a building after officials reached an informal agreement about how they would target homes for destruction.

Community Chief Timothy Hunpoyanwha was shot to death in an officer involved shooting, residents have said. The incident remains under investigation, prompting Lagos State Governor Babatunde Raji Fashola to halt the demolition exercise.

Fashola remains firm that Makoko should not be allowed to grow any further. A government notice issued about the evictions seems to suggest it wants the entire community gone.

"The Lagos state government is desirous of restoring the amenity and value of the waterfront... [and] improve the waterfront/coastline to underline the megacity status of the state," the notice read.

Constructed of bamboo homes and shacks built out of driftwood, Makoko is close to the University of Lagos campus and visible to daily traffic that plies the Third Mainland Bridge, the link from the mainland to the city's islands.

Those living in Makoko subsist largely as fishermen and workers in nearby saw mills, cutting up water-logged timber that's floated into the city daily.

.
---
Copywriter 2015 - Distributed by THE NEWS CONSORTIUM
Pope Francis Prayer Intentions for July 2015
Universal:
That political responsibility may be lived at all levels as a high form of charity.
Evangelization:
That, amid social inequalities, Latin American Christians may bear witness to love for the poor and contribute to a more fraternal society.
---
---
---

By Kenya Sinclair (NEWS CONSORTIUM)
South Sudan President Salva Kiir reluctantly signs a peace deal with rebels. LOS ANGELES, CA (Catholic Online) - Despite serious doubts, South Sudan President Kiir signed a peace treaty between the army and rebels led by Riek Machar.Mechar previously signed the treaty ... continue reading
---

By Linky C. (NEWS CONSORTIUM)
Several Roman Catholic bishops in Kenya are urging citizens to boycott a mass polio campaign in their area. The bishops want to put a halt to the polio vaccination campaign, unless the safety of the vaccine has been confirmed with scientific testing. MUNINLUPA CITY, ... continue reading
---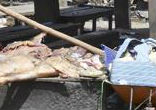 By Catholic Online (NEWS CONSORTIUM)
An explosive device detonated in a busy market in the Nigerian town of Sabon Gari killed at least 50 people and left many injured. The device went off in the early afternoon at the peak shopping period in Borno State. Sources say the bombing has all the ... continue reading
---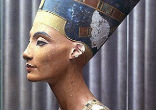 By Catholic Online (NEWS CONSORTIUM)
British archaeologist Dr. Nicholas Reeves at the University of Arizona has proclaimed that a "ghost" doorway found in the tomb of Tutankhamun, the boy-king of ancient Egypt, leads to the final resting place of Queen Nefertiti. LOS ANGELES, CA (Catholic Online) ... continue reading
---

By Catholic Online (NEWS CONSORTIUM)
Nigerian activist Emmanuel Obege isn't that impressed with U.S. President Barack Obama. "When you show up and you're saying to the people of Africa 'You need to legalize gay marriage'... I had a lot of Africans say, 'Well, when our presidents go to America we ... continue reading
---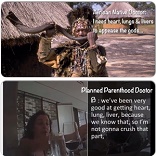 By Obianuju Ekeocha
My country (Nigeria) has worked hard to eradicate completely through laws and societal codes, the dark elements within it that hurt and harmed men, women and children in the centuries past.Today my people bask in both the wonderful splendor of culture and the ... continue reading
---

By Nikky Andres (NEWS CONSORTIUM)
PETA or the People for the Ethical Treatment of Animals has stated that the dentist accused of killing the famous lion Cecil in Zimbabwe needs to be "extradited, charged and, preferably, hanged." MUNTINLUPA, PHILIPPINES (Catholic Online) - It has been revealed to the ... continue reading
---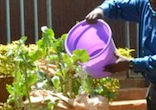 By Caroline Wambui, Thomson Reuters Foundation
Central Kenya's Nturukuma region is not kind to farmers - its erratic rainfall, desert vegetation and drying riverbeds push most people into making a living through trade rather than agriculture. NTURUKUMA, Kenya (Thomson Reuters Foundation) - Jane Kairuthi ... continue reading
---

By Kaci Racelma (Catholic Online)
Algeria continues to pay for its fight against terrorism. After a deadly attack perpetrated in the region of Ain Defla on July 17, against an army patrol, terrorist groups reappeared in the eastern region of Batna on July 27 with an attack against a military barrack. ... continue reading
---

By Kaci Racelma (Catholic Online)
Radicalization is a generic phenomenon that plagues all democratic societies. The radicalization of armed groups, that carry out attacks everywhere worldwide, challenges all governments at the highest level. ALGIERS, ALGERIA (Catholic Online) - This perspective was ... continue reading
---
All Africa News