Catholic, Gay, and Feeling Fine, Thanks: Part 1
---
What is same sex attraction and how should it be approached?
The persecution and bigotry from both sides of the issue proceed, partly, from misunderstanding. Steve Gershom's simultaneous Catholicity and SSA are what is so compelling about his message. Ultimately he beautifully illustrates the tension between the beauty of faith and honest acknowledgment of the frail, wounded humanity in which we all live without pretending it does not exist or giving it sway over him.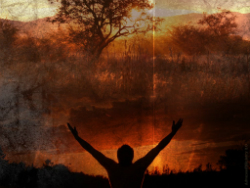 Highlights
By Sonja Corbitt
Catholic Online (www.catholic.org)
11/9/2011 (5 years ago)

Published in Marriage & Family
Keywords: gay, Catholic, same-sex attraction, gender identity, celibacy, purity, gay activism, persecution, bigotry, Steve Gershom, Sonja Corbitt
---
NASHVILLE, TN (Catholic Online) - What does it really mean to be "gay"? I read a science article this week that proposed two African penguins were gay because they had formed a close male-to-male bond, but I have several questions about what some call "gay" animals.
Have the animals actually attempted to have sex? Do they habitually attempt to have same-gender sex? Are these penguins "attracted" to one another sexually, is theirs simply a particularly close filial bond, or are they routinely attracted to other male penguins?
Such questions about same-sex attraction and its implications for human life are at the heart of a wonderful new-ish blog by Steve Gershom, "Catholic, Gay, and Feeling Fine, Thanks." He blogs under a pseudonym about his personal conviction and experience as a deeply Catholic man who struggles with same sex attraction (SSA). A twenty-something from New England, "Steve" graduated from a Catholic liberal arts college an intellectual with a literature degree, but now works in internet technology.
A Holy Contradiction
He uses the terms "gay" and "Catholic" in the title of his blog to quickly communicate the main issue without wholly identifying with the "gay" moniker. Instead, Steve says he prefers "same sex attraction" as the more useful term.
He details the choice of designation in the Q&A section of his blog where he shares the difficulties of living out his Catholicity in a modern world, but it all comes down to the controversy dividing the openly gay and the Church - that of identity. More on that in a moment, but Steve prefers to say "he has SSA" rather than "he is SSA."
This is because Steve is celibate, and has always chosen to be so. I know because he was kind enough to grant me an interview recently. Although a young male with a virile baritone, he was never in the gay lifestyle and has never had a boyfriend or relationship with a man, a fact even he finds "almost literally incredible."
"I feel as if God has kept me protected," he says with a thankful wonder that I share, though this protection is not particularly surprising. Purity seems to be the priceless, fertile foundation from which God prefers to launch his message of love into a longing world.
The Human Struggle
"I used to think being gay meant being a different kind of person altogether -- like a third gender. These days I think that it's something I have, not something I am," he says, but it would be a mistake to think he says this out of a belief in the superficiality of "having" same sex attraction. It is a profound, ongoing, personal conflict he no doubt shares with those within the gay lifestyle who know no other way to articulate the absolute depth of "being gay" than by equating it with "who they are."
But this is part of what makes Steve's struggle so poignant, because although with the Church he refuses to take on the identity of "being gay" as though it could completely define him (and his   freedom to choose celibacy proves it does not), he does so while maintaining that his SSA is so deeply rooted as to be an integral part of his personality.
"Obviously from the inside it's something very strong. I don't know if it's possible to change it, because in most cases it's extremely deeply rooted. I don't think it's any easier for a straight guy to imagine being attracted to men than it is for me to be attracted to women."
Steve believes part of the reason gay activists talk and behave so militantly, sometimes violently, and most often flamboyantly toward Christians is because most Christians fail to understand that "it goes down into the core of you. To speak of SSA as though it were not deeply rooted is almost comical."
Reaching Beyond Bigotry
The persecution and bigotry from both sides of the issue proceed, partly, from this misunderstanding. "Gay people who make it their whole identity do so because of the actual persecution they experience. They're gay and proud of it; they're being flamboyant to show all the bigots. Frankly, I even respect that. It's incredibly wrongheaded, but starting from the axioms that they start from, it seems the appropriate thing to do. On the one hand discrimination [against gays] is not the same as [racial] discrimination against blacks, but I can see why gay people feel that way." Indeed.
But the militancy and bigotry inherent on both sides also stems from the reluctance of Christians with SSA to talk freely and honestly about it, and Christians without SSA to acknowledge the prevalence of SSA in both Christian and secular society. It is a prevalence Steve calls an epidemic:
"In a sense the knowledge is improving tremendously, but religious people still talk about people with SSA as though they don't know anyone or that there aren't people around them or in their families with it. It shatters people who want to open up and find support but realize they don't really have the support of others."
Steve's simultaneous Catholicity and SSA are what is so compelling about his message. Speaking transparently and intuitively to both sides of the issue, he offers a window through which to safely "see" the other side while preserving one's own position. Ultimately he beautifully illustrates the tension between the beauty of faith and honest acknowledgment of the frail, wounded humanity in which we all live without pretending it does not exist or giving it sway over him.
Anyone who has identified within himself what the saints call the "predominant fault" and the source of it, and has begun to allow God to uproot it, will understand exactly what Steve means. The difficulty of refusing one's flesh any deeply rooted and/or habitual action or reaction to painful stimuli is the lifelong struggle every serious Christian undergoes.
One of the most poignant things Steve said to me when speaking of himself as a younger man with SSA was, "I would have loved it if I had felt people wouldn't be disgusted with me." I will leave you, noble reader, with the implications of that raw statement, while mentioning that it led to a compelling discussion about how best to effectively reach out and relate to the numbers of those around us with SSA.
Due to the length of that recount, however, the stunning point we finally came to while wrestling with that question will have to be addressed in another article. Until then, you should visit his blog.
-----
Sonja Corbitt is a Catholic speaker, Scripture study author, and a contributing writer for Catholic Online. Visit pursuingthesummit.com to view a personal message from Sonja or to order her 10-week, DVD-driven Bible study Soul of the World, The Heart as God's Dwelling Place.
---
Copyright 2017 - Distributed by THE CALIFORNIA NETWORK
Pope Francis Prayer Intentions for MAY 2017
Christians in Africa.
That Christians in Africa, in imitation of the Merciful Jesus, may give prophetic witness to reconciliation, justice, and peace.
---
---

Copyright 2017 Catholic Online. All materials contained on this site, whether written, audible or visual are the exclusive property of Catholic Online and are protected under U.S. and International copyright laws, © Copyright 2017 Catholic Online. Any unauthorized use, without prior written consent of Catholic Online is strictly forbidden and prohibited.