Other animals may be better fit for your home
Pets in a family can reduce stress and depression, providing a source of unconditional love in a home. However ... is a dog the best animal companion for your family?
Dogs are loyal and delightful, and provide protection for a home, but require a long term commitment. They require a lot of work and attention, and can be as needy and dependent as a young child. A dog could prove to be an added burden to a mother with several small children to look after,  and the man of the house would need to find time from his leisure activities to walk the dog for exercise. The rewards of a faithful dog are great, but requires a lifetime investment. For a busy family, a fish or a parakeet would be a much wiser choice. They require little care other than daily feedings. Other low-maintenance animals are hamsters, mice and lizards. Animal experts say that if a family is active, then an active pet, such as a greyhound, Doberman Pinscher or Husky is seen as being best suited. If a family lives in the city or suburb, a cat or small dog would be preferred. Families with young children or babies should choose a pet that is calm and works well with little ones. Experts also say that allergies are also a major concern, and to make sure the chosen animal is compatible, to spare your family having to give up a beloved pet over health issues.
---
Copywriter 2015 - Distributed by THE NEWS CONSORTIUM
Pope Francis Prayer Intentions for July 2015
Universal:
That political responsibility may be lived at all levels as a high form of charity.
Evangelization:
That, amid social inequalities, Latin American Christians may bear witness to love for the poor and contribute to a more fraternal society.

By Nikky Andres (NEWS CONSORTIUM)
An Indian awareness organization, "Make Love Not Scars" launched a beauty tutorial video titled: "How to Get Perfect Red Lips" that stars 18-year-old Reshma, an acid attack victim. The beauty tutorial shows her carrying out her make-up routine; the upbeat mood changes ... continue reading
---

By Talia Ramos (NEWS CONSORTIUM)
No one can ever tell Melanie Gaydos she is not beautiful. In fact, the 27-year-old model embraces her appearance with such comfort and confidence that she successfully taken on the fashion industry, despite her diagnosis of a rare genetic disease. MUNTINLUPA, ... continue reading
---

By Hannah Marfil (NEWS CONSORTIUM)
Channel 4's <i>Extraordinary Births</i>, host Katie Piper visited a mom-to-be and her partner in Hawaii for their extraordinary, unorthodox birth plan. MUNTINLUPA, PHILIPPINES (Catholic Online) - Dorina Rosin, a spiritual healer, wanted introduce her baby ... continue reading
---

By Atarah Haely (NEWS CONSORTIUM)
Fred and Kim Spratt desperately want to return home to New Jersey after their romantic "babymoon" to Portugal ended in tragedy. MUNTINLUPA, PHILIPPINES (Catholic Online) - Before traveling to Portugal on May 2, the Spratts consulted with their doctor, who cleared ... continue reading
---

By CNA/EWTN News
The World Meeting of Families event next month in Philadelphia aims to lead families to know their importance as a gift from God and to help them open their hearts to Jesus Christ, a priest involved in the event has said. Vatican City (CNA/EWTN News) - The family "is ... continue reading
---

By Kenya Sinclair (NEWS CONSORTIUM)
The website twinstrangers.com brought together 23-year-old Ambra and 33-year-old Jennifer in an astonishing doppleganger encounter. LOS ANGELES, CA (Catholic Online) - 26-year-old Niamh Geaney joined forces with two friends to work on a project called Twin Strangers. ... continue reading
---

By Abigail James (NEWS CONSORTIUM)
During the upcoming Holy Year, Pope Francis will allow all priests to forgive women who seek absolution and have had abortions. The pope proceeds with his "year of mercy" by opening up this opportunity. LOS ANGELES, CA (Catholic Online) - By expanding the number of ... continue reading
---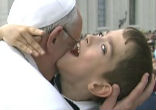 By Matt Hadro, CNA/EWTN News
A group representing Catholic students with intellectual disabilities is hoping a U.S. visit from Pope Francis could spark nothing less than a renaissance in Catholic education. Washington D.C. (CNA/EWTN) - "We hope that Pope Francis will further open up the ... continue reading
---

By Talia Ramos (NEWS CONSORTIUM)
David Finlayson and his 13-year-old son Charlie have a stronger bond now after the teen heroically saved his father from death following a terrible hiking accident. MUNTINLUPA, PHILIPPINES (Catholic Online) - The Finlayson father-son duo were on a two-week backpacking ... continue reading
---

By Atarah Haely (NEWS CONSORTIUM)
Most people think the wedding is perfect if everything they had planned for the event was successfully enacted - the dress, the entourage, the food, the music, etc. Couples spend a lot of time, effort and money just to make sure they will have that magical ceremony ... continue reading
---
All Marriage & Family News