The kingdom of heaven is primarily about loving God and the experience of God. It is Jesus Christ who makes not only the experience of God a reality, but gives us a share in the supernatural, divine life of God.
St. Augustine noted that the human heart remains forever restless until it rests in God. This is so because God the Father created us for himself, and calls us to enter into eternal communion with him. That our destiny is God is the reason for our unceasing thirst for the kingdom of heaven. The Son of God became man not only to save us and bring about the kingdom of heaven, but to make us like God by giving us a share in the divine nature. Through repentance, Christ invites us this Advent to more fruitfully live in the kingdom of heaven and experience its joy through an experience of the presence of God.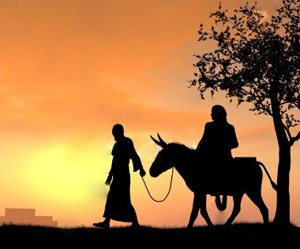 GLADE PARK, CO (Catholic Online) --Today's gospel, opening with the powerful proclamation of John the Baptist, summarizes the meaning of Advent with these words: "Repent, for the kingdom of heaven is at hand!" (Mt 3:1-2).

The kingdom of heaven is at hand! What do these words mean? Although we are often told that the kingdom of heaven is made present when we participate in the life of Christ, living as he lived and loving as he loved, we nevertheless find it difficult to understand how we can be living in the kingdom of heaven right now, given the state of the world, sin, hate, and so forth. Things are not what they should be or what we would like them to be. What about the longing we feel, the unquenchable thirst of the soul for God? Sometimes the kingdom seems rather empty.

There is also a nagging thought that resurfaces over and over again: is the kingdom of heaven nothing more than an earthly utopia, where benevolence is the rule and people live in a state of peace brought about by Christian living? Is it merely a war-free and poverty-free zone, where hate and injustice have finally been eradicated? Where is God in this type of kingdom? And where is the experience of God?

If we think the kingdom of heaven is nothing more than these things, we are in for disappointment. Given the state of fallen humankind, we might never experience in our lifetime an earthly kingdom of peace and tranquility, where tyranny, hate, crime and injustice are wiped out. The fact is that this life, with its emptiness, pain and suffering, does not look or feel much like the kingdom of heaven. This can lead to an unsettling lack of peace. Life can be viewed as more incarceration than kingdom, more wilderness than paradise.

Could John the Baptist have been speaking of only that time in the future when, provided we have lived our lives for the love of God, the Father will draw us to himself through his Son as we pass through the veil of bodily death, perhaps purified and readied for heaven by the merciful fires of purgatory, to thus live forever in blissful and heavenly communion with God? No.

John the Baptist was speaking of a present reality, not merely something promised in the distant future: ". the kingdom of heaven is at hand." Of course, he was speaking of Christ, the Son of God who assumed human nature and became man, thus uniting heaven and earth. Because Christ makes the kingdom of heaven a reality for humanity, John the Baptist is announcing the sublime truth that the kingdom is open for all people who enter into relationship with Jesus Christ.

In Mark's gospel, after Jesus is tempted in the wilderness, he came into Galilee saying something similar: "The time is fulfilled, and the kingdom of God is at hand; repent, and believe in the gospel" (Mk 1:14-15). From our perspective, this can only mean that the kingdom of heaven is available, accessible right now-albeit not to its fullest degree and in the same manner as it will be experienced in eternal communion with God in the next life or, more accurately, in the final state of this present life. Nevertheless, the kingdom is indeed "now," brought into the present and made real by sincere repentance and faith in Christ, by our belief in the gospel.

So, if the kingdom of heaven is indeed a present reality, what does that mean? How is it experienced? It is helpful to make the distinction between participating in bringing the kingdom about and experiencing the presence of God. These two things are not exactly the same.

It is one thing to faithfully participate in the life of Christ and help make the kingdom of heaven present by bringing Christ and the gospel to others. It is something else to live in the kingdom of heaven through an experience of the presence of God. While these two concepts are interconnected, living in the kingdom of heaven is about something in addition to love of neighbor or working for peace and justice, as important and indispensable as these things are.

The point is, the kingdom of heaven is not only about making Christ present to others, it is also about experiencing the presence of God. Do you experience God's presence? This is an important question to ask, and is directly connected to the whole meaning of Advent.

In order to understand what it means to live in the kingdom of heaven, we have to learn about God's plan. If we are unsure of our destiny, it is easy to become discouraged, disoriented, lost. It is crucial, then, to understand what the goal of our life is. God indeed has an indescribably great plan for humankind! It is God's plan that you fall in love with the Father; that you experience true friendship with Christ; that you enjoy an intimate relationship of love with the Holy Spirit; and that you live in the womb of the Church. But God's plan is also more than these things. It is God's plan that you share in his divine nature; that you participate in his supernatural life; that you become like God.

Article 460 of the Catechism of the Catholic Church, quoting from Sts. Irenaeus, Athanasius and Thomas Aquinas, explains: "The Word became flesh to make us partakers of the divine nature: For this is why the Word became man, and the Son of God became the Son of man: so that man, by entering into communion with the Word and thus receiving divine sonship, might become a son of God. For the Son of God became man so that we might become God. The only-begotten Son of God, wanting to make us sharers in his divinity, assumed our nature, so that he, made man, might make men gods."

Article 460 is speaking of the theology of deification. Please don't misunderstand, it does not mean we become equal to God, nor that we become gods of our own worlds. It is not polytheism. Deification is a gift from God that is made a realty only through and with and in Christ. The point is, the Son of God became man to give us a real and true share in the divine nature of God.

This is not merely metaphorical language, but rather is the plan revealed by the Father through his only Son. It is a plan that is completed at the end of time at the general resurrection. Nevertheless, in virtue of the sacraments of initiation, we are involved and participate in it now, since we have been made children of God: "The kingdom of heaven is at hand." Can we understand this completely? Of course not. It is as mysterious as it is astonishing.

Nevertheless, in virtue of the reception of the sacraments of Christian initiation, you this moment share in God's divine life and are a member of the divine family, provided that you are free from mortal sin and have not rejected God. So, does the kingdom of heaven seem remote? Are you aware of the experience of God's presence? Do you feel filled with the divine life of God?

Is the indwelling Spirit of God your most intimate friend whose love delightfully moves you, lifts you, and transforms you? Do you think about God and worship him with constant thoughts of love? Do you pray unceasingly? Is your relationship with Christ of such depth so as you can honestly say you are never alone? Is it when you are alone with Christ that you are, if fact, truly happy? Or, on the other hand, do you take more pleasure in conversation with others than in prayer with the divine and human Savior? Do you think of God infrequently? Do you find you must occupy your time with distractions? Is silence your enemy?

Again, does the kingdom of heaven seem remote? If it does, what is to be done? One crucial key to alleviating such a predicament is found in the first word of John the Baptist: "Repent, for the kingdom of heaven is at hand!" (Mt 3:1-2). Repent!

Jesus, immediately after speaking of the kingdom of God, uses the same word: "Repent" (see Mk 1:14-15). This tells us that the right attitude and perspective is required in order to enter through the gates and stand in the kingdom of heaven. Humility gives birth to repentance. Humility is the path of entrance.

Advent is about preparation. It is a season in which we celebrate Christ who has come, is coming (present), and will come again. In entering fruitfully into Advent, our minds, hearts and spirits are cultivated in the womb of the Church in order to fully receive Christ. This cultivation cannot be fruitful apart from repentance.

For us sinners, fully experiencing the kingdom of heaven is inseparable from repentance. Unless we admit our sinfulness and acknowledge our desperate need for the forgiving and healing balm of Christ, we cannot return to the Father. Given all of that, how long has it been since you last received the sacrament of Penance and Reconciliation? How often do you examine your conscience?

If one acknowledges his crucial need for God, then the desire to worship as justice demands follows. Do you attend the divine liturgy every Sunday and day of obligation? Do you live a sacramental life in the womb of holy mother Church? Do you thirst for the Eucharist, the food of life and the life-blood of the Christian?

Consider what it means to receive the Eucharist: Christ is consumed, "the mind is filled with grace, and a pledge of future glory is given to us" (Sacrosanctum Concilium, 47). In receiving the Eucharist we receive the body, blood, soul and divinity of Jesus Christ, which grants us a share in the divine life of God. It was Jesus who said, ""He who eats My flesh and drinks My blood has eternal life, and I will raise him up on the last day" (Jn 6:54).

Do you strive to fully abide by the two great commandments: to love God above all else, and to love one's neighbor as another self? Do you live the gospel--all of it? Are you willing to die for God? Are you willing to die to yourself, your ways, biases, ideas, all for the love of Christ? Are you ready, completely, right now, to give yourself unreservedly to Christ?

Do you want to fully experience the kingdom of God? You do, whether you know it or not, whether you admit it or not, for the experience of the kingdom of God is unlike anything on this earth, and it is that experience for which you were created. We often hear that God is love. However, understand that divine love infinitely exceeds human love. Once touched by that Love, all other earthly pleasures will seem as nothing. God will become the constant desire of your heart; Christ will become your unfailing light; and, as St. Paul said, it will no longer be you who live, but Christ who lives in you (Gal 2:20).

St. Teresa of Avila explains the experience of the presence of God this way: "On arriving at this state, the soul begins to lose the desire for earthly things-and no wonder! It clearly sees that not even one moment of this joy is to be obtained here on earth, and that there are no riches, estates, honors, or delights that can give it such satisfaction even for the twinkling of an eye" (qtd. in 33 Doctors of the Church, 99).

This Advent, fall in love with Christ, give yourself to him entirely and completely as a committed Catholic, in full communion with holy mother Church, not for a time but forever. Experience the joy that comes with sharing in the divine life of God. Experience the kingdom of heaven!

-----

Deacon Fred Bartels serves the Diocese of Pueblo, Colorado, as a member of the Catholic Clergy. He is a Catholic writer and deacon who knows his Catholic Faith is one of the greatest gifts a man could ever receive. He is a contributing writer for Catholic Online. Visit him also at joyintruth.com

---
Copywriter 2015 - Distributed by THE NEWS CONSORTIUM
Pope Francis Prayer Intentions for October 2015
Universal:
That human trafficking, the modern form of slavery, may be eradicated.
Evangelization:
That with a missionary spirit the Christian communities of Asia may announce the Gospel to those who are still awaiting it.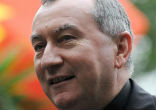 By Catholic Online (CALIFORNIA NETWORK)
A "transformative" agreement addressing justice, solidarity and fairness must be made at the international climate change conference. Cardinal Pietro Parolin, a papal representative says thatPope Francis says, "It would be tragic" if special interests ... continue reading
---

By Kenya Sinclair (CALIFORNIA NETWORK)
On Monday, November 30, Pope Francis delivered an in-flight press conference on his way to Rome from Bangui, Central African Republic. LOS ANGELES, CA (Catholic Online) - Pope Francis was very open with the variety of topics brought up during the press conference, ... continue reading
---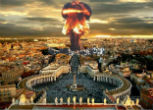 By Marshall Connolly, Catholic Online (CALIFORNIA NETWORK)
Pope Francis has invoked Mark, Chapter 13 as a warning that we may be approaching the end times. He suggested that what he has seen appears to fit the end times as described by Jesus. LOS ANGELES, CA (Catholic Online) - Pope Francis has warned that we could be in the ... continue reading
---

By Kenya Sinclair (CALIFORNIA NETWORK)
Despite the growing belief that religion is losing its influence, people continue to firmly believe in the necessity for exorcisms. LOS ANGELES, CA (Catholic Online) - According to a Pew Research Survey, 68 percent of Americans believe angels and demons exist on Earth. ... continue reading
---

By Kenya Sinclair (CALIFORNIA NETWORK)
Each year, millions of people across the United States rush to grocery stores and prepare to visit their families in celebration of Thanksgiving. Visiting loved ones and enjoying a specially prepared meal are both wonderful parts of celebrating, but don't forget to ... continue reading
---

By Catholic Online (NEWS CONSORTIUM)
Pope Francis has made it clear, Jesus is weeping over a world at war. It has become obvious that this is a time of extreme danger for all people around the globe. No population is safe from terror. The threats aren't just from terrorist organizations like ISIS and Al ... continue reading
---

By Catholic Online (CALIFORNIA NETWORK)
The veneration of relics in the Catholic Church has been one of the most debated practices in the faith. While such veneration is actually common in the human experience -even Communists did it with the body of Lenin, the veneration of relics in the Church is the ... continue reading
---

By Tony Magliano
During the recent U.S. Catholic bishops' fall assembly in Baltimore, several bishops and one abbot, decided to skip dinner at the downtown Marriott Waterfront hotel, and walked several blocks to an inner city parish to share a simple meal with about 30 peace ... continue reading
---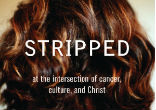 By Mary Rezac, CNA/EWTN News
Heather King never cared much for doctors. Los Angeles, CA (CNA) - It's an attitude she partly inherited from her mother, "who classified ginger ale as a medicine, considered Novocain a snobbish extravagance" and somehow managed to avoid a visit to the doctor's office ... continue reading
---
By Kenya Sinclair (CALIFORNIA NETWORK)
It is easy to fall prey to depression and sadness with everything that has been going on in the world these days. The trick to maintaining a positive attitude and living in the joy God has for us is as easy as following five simple steps. LOS ANGELES, CA (Catholic ... continue reading
---
All Living Faith News