We are all called to be good stewards of God's creation and give of ourselves, but God has a unique plan for each of us. To find His plan for you: Pray, open yourself to the Word of God, and "Do whatever most kindles love in you."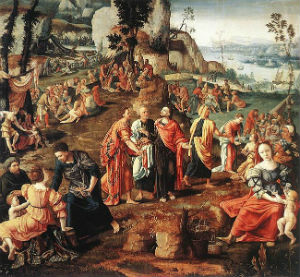 Painting by Lambert Lombard, 'Miracle of the Loaves and Fishes'
KNOXVILLE, TN (Catholic Online) - According to a centuries-old story about Saint Anthony of the Desert, he heard the Gospel being read in church about six months after the death of his parents, and he thought the words were speaking directly to him. The words spoke of giving up worldly riches for heavenly riches and not being anxious about tomorrow. Saint Anthony allowed these words to penetrate his heart. He responded to them by giving away all of his property and giving himself up to the ascetic life.

Like Saint Anthony, Bill Reighard heard the words of the Gospel and responded to them. His story does not lead us into the desert, but it is a wonderful modern-day example of what can happen when a person allows the Gospel message to penetrate their heart, and they respond to it in faith. I asked Bill if I could interview him and share his story with Catholic Online readers.

One of the first things I saw when I walked through the front door of Bill's offices was a reproduction of the 16th century painting by Lambert Lombard, Miracle of the Loaves and Fishes. There was a plaque mounted to the side of the painting. It had a quotation from the Bible engraved on it: "Let nothing be wasted" (Jn 6:12).

After giving me a tour, Bill, his wife Sue and I settled in the conference room, and we talked. I felt privileged to hear Bill's story (actually Bill and Sue's). It gave me a sense of something holy. I have tried to convey my experience in the following summary:

Bill's story begins in 1990 when he was working for PepsiCo as an executive in their Pizza Hut division. In those days, PepsiCo owned Pizza Hut. The president of his division asked Bill to go to Jerusalem on a business trip. But it wasn't all business. He also got to do a little sightseeing. One of the most popular tourist attractions in Jerusalem is the Church of the Holy Sepulcher.

Something unusual happened to Bill when he was in a crowded hall of the church. He described it to me. Suddenly, no one was around him. He was all alone. Then a nun came up to him and looked right at him. He felt her gaze go through him. "I couldn't believe it. I never experienced anything like that," he said. Then it was suddenly crowded again.

After this unusual experience, he felt God tugging at him to "give back." He began to wonder what God's will was for his life. Was he being asked to give more of his income to charity? Should he leave the corporate world and go back to school, possibly getting a master's degree in social work and helping in the inner city? He spent more and more time praying and discerning.

At one point, Bill spoke with a pastor. The pastor thought Bill had a calling, and he suggested that Bill should not continue in the corporate world or go back to school, but that Bill should wait on the Lord to show him how to use the unique talents and abilities he already had. He thought Bill was being called to do something new and original. Bill took the pastor's words to heart and waited.

Bill recalled looking at one of the old Macintosh monitors and thinking how great it would be if God gave him an answer on the screen. When he got home that evening, a copy of Our Sunday Visitor was in the mail. He dropped it, and it opened to a page (about the same size as the screen on a Mac) with an article about stewardship and a picture on it. The picture was of a check from God. The caption read, "If money could save the world, God would have sent a check." The point was that "Stewardship is about more than giving money. It's about giving of yourself." 

Bill was still waiting on the Lord when a stranger barged into his office a couple of years later and began talking to him about a new food donation program at Pizza Hut. The man worked at Kentucky Fried Chicken, also owned by PepsiCo. He wanted to know more about the program. Bill knew nothing about it, but the man went on as though Bill was part of the program.

Interestingly, the program was the brainchild of a couple of Catholics within the company. It was only operating in two cities at the time, and it was not doing well. No one was in charge of it. Bill was ideally qualified to run this program, and he wanted to take it on. Pizza Hut agreed. Before long, Bill knew this is what God was calling him to do, and he needed to do it full time.

However, this meant he needed to leave Pizza Hut, which had been a good paying job for 13 years. They were good to him and gave him an excellent exit strategy. They also helped him start his own business in food donations. However, this arrangement was subject to a six-month trial period, and only a limited number of Pizza Huts in a handful of cities would participate. After that, Pizza Hut would decide if they wanted to continue with the program.

During the six-month trial period, Bill believes he received two more affirmations. In the first instance, he heard a woman's voice say, "Feed my children." He attributes the voice, which was more like an interior locution, to our Blessed Mother. The second affirmation came while Bill was sitting in a hotel room in Wichita, Kansas waiting for his six-month review. A bible was sitting on the desk. He picked it up, opened it to a random page, and began reading the Bread of Life discourse: "Gather the pieces that are left over. Let nothing be wasted" (Jn 6:12, NIV).

This quotation was to become the central vision for his business, and it helps explain why the painting by Lombard is one of the first things you see when you enter his offices. Referring to the first half of the quotation, Bill jokingly said it almost sounds like "gather up the pizzas." He added, I think "the Lord loves pizza."

He may be right, because pizza became the first food item donated on a national level. When Bill was just minutes into his presentation for his six-month review, Pizza Hut told him to stop. They had already decided to continue the project, and within the bat of an eye, Bill went from having a few hundred restaurants participating in the program to about 4700 Pizza Hut restaurants nationwide.

He had prayed to discern God's will for approximately two years. It seemed God had definitively answered his prayers. So in 1992, he officially formed his company, the Food Donation Connection (FDC). Although he only had one customer, he now had a real business opportunity. It was like holding a tiger by the tail. He had to ramp up fast.

From the onset, he wanted to set things up based on Catholic social teaching and provide a sustainable wage and health insurance for his employees. Now he could, and he immediately brought on his wife Sue and one other person. The business has been steadily growing ever since. Between 2007 and 2012, FDC has had an annual growth rate of 26 percent. Today FDC employs about 40 people. Many of them are members of my parish.

Bill also explained the unique niche his business fills. The distribution of dry goods to the poor is nothing new, but it does not complete the job, he said. It does not "gather up all the pieces" or fulfill the mandate, "let nothing be wasted."

Businesses like restaurants, hospitals and school cafeterias normally prepare more food than they use or sell. Consequently, millions of tons of high quality, prepared food are wasted every year in the United States. While a certain amount of waste is a normal consequence of the production process for most products, we must continually strive to reduce it.

In addition, Bill says that the production of prepared food has one of the highest carbon footprints. Therefore, it is also an environmental concern for Bill. He sees the waste of prepared food as a waste of God's creation. FDC's niche, then, is to be a good steward of creation and to help feed the poor by gathering up the pieces that are left over. 

The way it works is quite simple. FDC "provides an alternative to discarding surplus wholesome food." They accomplish this by linking businesses having surplus food with agencies that collect it for distribution to those in need. In other words, FDC coordinates donors with charitable agencies like nursing homes, shelters, rescue missions, after-school programs, food banks, the YMCA, and the Salvation Army.

At present, FDC has enlisted approximately 15,000 donors and 8600 charitable agencies. About 36 million pounds of food were distributed in 2012 through FDC's Harvest Program. But FDC does much more than recruit new companies and link donors with charitable agencies.

Bill's business is based on a symbiotic relationship with government and involves extensive regulation. As a result, FDC also assists with "the development of product quality and handling standards, tax valuation, donation reporting, and ongoing monitoring and follow-up." Consequently, FDC has developed the technology needed to manage an "efficient communication and reporting network."

FDC is a beautiful example of Catholic social teaching. At his General Audience on Wednesday, June 5, 2013, Pope Francis noted that we live in a "culture of waste." He was especially concerned about wasting food.

The Pope said, "This culture of waste has made us insensitive even to the waste and disposal of food, which is even more despicable when all over the world, unfortunately, many individuals and families are suffering from hunger and malnutrition. . . . I encourage everyone to reflect on the problem of thrown away and wasted food to identify ways and means that, by seriously addressing this issue, are a vehicle of solidarity and sharing with the needy."

Furthermore, FDC's symbiotic relationship with government is also an excellent example of Catholic teaching on the principle of subsidiarity. According to the Catechism of the Catholic Church, this principle says that a community of a higher order should not deprive a community of a lower order of the functions it is naturally capable of performing (1883-84). Thus, Bill's business shows us what a healthy working relationship between the people and government can look like.

I believe Bill's story is an inspiration for us all. It reminds us that we are supposed to respond to the Gospel; that we are to prayerfully seek God's will in our lives; that we are to trust in God's answers; and that we have to be willing to "put out into the deep" (Lk 5:4). It also reminds us of the beauty of the Catholic faith and that we are called to live holy lives and become saints.

We are all called to be good stewards of God's creation and give of ourselves, but God has a unique plan for each of us. Some are led into the desert. Some are called to provide desserts. If you want to find God's plan for you, open yourself to the Word of God, and, as Saint Teresa of Avila once said, "Do whatever most kindles love in you." 

 
-----

Michael Terheyden was born into a Catholic family, but that is not why he is a Catholic. He is a Catholic because he believes that truth is real, that it is beautiful and good, and that the fullness of truth is in the Catholic Church. However, he knows that God's grace operating throughout his life is the main reason he is a Catholic. He is greatly blessed to share his faith and his life with his beautiful wife, Dorothy. They have four grown children and three grandchildren.

-----
---
Copyright 2016 - Distributed by THE CALIFORNIA NETWORK
Pope Francis Prayer Intentions for May 2016
Universal:
Respect for Women: That in every country of the world, women may be honored and respected and that their essential contribution to society may be highly esteemed.
Evangelization:
Holy Rosary: That families, communities, and groups may pray the Holy Rosary for evangelization and peace.

By (CNA/EWTN News)
There's a demon that specializes in attacking the family, said exorcist César Truqui, a priest who participated in a course on exorcism held in Rome last year. Rome, Italy (CNA/EWTN News) - Fr. Truqui warned that everything that is harming the family, including ... continue reading
---

By Kenya Sinclair (CALIFORNIA NETWORK)
During an interview, Cardinal Robert Sarah explained the importance of priests facing east during Mass. LOS ANGELES, CA (Catholic Online) - In an interview with French Catholic magazine Famille Chrétienne, Cardinal Sarah, who is the prefect of the Congregation for ... continue reading
---

By Kenya Sinclair (CALIFORNIA NETWORK)
Rev. V. A. Anthony, of Brethren Assembly Church in Satna, his wife Prabha and one unnamed woman have been arrested in Aber, India after being accused of "forced conversions" and blaspheming against Hinduism. LOS ANGELES, CA (Catholic Online) - According to Christian ... continue reading
---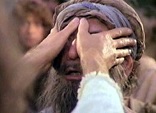 By Deacon Keith Fournier
The same Jesus who passed by Bartimaeus is alive today. The Good News is that no matter what has happened in our past, Jesus walks into the dusty streets of our lives this day. We simply need the eyes of living faith to see Him and the renewed heart to follow Him ... continue reading
---

By Kenya Sinclair (CALIFORNIA NETWORK)
In an attempt to make the Bible more interactive and entertaining to millennials, the King James Version (KJV) of the Bible has been translated with help from popular emoticons. LOS ANGELES, CA (Catholic Online) - According to The Memo, the new Bible, marked as ... continue reading
---

By Kenya Sinclair (CALIFORNIA NETWORK)
A new study revealed Welsh and English Catholics hold the highest retention rate of any denomination but maintain the lowest conversion rates. LOS ANGELES, CA (Catholic Online) - The report, titled the "Contemporary Catholicism in England and Wales," was issued by the ... continue reading
---

By Elise Harris (CNA/EWTN News)
For Pope Francis, prayer is neither a "magic wand" used to get what we want nor something casual we do only when we feel like it, but is rather the strength that sustains our faith in difficult moments. Vatican City, Rome (CNA/EWTN News) - "Jesus says that we need 'to ... continue reading
---

By Andrea Gagliarducci (CNA/EWTN News)
Former Pope Benedict XVI could appear in public once again on June 29, the 65th anniversary of his priestly ordination. Vatican City, Rome (CNA/EWTN News) - Speaking after the May 20 presentation of a book dedicated to Benedict XVI's pontificate, Archbishop Georg ... continue reading
---

By Tony Magliano
The best way to remember those who have been killed in battle is to work for the day when others will no longer be sent to take their place. Prayerfully reflecting on how to move away from war and war preparation should be central to every Memorial Day.Why do ... continue reading
---

By Ann Scneible (CNA/EWTN News)
The feast of the Holy Trinity is an invitation for us to commit to enriching our everyday relationships by promoting communion, consolation, and mercy, Pope Francis said during his weekly Sunday Angelus address. Vatican City, Rome (CNA/EWTN News) - "Our being created ... continue reading
---
All Living Faith News