The pope will be the head of the world's largest empire in history.
We know you want to be pope, who doesn't? You get your own little country to govern, you get the ruby shoes, and of course there's the popemobile, which is a one-of-a-kind ride. You have servants and secretaries galore and everything you say is carefully considered. Who wouldn't want that?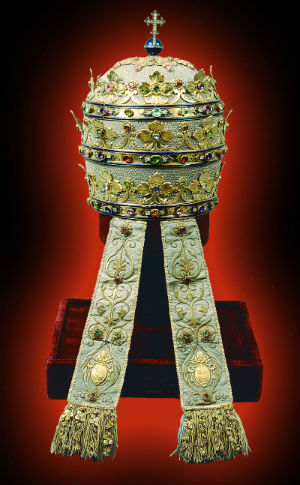 Heave will be the head that wears this crown.
LOS ANGELES, CA (Catholic Online) - There's one other detail we ought to mention before you accept the hat. You will also lead the world's largest empire of people in all history, and you are responsible for their well-being on Earth as well as their souls. Good luck!

That's right, the pope is the world's greatest emperor, ruling over the world's largest empire - ever.

With over 1.2 billion Catholics on the planet, and faithful in every county, the pope cannot be an ordinary man. The work is crushing and the responsibility is overwhelming. What more proof do you need that God exists than to see one, typically elderly man, is actually able to manage such an empire himself?

In all world history, no individual has ever been responsible for so much. That's why the selection of the pope is such a grave matter. The pope is an absolute monarch in an age of republics and tyrants. He must be a moral man, faithful to his very core. His every syllable will be recorded and studied for generations. It's a tough job, which is why the Cardinals of the Church pray so mightily for God's guidance, so they might select the one man on a planet of seven billion souls, who can shoulder the responsibility.

How exceptional must this man's resume be? Here's a list:

He must be the world's greatest manager, ever.

A pope is many things, including a CEO. Under his direct supervision are several other heads of major worldwide corporations, archdiocese, religious orders, and semi-secular institutions such as the Vatican bank. The pope must work with each archbishop and director, must know them personally, and must coordinate and direct their efforts for the betterment of the Church. It's not an easy task.

How hard is it? Imagine how hard it is to get your family to agree on what's for dinner, or to get your friends to agree on the best sports team. Now imagine directing dozens to hundreds of people to agree on matters that affect the eternal souls of all human beings. Yes, it's like that.

He must be charismatic.

People want to follow a man with charisma. Indeed, at this time, the Church needs stronger leadership than usual. The next pope will need to have charisma and will have to be more than an iron-fisted emperor. Instead, he will need to motivate and inspire reform and development within even the highest ranks of the Church. That he must also be popular with the people is obvious.

He must be able to communicate.

Communication means speaking clearly, conveying thoughts and ideas so they are easily understood and can be acted upon. This is a standard requirement for any leader, from powder-puff football captain to pope. However, to be the pope, that quality alone is still not enough. To be pope you must also be able to communicate clearly in multiple languages.

Not one, not two, but multiple. Plus Latin. English, Spanish , and Italian are the primary languages expected for a pope, as well as Latin. Any papal contender should have these four languages down. Beyond that, it's value added. Pope Emeritus Benedict speaks, his native German as well as, English, French, Italian, Spanish, and Latin. He also knows some Portuguese and can read ancient Greek and biblical Hebrew.

This goes to show that it's not enough to be a smooth talker at home. You also have to speak effectively around the globe.

He must be an evangelist.

The heart of a good religious leader is his ability to gather in the flock. It's more than speaking clearly. It's also telling a story that is so compelling that people will be inspired to act. With the Catholic Church facing tribulation both within and without, the winning of new souls and the retention of the old is a serious challenge. People need to hear good and encouraging news if they are to follow as they should.

This means the next pope cannot be camera shy, nor can he be a cloistered theologian. The next pope will be expected to behave almost as a rockstar at times, presenting himself to the faithful, and particularly the youth, in a way that resonates with the crowd. A pope who is aloof, who cannot work the crowd, will be quickly downplayed as the faithful lose interest. The ability to evangelize then, is an important quality.

The next pope must be a man of integrity.

What good times we enjoy to feel that integrity is implicit in any leadership position. It hasn't always been the case, even with the popes. Unfortunately, recent scandals have caused many Catholics to question the integrity of the Church's hierarchy.

It will be up to the next pope to lay those concerns to rest. The people must trust their Holy Father to clean up any scandal within the Church and to ensure that scandals do not repeat. There will need to be transparency, a break from the traditional veil of secrecy that until now has been an inherent part of Church culture.

The next pope will need to clean up the Church from the top down, removing poor and failed leaders, and replacing them with good, honest servants of God. People are expecting some spring cleaning within the Church. A fearless man of integrity at the helm will inspire millions to renew their faith, troubled by recent scandals.

The next pope must be able to connect with the people in the streets.

It's well and good for popes to be theologians and brilliant leaders, but at the end of the day, all their work is to serve the common individual. The parishioner in the pew, the man in the street, the sick in bed, and the downtrodden and destitute in the house of charity.

The next pope must be able to connect with these people much as he can connect with his cardinals and archbishops. The conversations will be different. He must be able to speak plainly, comprehensibly, and on topics that matter to the individual.

If the next pope can connect with the parishioners on the street, then he will go a long way to building a lifelong rapport between the Church and the believer.  Ultimately, this may be the most fundamental criteria of all. Although he directs from Rome, the point of every decision is to do what's best for the flock.

Now are you ready to start? You have a busy first day already lined up.

Some of the cardinals have been leaking some inside perspective on what they're looking for. You can read about that here.


---
Copyright 2016 - Distributed by THE CALIFORNIA NETWORK
Pope Francis Prayer Intentions for May 2016
Universal:
Respect for Women: That in every country of the world, women may be honored and respected and that their essential contribution to society may be highly esteemed.
Evangelization:
Holy Rosary: That families, communities, and groups may pray the Holy Rosary for evangelization and peace.

By Andrea Gagliarducci (CNA/EWTN News)
Former Pope Benedict XVI could appear in public once again on June 29, the 65th anniversary of his priestly ordination. Vatican City, Rome (CNA/EWTN News) - Speaking after the May 20 presentation of a book dedicated to Benedict XVI's pontificate, Archbishop Georg ... continue reading
---

By Tony Magliano
The best way to remember those who have been killed in battle is to work for the day when others will no longer be sent to take their place. Prayerfully reflecting on how to move away from war and war preparation should be central to every Memorial Day.Why do ... continue reading
---

By Ann Scneible (CNA/EWTN News)
The feast of the Holy Trinity is an invitation for us to commit to enriching our everyday relationships by promoting communion, consolation, and mercy, Pope Francis said during his weekly Sunday Angelus address. Vatican City, Rome (CNA/EWTN News) - "Our being created ... continue reading
---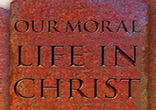 By Deacon Keith Fournier
What we choose determines who we become. Choosing what is good changes the chooser, empowering him or her to proceed along the pathways of virtue and develop the habitus - or habits- which promote Christian character. The Catechism of the Catholic Church ... continue reading
---

By Marshall Connolly (CALIFORNIA NETWORK)
Ever since the reveal of the Third Secret of Fatima in 2000, several people have insisted there's more to the secret than what the public was told. These rumors have taken a life of their own, prompting the Holy See to speak out against them. LOS ANGELES, CA (Catholic ... continue reading
---

By (CNA/EWTN News)
Recognizing the difference between a person who's possessed and a person struggling with a mental illness or other infirmity is a vital part of the ministry of exorcism, according to a long-time exorcist and priest. Rome, Italy (CNA/EWTN News) - Father Cipriano de Meo, ... continue reading
---

By (CNA/EWTN News)
It's a major miracle that you've probably never heard of. Lima, Peru (CNA/EWTN News) - On Sunday, Oct. 3, 1847, more than 2,000 people in Ocotlán, Mexico saw a perfect image of Jesus Christ crucified that appeared in the sky for more than 30 minutes.Approved by the ... continue reading
---

By (CNA/EWTN News)
During his Mass on Thursday, Pope Francis preached a warning to the rich who oppress the poor, focusing on employers who accumulate wealth by misusing those who work for them. Vatican City, Rome (CNA/EWTN News) - "We consider this drama of today: the exploitation of ... continue reading
---

By Kenya Sinclair (CALIFORNIA NETWORK)
William Friedkin, the director of famous horror film "The Exorcist," described a time he was invited to document a real exorcism at the Vatican. LOS ANGELES, CA (Catholic Online) - According to AFP, Friedkin shared his experience at the Cannes film festival Thursday ... continue reading
---

By Kenya Sinclair (CALIFORNIA NETWORK)
We all have bad days - but did you know the devil preys on you when you are the most vulnerable? LOS ANGELES, CA (Catholic Online) - Life is never easy for long. Children, work, school and illness often interfere with the plans we've made for ourselves, and it is ... continue reading
---
All Living Faith News