Not only is Abraham a model for the law of Moses, but he is a model for the law of Christ which is a law built upon grace
If a renewed faith is to be re-injected into our civil, political, economic, familial, and personal lives, who better to turn to as an example than Abraham, "our father in faith"? Like Abraham, we are called by faith to leave the secular "iron cage" or "cultural amusement park"--the Ur of the Chaldees--and travel to the freedom we have been promised in the land of Canaan. (Gen. 12:1; 15:7; Acts 7:3) "It is for freedom that Christ has set us free." (Gal. 5:1)
CORPUS CHRISTI, TX (Catholic Online) - Abraham, the Greco-Jewish philosopher Philo Judaeus wrote in his book On Abraham, was "a living rational law," a nomos empsychos kai logikos,"the model for the later, particular written laws" of Moses.

Not only is Abraham a model for the law of Moses, but he is a model for the law of Christ which is a law built upon grace. According to St. Paul, we are to imitate the faith of Abraham, for he is "our father in the sight of God, in whom he believed, who gives life to the dead and calls into being what does not exist." (Rom. 4:16).

Abraham believed in the God who was the Creator of all things visible and invisible, the same God who was the Redeemer of the world. Like Abraham, we are called to believe the God who has created the world, and who has promised to "re-create" us when we rise again from the dead at the end of time. We are to fashion our lives around this act of faith, a faith which is not absurd, but reasonable and yet beyond reason. This way our lives, like Abraham's, become a "living rational law."

Abraham is regarded in the New Testament as having built his life around acts of faith. The Epistle to the Hebrews sounds like a litany in praise of Abraham's faith: "By faith, Abraham obeyed . . . ." "By faith, he sojourned . . . ." "By faith, he received power to generate . . . ." "By faith, Abraham, when put to the test, offered up Isaac . . . ." (Heb. 11:8-11, 17)

In prior articles, we have discussed how under our liberal secularist mentality faith is banned from the public square. We live in what Max Weber called the "iron cage" of secularity and what Thomas Pangle in his book Political Philosophy and the God of Abraham, stressing the hedonism and shallowness of our time, called a "cultural amusement park." It is a world where our lives are designed as if God did not exist, as if we had no faith.

For the followers of Abraham--and this means Christians above all (though it includes the Jews, "that people to which the covenants and promises were made, and from which Christ was born according to the flesh," and Muslims, who "profess to hold the faith of Abraham" and who "acknowledge the Creator")--this is intolerable. This is the opposite of how we should be living.

If faith is to be re-injected into our civil, political, economic, familial, and personal lives, who better to turn to as an example than Abraham, "our father in faith"? Like Abraham, we are called by faith to leave the secular "iron cage" or "cultural amusement park"--the Ur of the Chaldees--and travel to the freedom we have been promised in the land of Canaan. (Gen. 12:1; 15:7; Acts 7:3) "It is for freedom that Christ has set us free." (Gal. 5:1)

The epitome of Abraham's faith--one might call it the central faith crisis of his life--was his response to God's request that he sacrifice Isaac, the very enfleshment of God's promise that he would be the father of many nations (Gen. 17:4; Rom. 4:17-18). In this crisis, he was called to sacrifice the good for the Absolute Good.

"God put Abraham to the test," the Scripture says. "He called to him, 'Abraham!' 'Ready!' he replied. Then God said: 'Take your son Isaac, your only one, whom you love, and go to the land of Moriah. There you shall offer him up as a holocaust on a height that I will point out to you." (Gen. 22:1-2)

This command and Abraham's ready response is a central theme of the New Testament. It of course sees it through the eyes of the one to whom Isaac point: the Lord Jesus and His Sacrifice.

"By faith Abraham, when put to the test, offered up Isaac, and he who had received the promises was ready to offer his only son, of whom it was said, 'Through Isaac descendants shall bear your name.' He reasoned that God was able to raise even from the dead, and he received Isaac back as a symbol." (Heb. 11:17-19)

To stress the significance of this sacrifice is the burden of Romans Chapter 4, where Abraham's act of faith in agreeing to sacrifice Isaac is directly equated with the faith we are to have in the God of Abraham, Isaac, and Joseph, "who raised Jesus from the dead, who was handed over for our transgressions and was raised for our justification." (Rom. 4:24-25)

But what does this have to do with politics? The answer: everything.

St. Thomas Aquinas teaches that the natural moral law--the law that ought to govern the affairs of men since it defines what is right and what is good--participates in the Eternal Law, which is God Himself. The natural moral law, however, is a created law; whereas the Eternal Law is uncreated Law; indeed, the Eternal Law is God Himself.

Now, the natural moral law prohibits the killing of an innocent human being. That law is an exceptionless moral norm. The natural moral law therefore prohibited the sacrifice of Isaac.

Why, then, was God instructing Abraham to violate an exceptionless moral norm? And why did Abraham accede to this apparently immoral request on the part of God?

Here's a possible answer.

In this life, we do not know God's essence. We know what he is not. But we also know a little, a very little bit affirmatively about God. Our affirmative knowledge of God is analogical, derived from things that are made. Whatever similarity there is between creation and the Creator (and from which we can derive knowledge of God), "no similarity can be found so great but that the dissimilarity is even greater," as the Fourth Lateran Council (1215) reminds us. This notion is referred to as the analogy of being or analogia entis.

What is true for God's essence is true for God's goodness. "No one is good except God alone." (Mark 10:18). We have knowledge of the natural moral law, a law which informs us of our good, but we have no knowledge--other than analogical--of the Eternal Law, of the God who is equivalent to the Good.

The relationship between the created natural moral law and the uncreated Eternal law is the same as the relationship between creation and God. The relationship is one of analogy, an analogy of proportionality. We might call it the analogy of the good, analogia boni. Like the situation when dealing with analogy of being, there is what has variously been called a one-way "line of indeterminacy" (Long), or "nondualism" (Grant), or "non-reciprocal relation of dependence" (Burrell), between uncreated Law and created law, between uncreated Good, and the created good. Creation is affected by God, but God is unaffected by creation. Creation needs God, but God does not need creation. Again, following the lead of the Fourth Lateran Council, whatever similarity there is between the created good we know and the Good that is God, the created law we know and the Eternal Law, "the dissimilarity is even greater."

In short, God is an infinitely greater Good than any good we will ever know while we sojourn here on earth. God is an infinitely greater Law than any law--including the natural moral law--that we will ever know while on earth. The Absolute Good, the Eternal Law--its existence, its outstanding and fundamental Good--is accepted only by an act of faith, since it is only darkly seen.

When Abraham consented to God's command to sacrifice Isaac, he realized that the great good that he had been promised and which was contained in germ in his son Isaac paled by an order of infinity beside the one only Absolute Good. The natural moral law--as good as it is--paled to the point of virtual disappearance beside the Eternal Law which is Absolute Good. He realized that whatever similarity there was between the good of Isaac and the good of being a father of many nations and the Good that is God, the dissimilarity between these goods and God was even greater. Beside God, the uncreated Living Rational Law, Abraham, the created "living rational law," was nothing. Whatever similarity there was between the "living rational law" and the Eternal Law was infinitely less than the dissimilarity between them.

To see that God is the Good which exceeds all possible earthly goods, and to act on it, required great faith. And once this act of faith is made and lived, it changes the entire understanding of the good, the entire understanding of law, the entire understanding of politics. It does not destroy them (Isaac lived). But it changes everything. It de-absolutizes all created goods. Everything--even our own temporal goods--becomes subordinate to the Absolute Good. Everything--including our politics--is "under God" by faith.

Abraham's faith caused him to undergo a paradigm shift, one that led him from seeing good as something--good as a what, which is what all created goods are--to good as Someone--Good as a Whom, which only the uncreated Good can be.

In this regard, it is interesting to look at Immanuel Kant's criticism of Abraham's response to God's command. Kant might be called the Prince of the Enlightenment. His moral theories are central to the philosopher John Rawls's defense of secular liberalism which disdains the contribution of faith, and seeks to put us in Weber's "iron cage" or Pangle's "cultural amusement park." Kant explored Abraham's faith, and--tellingly--this philosopher of "pure reason" fame found it wanting.

"Abraham," Kant says in one of his less well-known works Conflict of the Faculties, "should have replied to this supposedly divine voice: 'That I ought not to kill my good son is quite certain; but that you, who appear to me, be God--of that I am not certain, and never can be.'"

For Kant, God was not the absolute Good that Abraham saw. For Kant, the only good we know is here on earth and in our minds, and it takes precedence over the Good we don't know or know only darkly, and which we must grasp by faith. So having been given the choice between earthly good and Absolute Good, Kant chose earthly good. Between his categorical imperative and God the Deus Imperator who is the Imperative itself, Kant chose his categorical imperative. Kant is an anti-Abraham.

Indeed, Kant is more than that. Kant--like Rawls and all our modern secularists--wanted to tame, or rather emasculate, Christianity. In discussing the parallels between Abraham's faith and the faith in Jesus and his redemptive death and resurrection from the dead which is at the heart of Christianity, Kant vented: "it does not belong to religion, to have to believe this as a fact and impose this belief on natural human reason."

It does not belong to religion to have to believe in Christ and to impose this belief on natural human reason? This is rebellion. Kant's "reason" refused to entertain faith in Abraham and faith in Jesus Christ. Kant's ethical doctrines--and by extension those of John Rawls--present us with a fundamentally anti-Abrahamic and anti-Christian recipe for human governance.

We are called to believe. By faith, we can leave the iron cages and amusement parks found in Ur of the Chaldees, and travel to the freedom promised in the land of Canaan. By faith, we offer our temporal goods in sacrifice to the Absolute Good, and thereby de-absolutize our temporal goods. In this great journey of faith, let Abraham be our model, our guide, and our intercessor.

Sancte Abraham, ora pro nobis, we pray in the Great Litany of the Saints. Holy Abraham, pray for us.

-----

Andrew M. Greenwell is an attorney licensed to practice law in Texas, practicing in Corpus Christi, Texas. He is married with three children. He maintains a blog entirely devoted to the natural law called Lex Christianorum. You can contact Andrew at agreenwell@harris-greenwell.com.
---
Copywriter 2015 - Distributed by THE NEWS CONSORTIUM
Pope Francis Prayer Intentions for May 2015
Universal:
That, rejecting the culture of indifference, we may care for our neighbours who suffer, especially the sick and the poor.
Evangelization:
That Mary's intercession may help Christians in secularized cultures be ready to proclaim Jesus.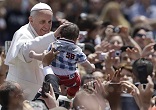 By Deacon Keith Fournier
We need to pray for a New Pentecost for the Church in this hour! We need more of the Holy Spirit for the New Evangelization of the Church - so that a renewed Church can engage in the missionary task of the Third Christian Millennium. We need to be baptized afresh ... continue reading
---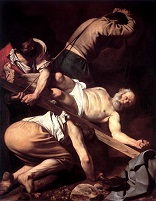 By Deacon Keith Fournier
Peter's wrong choices were not the end of the story of Gods plan for his life. Peter's denial crippled Peter emotionally and spiritually. He lost his way. That was until he encountered the Risen Christ. There, in that encounter, he allowed the belt of ... continue reading
---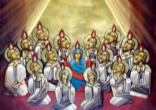 By Deacon Keith Fournier
The Church was empowered by the Holy Spirit to live differently in the midst of a world awaiting the fullness of redemption, to live as a new people to lead the world back to the Father, in and through the Son. Through their experience of the Holy Spirit the early ... continue reading
---

By Atarah Haely (NEWS CONSORTIUM)
What constitutes being the best university is oftentimes subjective and usually in adherence to one's beliefs and practices. Choosing a college is one of the biggest decisions many people are making. Some opt for those that offer the best training in the fields of ... continue reading
---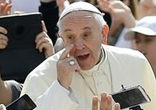 By Catholic Online (NEWS CONSORTIUM)
In discussing the role of parents educating their children, Pope Francis in his General Audience, advised separated couples to "never, never, never take the children hostage!" LOS ANGELES, CA (Catholic Online) - The Pope spoke on the role of parents in the ... continue reading
---

By Tony Magliano
"The God of peace is never glorified by human violence," wrote the famous Trappist monk Thomas Merton. Whether it's on an individual, city, national, or international level, violence always dishonors God, and makes bad situations worse. The recent Baltimore City riots ... continue reading
---

By Abigail James (NEWS CONSORTIUM)
Sometimes getting up in the morning can be the hardest thing you'll do all day. When life's worries press down on you and take your soul hostage, the most important thing you can do for yourself is turn to God. He will always be there for you, through the good times ... continue reading
---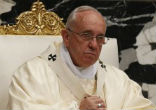 By Catholic Online (NEWS CONSORTIUM)
Addressing bishops in Italy, Pope Francis told them to act more like pastors than "pilots" telling the faithful what to do. The pontiff said that bishops need "Ecclesial sensitivity." They should remain bold in denouncing cultural trends that offend human ... continue reading
---

By Talia Ramos (NEWS CONSORTIUM)
During his meal at a Waffle House restaurant, 5-year-old Josiah Duncan's attention wandered to the man outside the establishment. The man, dirty and holding a plastic bag, became the center of the young boy's curiosity and concern. After learning from her mother that ... continue reading
---

By Hannah Raissa Marfil (NEWS CONSORTIUM)
Everything changed for a Pakistani businessman, trying to build one of the world's tallest and first "bulletproof" cross, after God appeared in his dreams. MUNTINLUPA, PHILIPPINES (Catholic Online) - Parvez Henry Gill, a real estate businessman, claimed God gave ... continue reading
---
All Living Faith News