---
This is the day when we celebrate the Church triumphant
The Saints that we celebrate today are our heroes.  They inspire us to live out our lives with heroic virtue.We are all called to be saints.  We are all called to be heroes.  Now, more than ever, the Church needs new saints and new heroes.
CORPUS CHRISTI, TX (Catholic Online) - At an important point in the life and work of Mahatma Gandhi, a missionary gave him a book that contained the four Gospels.  This of course, was the Indian leader's first exposure to Christianity.  He read the Gospels with great interest, and was convinced that the principles taught by Jesus could resolve all of the political, social and economic problems of his country.

Gandhi had to travel throughout Western Europe in order to muster support for an independent India.  Traveling through Christian countries, he was dismayed only to conclude that the Gospels are wonderful indeed, but he did not see anyone living their teaching.  For this reason, Gandhi never converted to Christianity.

Today we celebrate All Saints Day.  We are all called to be saints.  Today's Gospel passage reminds us of the program.

The Beatitudes contain the essence of the Christian way of life.  The Catechism of the Catholic Church states: The beatitude we are promised confronts us with decisive moral choices.  It invites us to purify our hearts of bad instincts and to seek the love of God above all else.  It teaches us that true happiness is not found in riches or well-being, in human fame or power, or in any human achievement - however beneficial it may be - such as science, technology, and art, or indeed in any creature, but in God alone, the source of every good and of all love" (CCC # 1723).

The Beatitudes of the Gospel turn all worldly values upside down.  The world pursues happiness in wealth, power, fame and sex, whereas the Gospel demands of us values that are essentially different.

The Beatitudes challenge us to choose: to live Christianity or to live by the standards of the world.  Do you want to give in to the demands of a worldly way of life, or have you decided to live true and authentic Christianity?  The choice to live the Gospel changes our entire life.  It tells us how we are to act, how we are to dress, how we are to speak and how we are to interact with people.  The choice to live the Gospel affects every aspect of our entire existence.

A number of years ago I was invited to give a retreat to a group of lay people in New York City.  A seminarian graciously accompanied me in order to help with the practical details.  Prior to the evening retreat, we had a number of appointments, and so that meant that we would have lunch in New York.  The seminarian really enjoyed Asian cuisine, so I accommodated his palate by inviting him to lunch at a Korean restaurant.

As we went to our table, we were met by a Korean woman who graciously attended us with delicate courtesy. Having had many years of experience at my father's restaurant, I was able to notice that her kindness, manners and spirit of service were far from ordinary. 

Towards the end of the meal, another Korean woman finished waiting on our table.  When we were ready, I asked her for the check.  She then proceeded to tell me that there would be no charge for the lunch because the first waitress took care of the bill.  I was very surprised and I asked her why she had decided to pay for our meal.  "She is Christian," was the unanticipated answer from the waitress.

"She is Christian," meant that all the other waitresses were not Christian, and that all though encountering a free meal in the middle of downtown New York City surprised me, they were not surprised at all.  They knew that this woman was different.  Because of her Christianity, she was different.

The Saints that we celebrate today are our heroes.  They inspire us to live out our lives with heroic virtue.  All of us have our favorite saints.  Because of the challenges that we face today, I am most especially inspired by the martyrs of Spain and Mexico.

1936 - 1939 marked the greatest persecution against the Catholic Church.  The place was Spain.  The persecution was brutal and thousands of Catholics were martyred. 

One of the martyrs was Blessed Victoria Diez Bustos de Molina.  Victoria became a public school teacher.  However, the historical times in which she lived became very difficult.  Before the civil war actually began, there was a very anti-catholic environment in Spain.  The government prohibited the teaching of the catechism in the classroom and demanded crucifixes be removed from the walls.  Victoria refused to comply. 

Eventually the civil war did spill over in the small town of Nornachuelos where she was teaching.  Father Molina, the parish priest, emptied the tabernacle and entrusted the Blessed Sacrament to Victoria.  Quickly Father was arrested; the church was ransacked and burned.

Around this same time, Victoria was teaching catechism to a group of women at around eight o'clock in the evening.  During the class, two armed men entered the classroom and demanded that Victoria leave with them. 

Victoria, together with Fr. Molina and eighteen others who were already in prison were awakened in the middle of the night.  They were forced to walk for three hours to a new destination: an abandoned mine shaft.  Each one was forced to stand upon a huge stone above a large pit where they were shot and killed. 

Victoria watched as the men were shot and fell into the pit.  Fr. Molina was the last man to be killed and then it was Victoria's turn.  The soldiers tried to convince her to save her life if she would only renounce her Catholic Faith and cry out "Long live the republic" and "Long live communism."  Victoria refused.  Instead she knelt on the stone, and with her eyes raised to heaven and her arms opened in the form of a cross she shouted, "Long live Christ the King!  Long live the Virgin Mother!"  Victoria was only thirty-three years old. 

We are all called to be saints.  We are all called to be heroes.  Now, more than ever, the Church needs new saints and new heroes.
-----
Visit Father James on the web at http://www.fatherjames.org and purchase his new book Get Serious! A Survival Guide for Serious Catholics.  Click here for the audio podcast of this homily.
---
Copyright 2016 - Distributed by THE CALIFORNIA NETWORK
Pope Francis Prayer Intentions for May 2016
Universal:
Respect for Women: That in every country of the world, women may be honored and respected and that their essential contribution to society may be highly esteemed.
Evangelization:
Holy Rosary: That families, communities, and groups may pray the Holy Rosary for evangelization and peace.
---
---
---

By Kenya Sinclair (CALIFORNIA NETWORK)
A new study revealed Welsh and English Catholics hold the highest retention rate of any denomination but maintain the lowest conversion rates. LOS ANGELES, CA (Catholic Online) - The report, titled the "Contemporary Catholicism in England and Wales," was issued by the ... continue reading
---

By Elise Harris (CNA/EWTN News)
For Pope Francis, prayer is neither a "magic wand" used to get what we want nor something casual we do only when we feel like it, but is rather the strength that sustains our faith in difficult moments. Vatican City, Rome (CNA/EWTN News) - "Jesus says that we need 'to ... continue reading
---

By Andrea Gagliarducci (CNA/EWTN News)
Former Pope Benedict XVI could appear in public once again on June 29, the 65th anniversary of his priestly ordination. Vatican City, Rome (CNA/EWTN News) - Speaking after the May 20 presentation of a book dedicated to Benedict XVI's pontificate, Archbishop Georg ... continue reading
---

By Tony Magliano
The best way to remember those who have been killed in battle is to work for the day when others will no longer be sent to take their place. Prayerfully reflecting on how to move away from war and war preparation should be central to every Memorial Day.Why do ... continue reading
---

By Ann Scneible (CNA/EWTN News)
The feast of the Holy Trinity is an invitation for us to commit to enriching our everyday relationships by promoting communion, consolation, and mercy, Pope Francis said during his weekly Sunday Angelus address. Vatican City, Rome (CNA/EWTN News) - "Our being created ... continue reading
---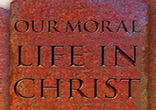 By Deacon Keith Fournier
What we choose determines who we become. Choosing what is good changes the chooser, empowering him or her to proceed along the pathways of virtue and develop the habitus - or habits- which promote Christian character. The Catechism of the Catholic Church ... continue reading
---

By Marshall Connolly (CALIFORNIA NETWORK)
Ever since the reveal of the Third Secret of Fatima in 2000, several people have insisted there's more to the secret than what the public was told. These rumors have taken a life of their own, prompting the Holy See to speak out against them. LOS ANGELES, CA (Catholic ... continue reading
---

By (CNA/EWTN News)
Recognizing the difference between a person who's possessed and a person struggling with a mental illness or other infirmity is a vital part of the ministry of exorcism, according to a long-time exorcist and priest. Rome, Italy (CNA/EWTN News) - Father Cipriano de Meo, ... continue reading
---

By (CNA/EWTN News)
It's a major miracle that you've probably never heard of. Lima, Peru (CNA/EWTN News) - On Sunday, Oct. 3, 1847, more than 2,000 people in Ocotlán, Mexico saw a perfect image of Jesus Christ crucified that appeared in the sky for more than 30 minutes.Approved by the ... continue reading
---

By (CNA/EWTN News)
During his Mass on Thursday, Pope Francis preached a warning to the rich who oppress the poor, focusing on employers who accumulate wealth by misusing those who work for them. Vatican City, Rome (CNA/EWTN News) - "We consider this drama of today: the exploitation of ... continue reading
---
All Living Faith News