Defenders of abortion refuse to publicly acknowledge the terrible guilt pangs men and women suffer after aborting their children. This is a logical extension of their illogical refusal to acknowledge that abortion is the destruction of human life.
Not only is the Samaritan woman searching for happiness, Jesus also seeks out the salvation of the woman. The gospels continually display a two-sided equation: man's search for God and God's search for man.Conversion means that we drink from the well of divine life, rather than from the swamp of sin. Today, we are invited to make a choice.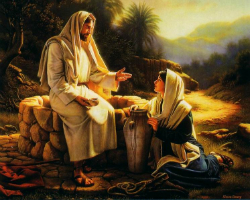 CORPUS CHRISTI, TX (Catholic Online) - God has created the human person for happiness.  We will always be restless until we find it.  However, the complete acquisition of happiness will only be fully realized in eternity.

The Samaritan woman in this Sunday's gospel narrative exemplifies the search that everyone has embarked upon.  She desires the peace and the happiness that the things of this world cannot provide. 

First, the fact that the Samaritan woman is unhappy is evident from the gospel passage.  She has been living a sinful life.  Because of her sinful life, she does not draw water from the well located in her village.  Instead, she journeys to another well that is located more than a half of a mile away.  We can conclude from this fact that she was a social outcast. 

"Jesus said to her, 'Go, call your husband, and come here.' The woman answered him, 'I have no husband.' Jesus said to her, 'You are right in saying, 'I have no husband'; for you have had five husbands, and he whom you now have is not your husband; this you said truly" (John 4: 16-18).

Secondly, her profound unhappiness causes her to search for meaning and peace.  The first encounter that the Samaritan woman has with the Lord deeply affects her.  She is surprised that he even speaks with her.  The Jews and the Samaritans did not speak to each other.  Moreover, the rabbis of that time would not speak to women.  Therefore, these two facts alone surprise her and begin an encounter that changes her life forever.

Jesus brilliantly uses the circumstances of the well, the water and her quest as parts of a pedagogy that brings her along an intense personal encounter.  Initially she relates to Jesus strictly on a human level.  After addressing him a number of times by calling him "sir," her mind and heart begin to open and she realizes that he is a prophet.  At this point, she moves on to even a deeper level.  Her soul opens up to the reality that Jesus is the Messiah.  "Jesus said to her, 'I who speak to you am he'" (John 4: 26).

It is interesting to observe how the Samaritan woman becomes a true apostle once she encounters the Lord Jesus for who he truly is.  Here, like in other parts of the gospels, we see that the true disciple of the Lord will always be a passionate apostle. 

"Many Samaritans from that city believed in him because of the woman's testimony, 'He told me all that I ever did.'  So when the Samaritans came to him, they asked him to stay with them; and he stayed there two days. And many more believed because of his word.  They said to the woman, "It is no longer because of your words that we believe, for we have heard for ourselves, and we know that this is indeed the Savior of the world" (John 4: 39-42).

Lent provides us a special time to examine our lives.  We are all called to conversion.  Conversion is a continual process.  We are always in need of change.  Without a doubt, Lent is the most demanding time of the year for the true disciple of Christ.  Lent provides us an opportunity not only to intensify our spiritual practices, but this penitential season also gives us a unique opportunity to reflect deeply on the progress of our journey towards eternal life.

Lent is a time for seriously questioning ourselves about our relationship with God.  We might ask whether there are any particular sins or attachments that might prove to be obstacles to our achieving eternal salvation.  A serious Lent is not only like a spring-cleaning in which we cleanse our souls of the clutter that has been accumulating there, it is also a time when changes in the way we live our lives may be in order.

Every day we are faced with choices and challenges that affect our relationship with the Lord.  It is not easy to be faithful. However, God's grace makes discipleship not only possible; it also makes it an amazing adventure.
 
We must not be surprised that Christianity essentially implies a daily, personal struggle.  Commitment and battle go hand in hand.  We have to take very seriously the fact that our human nature is wounded by original sin.  Discouragement is never an option for true disciples of Christ.  Every day presents a new opportunity to begin again.  God's loving mercy is always available to us through the sacrament of Confession.  It is precisely God's loving willingness to forgive our sins that fills us with the hope of eternal life.

There is an interesting story about a small group of college students that lived in Spain many years ago.  Unfortunately, they were known for their very sinful lives.  One day, one of the girls of the group was killed in a tragic car accident.  Naturally, even though her friends no longer attended church, they decided to go to the wake and the funeral. 

During the rosary, something amazing occurred.  While one of the decades was being prayed, the deceased girl awoke, stood up in the coffin and said, "Do not pray for me.  I am in hell".    The impact of this miracle was so tremendous, that two of the boys of the group had profound conversions.  However, the other members of the group were untouched by the miracle and continued to live their immoral lives. 

Conversion means that we drink from the well of divine life, rather than from the swamp of sin.  "Jesus said to her, 'Every one who drinks of this water will thirst again, but whoever drinks of the water that I shall give him will never thirst; the water that I shall give him will become in him a spring of water welling up to eternal life" (John 4: 13-14).

As we continue to unravel the meaning and application of this Sunday's gospel narrative, we can look at the gospel passage from another vantage point.  Not only is the Samaritan woman searching for happiness, Jesus also seeks out the salvation of the woman.  The gospels continually display a two-sided equation: man's search for God and God's search for man.

In this Sunday's gospel narrative, we are struck by the fact that Jesus is tired and he stops at the well to rest.  The heat is oppressive and Jesus is exhausted.  Nevertheless, forgetful of his own personal needs, Jesus is absorbed by an uncontainable desire for the eternal salvation of the Samaritan woman. 

This uncontainable desire for the eternal salvation of all mankind is illustrated in the beautiful words that Our Lord spoke to Saint Margaret Mary during the third apparition of his Sacred Heart, which took place on June 16, 1675.  "Behold the Heart which has so loved men that it has spared nothing, even to exhausting and consuming itself, in order to testify its love; and in return, I receive from the greater part only ingratitude, by their irreverence and sacrilege, and by the coldness and contempt they have for me in this sacrament of love".

The gospel helps us to understand what allows Jesus to love us unconditionally.  He is not hindered by his own personal comfort.  A passion drives everything that he does.  "My food is to do the will of him who sent me, and to accomplish his work" (John 4: 34).

Just as Jesus sought the eternal salvation of the Samaritan woman, he seeks us out as well.  He continually reaches out to us and desires our eternal salvation. 

------
Father James Farfaglia, the Happy Priest, is the pastor of Saint Helena of the True Cross of Jesus Catholic Church in Corpus Christi, Texas and is a member of the Board of Directors of Human Life International.  Father has a hard hitting blog called Illegitimi non carborundum.  He has also published a book called Man to Man: A Real Priest Speaks to Real Men about Marriage, Sexuality and Family Life.  You can click here for the audio podcast of this Sunday homily.  His second book, Get Serious! will be available soon.  You can visit Father James on the web at www.FatherJames.org. 
---
Copyright 2016 - Distributed by THE CALIFORNIA NETWORK
Pope Francis Prayer Intentions for May 2016
Universal:
Respect for Women: That in every country of the world, women may be honored and respected and that their essential contribution to society may be highly esteemed.
Evangelization:
Holy Rosary: That families, communities, and groups may pray the Holy Rosary for evangelization and peace.
---
---
---

By Andrea Gagliarducci (CNA/EWTN News)
Former Pope Benedict XVI could appear in public once again on June 29, the 65th anniversary of his priestly ordination. Vatican City, Rome (CNA/EWTN News) - Speaking after the May 20 presentation of a book dedicated to Benedict XVI's pontificate, Archbishop Georg ... continue reading
---

By Tony Magliano
The best way to remember those who have been killed in battle is to work for the day when others will no longer be sent to take their place. Prayerfully reflecting on how to move away from war and war preparation should be central to every Memorial Day.Why do ... continue reading
---

By Ann Scneible (CNA/EWTN News)
The feast of the Holy Trinity is an invitation for us to commit to enriching our everyday relationships by promoting communion, consolation, and mercy, Pope Francis said during his weekly Sunday Angelus address. Vatican City, Rome (CNA/EWTN News) - "Our being created ... continue reading
---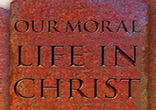 By Deacon Keith Fournier
What we choose determines who we become. Choosing what is good changes the chooser, empowering him or her to proceed along the pathways of virtue and develop the habitus - or habits- which promote Christian character. The Catechism of the Catholic Church ... continue reading
---

By Marshall Connolly (CALIFORNIA NETWORK)
Ever since the reveal of the Third Secret of Fatima in 2000, several people have insisted there's more to the secret than what the public was told. These rumors have taken a life of their own, prompting the Holy See to speak out against them. LOS ANGELES, CA (Catholic ... continue reading
---

By (CNA/EWTN News)
Recognizing the difference between a person who's possessed and a person struggling with a mental illness or other infirmity is a vital part of the ministry of exorcism, according to a long-time exorcist and priest. Rome, Italy (CNA/EWTN News) - Father Cipriano de Meo, ... continue reading
---

By (CNA/EWTN News)
It's a major miracle that you've probably never heard of. Lima, Peru (CNA/EWTN News) - On Sunday, Oct. 3, 1847, more than 2,000 people in Ocotlán, Mexico saw a perfect image of Jesus Christ crucified that appeared in the sky for more than 30 minutes.Approved by the ... continue reading
---

By (CNA/EWTN News)
During his Mass on Thursday, Pope Francis preached a warning to the rich who oppress the poor, focusing on employers who accumulate wealth by misusing those who work for them. Vatican City, Rome (CNA/EWTN News) - "We consider this drama of today: the exploitation of ... continue reading
---

By Kenya Sinclair (CALIFORNIA NETWORK)
William Friedkin, the director of famous horror film "The Exorcist," described a time he was invited to document a real exorcism at the Vatican. LOS ANGELES, CA (Catholic Online) - According to AFP, Friedkin shared his experience at the Cannes film festival Thursday ... continue reading
---

By Kenya Sinclair (CALIFORNIA NETWORK)
We all have bad days - but did you know the devil preys on you when you are the most vulnerable? LOS ANGELES, CA (Catholic Online) - Life is never easy for long. Children, work, school and illness often interfere with the plans we've made for ourselves, and it is ... continue reading
---
All Living Faith News