This Christmas, come in true worship and stand before the light of the Risen Star
Catholics in love with the Child who is the risen Star understand that true worship is contained in the Liturgy of the Mass. Christians who participate in the Eucharistic celebration are already united "with the heavenly liturgy and anticipate eternal life, when God will be all in all" (see CCC No. 1326).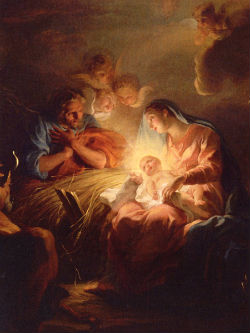 The depth of meaning in Christmas is as infinite as God Incarnate himself. Enter into that meaning with mind and heart, worship the Father in "Spirit and truth" (see Jn 4:23).
GLADE PARK, CO (Catholic Online) -- A recent survey conducted via an online panel by LifeWay Research, in which 2,110 adults were polled, found that nine out of ten Americans personally celebrate Christmas in some "form or fashion". However, LifeWay reports a "gap, even among Christians, between the religious emphasis of the holiday and the merry, family-focused traditions."

After a closer look at the survey's findings, president of LifeWay Research Ed Stetzer stated that the celebration of Christmas "typically revolves around family, and that Christ-centered elements are not as common. For many in our culture, the season is disconnected from the reason. For many of those, family is the reason for the season."

Scott McConnell, director of LifeWay, noted the apparent disconnect between the real meaning of Christmas and its celebration as a holiday: "Americans give Jesus a head nod at Christmas but spend most of the season pleasing their eyes, ears and taste buds with decorations, music and meals. Many celebrate Christmas the way most have celebrated Halloween - the fun traditions without sharing the religious significance."

According to the survey, 47 percent of Americans reported that their household typically attends church services as a part of the Christmas holiday. 

Christmas: A Time To Purify Our Minds And Lives

If one were to ask Christians in America what they understood the true meaning of Christmas to be, nearly every one of them would respond, "It's about the birth of Jesus Christ." The birth of God Incarnate, God come among us in the flesh, is an event of infinite proportion. All the words used throughout Christian history in describing this pivotal event fall far short of the sublime wonder of it all. Nevertheless, the above survey results are hardly a surprise in this age of militant secularization: The anti-Christian stratagem that labors to erase the true meaning of Christmas, replace it with a merely festive and impoverished notion of "happy holidays," and encourage every sort of consumerism, has indeed made its inroads into the manner in which many celebrate the Christ Child's birth.

During his final general audience before Christmas, Pope Benedict XVI reminded the faithful that Christmas is a time for renewal and purification: "In the night of the world, let us still allow ourselves to be surprised and illuminated by this coming, by the Star which, rising in the East, has inundated the universe with joy. Let us purify our minds and our lives from everything that contrasts with this coming -- thoughts, words, attitudes and actions -- spurring ourselves on to do good and to help bring peace and justice to our world for all men and women, and thus to walk towards the Lord."

In one sense, purifying our minds and lives of thoughts, words, attitudes and actions that contrast with Christ's coming can and should be taken to mean ridding ourselves of all sin -- the sacrament of Penance and Reconciliation first comes to mind. Yet in another sense, it can be taken to mean filling a void that exists both interiorly and exteriorly as a result of improper attitudes. This void is something which is lacking, it is a negative aspect of one's life that is not merely unfulfilling or incomplete, but rather is something opposed to holiness, which can block the way along the path of light, and is, therefore, spiritually harmful.

Within the Pope's statement that we ought to purify our minds and lives, and thus walk toward the Lord, is found the key which unlocks the doorway to a wholly new, fully Christian, human existence of freedom and love -- it is a doorway into a "new world" with God, a place in which the old is burned away as a mote of dust before the heat of the Son, allowing the new to shine forth in radiant splendor.

Christmas: A Time To Worship In Spirit And Truth

The obvious question is, "What is this 'something' that can be lacking?" To answer this highly important question, it is necessary to begin by moving to a point in time about three decades after the Christ Child laid in the manger:

Under a piercing noonday sun, tired from a long journey, Jesus sat down at Jacob's well. A Samaritan woman, carrying her jar, come forward to draw up some water. Jesus silently watched her for a moment, and then said plainly and openly, "Give me a drink." Astonished that a Jew should ask such a question, the woman responded, "How can you, a Jew, ask me, a Samaritan woman, for a drink?" Jesus said, "If you knew the gift of God and who is saying to you, 'Give me a drink,' you would have asked him and he would have given you living water."

The woman wanted to know more about this water: "Sir, you do not even have a bucket and the cistern is deep; where then can you get this living water? Are you greater than our father Jacob, who gave us this cistern and drank from it himself with his children and his flocks?" Jesus answered, "Everyone who drinks this water will be thirsty again; but whoever drinks the water I shall give will never thirst; the water I shall give will become in him a spring of water welling up to eternal life."

Failing to grasp the significance of what our Lord was saying, yet nevertheless desiring to taste this water which she perceived as wonderful and satisfying, the Samaritan woman asked, "Sir, give me this water, so that I may not be thirsty or have to keep coming here to draw water." Is this not also the desire of our own hearts, that we should no longer thirst, that we should no longer have to labor to draw water up from the cistern? Are we not, too, saying to the Risen One, "Sir, give me this water"?

As we read on, we find that the Samaritan woman, surprised -- likely shocked -- by Jesus' knowledge of her "five husbands," begins to question our Lord about worship. Jesus tells her that "the hour is coming, and is now here, when true worshipers will worship the Father in Spirit and truth; and indeed the Father seeks such people to worship him" (see Jn 4). Jesus is telling us very clearly that the Father seeks people who worship him in a particular way, not merely in a manner governed by subjective principles, but rather in a definite and specific manner in accord with the will of God -- we are to worship in Spirit and truth.

The Liturgy Of The Mass: Center and Summit Of Christian Worship

Today we are two-thousand years removed from that day at Jacob's well. Therefore Christians have the advantage, unlike the Samaritan woman, of gazing at Christ through the singularly clear and focused lens of Sacred Tradition, Sacred Scripture and the Magisterium of the Catholic Church in order to cut through obscurity, and understand with all possible clarity who our Savior is and where to find this "spring of water welling up to eternal life". Consequently, what it means to be a true worshiper, worshiping the Father in Spirit and truth, is no longer a mysterious concept shrouded in ambiguity as it was for the woman at the well.

Catholics in love with the Child who is the risen Star understand that true worship is contained in the Liturgy of the Mass. It is the Father who calls us to this most sublime event in which Christ's sacrifice of love is perpetuated throughout all time. During this sacred memorial, Christians who participate in the Eucharistic celebration are already united "with the heavenly liturgy and anticipate eternal life, when God will be all in all" (see CCC No. 1326). Thus, in a complete and all encompassing kiss of love and unity, we give of ourselves entirely, walk forward in the communion line with hands outstretched in humility as an altar for Christ, and receive Eucharist -- the body, blood, soul and divinity of the Risen Lord; the sacrament of sacraments; the source and summit of the Christian life. At that moment we indeed enter heaven, though not yet completely and perfectly, as we are swept up into the life of the Holy Trinity, drawn by our Lord into the highest form of prayer, for it is the prayer God himself wills for those he has called -- true worship in Spirit and truth.

Vatican II proclaimed that the Eucharist is the "source and summit of the Christian life" in which "the work of our redemption is carried out" (see Lumen Gentium, 11, 3). Therefore John Paul II was able to say: "The Church has received the Eucharist from Christ her Lord not as one gift -- however precious -- among so many others, but as the gift par excellence, for it is the gift of himself, of his person in his sacred humanity, as well as the gift of his saving work" (Ecclesia De Eucharistia, 11).

The depth of meaning in Christmas is as infinite as God Incarnate himself, which no amount of secular propaganda can diminish. Contemplate the silent, empty cave that awaits the arrival of the sweet Virgin pregnant with Child: look upon Joseph who, foster father and careful guardian of Jesus, stands ready at the entrance in anticipation after a long journey; gaze into the unyielding, wooden manger -- a cradle of poor simplicity that the Child who is Mercy and Love, who comes to save humankind through suffering and sacrifice, will soon lay. Touch the manger's wood: see that the shadow of the Cross is cast upon it. Look for the Star who rises in the East as the Risen One. Yet do not imagine that you may look anywhere in a lackadaisical, indifferent manner, for the Child desires to enter the hearts of men for all eternity as the Word who is God (cf Jn 1:1). Therefore clear away those attitudes devoid of truth which hinder progress, for it is that Child become Man who said, "God is Spirit, and those who worship him must worship in Spirit and truth" (Jn 4:24).

-----

F. K. Bartels is a Catholic writer who knows his Catholic Faith is one of the greatest gifts a man could ever have. He is a contributing writer for Catholic Online. Visit him also at catholicpathways.com
---
Copywriter 2015 - Distributed by THE NEWS CONSORTIUM
Pope Francis Prayer Intentions for October 2015
Universal:
That human trafficking, the modern form of slavery, may be eradicated.
Evangelization:
That with a missionary spirit the Christian communities of Asia may announce the Gospel to those who are still awaiting it.

By Kenya Sinclair (CALIFORNIA NETWORK)
Each year, millions of people across the United States rush to grocery stores and prepare to visit their families in celebration of Thanksgiving. Visiting loved ones and enjoying a specially prepared meal are both wonderful parts of celebrating, but don't forget to ... continue reading
---

By Catholic Online (NEWS CONSORTIUM)
Pope Francis has made it clear, Jesus is weeping over a world at war. It has become obvious that this is a time of extreme danger for all people around the globe. No population is safe from terror. The threats aren't just from terrorist organizations like ISIS and Al ... continue reading
---

By Catholic Online (CALIFORNIA NETWORK)
The veneration of relics in the Catholic Church has been one of the most debated practices in the faith. While such veneration is actually common in the human experience -even Communists did it with the body of Lenin, the veneration of relics in the Church is the ... continue reading
---

By Tony Magliano
During the recent U.S. Catholic bishops' fall assembly in Baltimore, several bishops and one abbot, decided to skip dinner at the downtown Marriott Waterfront hotel, and walked several blocks to an inner city parish to share a simple meal with about 30 peace ... continue reading
---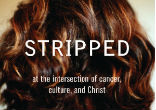 By Mary Rezac, CNA/EWTN News
Heather King never cared much for doctors. Los Angeles, CA (CNA) - It's an attitude she partly inherited from her mother, "who classified ginger ale as a medicine, considered Novocain a snobbish extravagance" and somehow managed to avoid a visit to the doctor's office ... continue reading
---
By Kenya Sinclair (CALIFORNIA NETWORK)
It is easy to fall prey to depression and sadness with everything that has been going on in the world these days. The trick to maintaining a positive attitude and living in the joy God has for us is as easy as following five simple steps. LOS ANGELES, CA (Catholic ... continue reading
---

By Marshall Connolly, Catholic Online (THE CALIFORNIA NETWORK)
Want to lose the War on Christmas? Surrender Advent. We Christians have gone out of our minds, arguing about Starbucks cups and greeters who (correctly) say "Happy Holidays" in place of "Merry Christmas." In all the bustle of the season, we have forgotten that Advent ... continue reading
---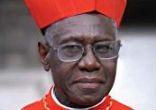 By Elise Harris, CNA/EWTN News
At the presentation of his new book, Cardinal Robert Sarah said that Western society is rapidly forgetting God, and expressed his desire to help people rediscover him through both prayer and witness. Vatican City (CNA/EWTN News) - "I would like to help people ... continue reading
---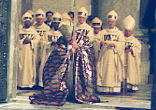 By Elise Harris, CNA/EWTN News
Hidden since the Jubilee of 2000, the Holy Door in St. Peter's Basilica was revealed Tuesday as the brick wall covering it was removed in anticipation of the Holy Year of Mercy launching next month. Vatican City (CNA/EWTN News) - Cardinal Angelo Comastri, the ... continue reading
---

By Abigail James (CALIFORNIA NETWORK)
Fear is a powerful thing. Fear can completely cripple the body and soul. Since the terrifying Paris terrorist attacks last week the news has been full of death, terrorists, murder and fear. LOS ANGELES, CA (Catholic Online) - Those not in power are left wondering ... continue reading
---
All Living Faith News