On this one wonderful day called "Christ-Mass" the entire world rightly pauses. Heaven has come to earth so that earth can be brought to heaven.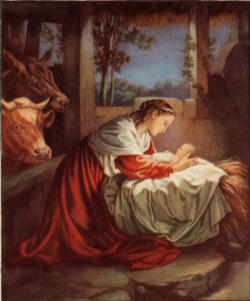 Let those of us who have embraced the truth of this claim now manifest- in our own lives and families- the fruits of the Incarnation. Let us become a Christmas people and offer through our lives of love the greatest gift of all. Let us continue to manifest the beauty of the Incarnation to a world that still waits to be born.
CHESAPEAKE, Va. (Catholic Online) - With these words the most theologically profound Gospel begins, the one written by the beloved disciple John: "In the beginning was the Word and the Word was with God and the Word was God. He was in the beginning with God; all things were made through Him and without Him was not anything made that was made. In Him was life, and the life was the light of men. The light shines in the darkness and the darkness has not overcome it.. AND THE WORD BECAME FLESH AND DWELT AMONG US" (John 1:1, 14)

The last to be written, this Gospel contains the inspired mature reflection of the early Church. Within these pregnant words we discover the mystery at the heart of the great event we celebrate on Christmas, the Incarnation and the Nativity of the Lord Jesus Christ.

The words rendered in English "dwelt among us" are literally rendered "He pitched His tent among us." The God of the whole universe who dwelt in inaccessible light, whom no man had ever seen and lived, became a man. In fact, he became first a child, in the womb and then in the arms of a mother. Then, He lived (lives) among us. He became one of us, fully human while fully Divine. Heaven touched earth and earth is now forever changed.

The author of the letter to the Hebrews tells us of this Jesus whose birth we celebrate: "For we do not have a high priest who is unable to sympathize with our weaknesses, but we have one who has been tempted in every way, just as we are-yet was without sin" (Hebrews 4:15)

The Eternal Word, coexistent with the Father and the Spirit in the perfect unity that is Trinitarian Love and communion, became a real man in time and in history. As a pre-born child, He sanctified all mother's wombs by dwelling within the first temple, the living tabernacle, of His beloved self-chosen mother. Now that is THE greatest argument against abortion. God revealed Himself first as a child in the womb.

On Christmas, the Nativity of the Lord, we celebrate that Holy Day when this child of Mary's was born and heaven touched earth. He was raised by a human mother and father; and parenting and family life forever took on a deeper meaning. At the bench of Joseph the carpenter, his beloved foster father; he learned the carpenter's trade and through His work sanctified all human work as a participation in the continuing work of both creation and redemption.

This wonderful child, God Incarnate, worked with the very wood upon which, later as a man, He would be nailed. On that second tree of the Cross, the new Adam stretched out His loving arms to embrace the world that had been created through Him, and re-created it through His sacrifice of Self Giving Love.

Continuing Work of Redemption

God's continuing work of re-creation and redemption, in and through His Son Jesus Christ, the Word made flesh, now continues in and through the work of His Church in the world. This Church is the Risen Body of His Son still active, still mediating the fruits of His redemption as she journeys through time on the way to eternity. This Church carries forward in time the marvelous work of Christ's re-creation, redemption and the fulfillment of the Divine plan "hidden from the ages" (Eph 3:9, Coll. 1:26, Rom. 16:25, 1 Cor. 2:7) and now revealed to those with eyes to see and hearts to behold the great mystery.

At the breast of his mother, He elevated the already holy wonder and dignity of motherhood. He offered Himself in His sacred humanity to be nurtured by a mothers love as a sign of the beauty of the entire human experience of growth and maturation. He now symbolically entrusts that nurturing work to that Church which has, from antiquity, rightly been called a "mother" for the whole human race. She is now called to manifest the life of God on the earth.

More than an Idea

He was born into a real family and lived fully the stages of all of our very real and human lives- just as we do and as our children continue to do. He was "a kid"; He was a "teenager", He, "grew up" as He "grew in wisdom and stature, and in favor with God and all men" says the Gospel. (Luke 2:52)

The Christian claim is that God is more than an idea or the summit of all the aspirations of the human heart. He so loved the world that He had created out of love that when it was lost through sin, through the wrong choice of those whom He had created in love and for love to give it to, He came as a child among us. He pitched His tent among us. He became like us, so that we can become like Him and live for eternity in an intimate family relationship with Him. This God of love and communion invites us in His Son to participate in His very life.

As He walked among us He showed us the way to live fully human lives and to respond to both the struggles and the joy that are a part of that journey. He had friends, some of whom hurt and betrayed Him. He had fun, laughed and rejoiced as a real human person! He was comfortable celebrating at a wedding. I disagree with some of my friends in other Christian traditions who now claim that the first great miracle was to make water into grape juice. Not only is this a misreading of Scripture but it can lead to a serious error in which the human is somehow rendered evil. That is not Christianity; it is rather the remnant of early heresies. He turned that water into the finest wine ever tasted!

This real child became a real man with a passionate love for the entire human race. His Divine and Human heart broke from the pain and loss occasioned by our alienation from Him. He wept over Jerusalem! He wept at a friends' funeral. He understands the pain of betrayal because He was betrayed. He understands the loss of loved ones. He doubted. He had fears. That's right - doubt is not sin. Doubt is an opportunity for exercising our freedom, making the choice to believe and to trust. That is what the agony in the Garden was all about.

He "gets it"... and in Him we find the fullness of life and love demonstrated for us to follow. Through the grace that we receive in Him we can now live as He lived, in our daily lives. The beloved disciple John wrote in his first letter "We have come to know and to believe in the love God has for us. God is love, and whoever remains in love remains in God and God in him. In this is love brought to perfection among us, that we have confidence on the day of judgment because as he is, so are we in this world." (1 John 4:17 and 18)

This wonderful loving Savior who came into our midst and pitched His tent, had room for everyone within it's embrace! He loved ALL men and women-not just the "loveable", or the "pious" In fact, He was known to associate with "sinners." He was fully human-- as well as fully Divine. His bodiliness was not some ruse-- He pitched His tent among us. He lived the fullness of the human experience in a body. He perspired. He felt fatigue. In fact, He is now at the "right hand" of the Father in a Resurrected Body! That is the Christian claim.

Yet we who are Christians often still do not "get it!" We all too often live the Christian life as though our bodies and the created order are somehow "bad" or less "spiritual".

We Profess

We profess in our ancient Creed that we believe that we will be raised and live live in resurrected bodies on a new heaven and a new earth for all eternity. Yet we sometimes live as though the physical is divorced from the spiritual.

The "flesh" (sarx) that the scripture warns of is not our body but our tendency to sin. In Jesus Christ we find the way to overcome that tendency and to live our lives in a transformed and transforming way. The "world" that we are warned not to befriend in some of the biblical texts is not the created order (which he called "good" and still loves)but the system that has squeezed the Creator out of His creation and fails to receive this child born in Bethlehem's cave, making no room for His loving embrace.

Christmas invites us to live, in the here and now, a unity of life. To become comfortable "in our skin"- fully human, enjoying life and loving as Jesus loved. Yet, too often Christians live lives that are perceived as anything but fully human. This kind of approach is not "holy"-- it is weird. It can also impede us in our continuing mission as a people who are now constituted in time to carry forward the redemptive work of Jesus. Who is drawn to a man or woman whom they feel will not have empathy for their own weakness?

The Wound of Sin

At its core, "sin" is an abuse of the freedom to choose given to us by God. This capacity to freely choose to love is what constitutes the "Imago Dei", the image of God in each one of us. God did not create us as robots but as persons. Love does not coerce, it invites. That capacity to choose, to respond to His invitation, has been affected by the "original sin", the great rebellion. Because of sin, all men and women now tend to what classical theology called concupiscence.

Sin has wounded us-- and it has affected the world in which we now live. That is why we could not overcome our own nor the world's corruption without help from heaven. That is why we needed (and still need) to be "saved" by One like us. That is why "the Word became flesh and dwelt among us."

Because He is born, we are now given a new Way on which to walk, and the invitation to live our entire lives "in Him". Because He is born, we are been given the "power to become the children of God" By grace we now have the capacity to choose love and so to be transformed into Him who is Love incarnate.

The Fullness of Time

On Christmas we remember that in the "fullness of time" God came among us. Heaven touched earth and earth has been elevated! The all- powerful God who made both heaven and earth became a vulnerable baby and chose to give Himself away in love to His creation.

The eternal entered time and time has been forever sanctified. Oh, the mystery of this moment, the grandeur of this Feast! For too much of our history as a Christian people we have missed the profound foundational truth of the entire Christian Mystery. Let us not miss it this year.

The Incarnation continues! (Col 1:24) The Word still becomes flesh in and through each of us who have been baptized into Him. His tent is still being "pitched" among all men and women. That tent is His Body, His Church, and all those who are now incorporated into Him through Baptism, are also called to spread the tent-pegs and make room in the tent for the entire human race. The Church is the home of the whole human race and we are commissioned to bring all the wayward sons and daughters home for the Holiday.

The same Word through whom the Universe was made is the Word through whom it is now being redeemed and re-created. That transformation will finally be completed when all things are reconstituted in Him in the new Heaven and New Earth.

On this one wonderful day called "Christ-Mass" the entire world rightly pauses. Heaven has come to earth so that earth can be brought to heaven. The great event of Christmas touches every man, woman and child. The entire world is again presented with the Christian claim---"the Word became flesh and dwelt among us."

Let those of us who have embraced the truth of this claim now manifest- in our own lives and families- the fruits of the Incarnation. Let us become a Christmas people and offer through our lives of love the greatest gift of all. Let us continue to manifest the beauty of the Incarnation to a world that still waits to be born.

Merry Christmas!


---
Copywriter 2015 - Distributed by THE NEWS CONSORTIUM
Pope Francis Prayer Intentions for October 2015
Universal:
That human trafficking, the modern form of slavery, may be eradicated.
Evangelization:
That with a missionary spirit the Christian communities of Asia may announce the Gospel to those who are still awaiting it.
---
---
---

By Kenya Sinclair (CALIFORNIA NETWORK)
Each year, millions of people across the United States rush to grocery stores and prepare to visit their families in celebration of Thanksgiving. Visiting loved ones and enjoying a specially prepared meal are both wonderful parts of celebrating, but don't forget to ... continue reading
---

By Catholic Online (NEWS CONSORTIUM)
Pope Francis has made it clear, Jesus is weeping over a world at war. It has become obvious that this is a time of extreme danger for all people around the globe. No population is safe from terror. The threats aren't just from terrorist organizations like ISIS and Al ... continue reading
---

By Catholic Online (CALIFORNIA NETWORK)
The veneration of relics in the Catholic Church has been one of the most debated practices in the faith. While such veneration is actually common in the human experience -even Communists did it with the body of Lenin, the veneration of relics in the Church is the ... continue reading
---

By Tony Magliano
During the recent U.S. Catholic bishops' fall assembly in Baltimore, several bishops and one abbot, decided to skip dinner at the downtown Marriott Waterfront hotel, and walked several blocks to an inner city parish to share a simple meal with about 30 peace ... continue reading
---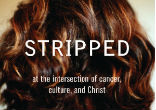 By Mary Rezac, CNA/EWTN News
Heather King never cared much for doctors. Los Angeles, CA (CNA) - It's an attitude she partly inherited from her mother, "who classified ginger ale as a medicine, considered Novocain a snobbish extravagance" and somehow managed to avoid a visit to the doctor's office ... continue reading
---
By Kenya Sinclair (CALIFORNIA NETWORK)
It is easy to fall prey to depression and sadness with everything that has been going on in the world these days. The trick to maintaining a positive attitude and living in the joy God has for us is as easy as following five simple steps. LOS ANGELES, CA (Catholic ... continue reading
---

By Marshall Connolly, Catholic Online (THE CALIFORNIA NETWORK)
Want to lose the War on Christmas? Surrender Advent. We Christians have gone out of our minds, arguing about Starbucks cups and greeters who (correctly) say "Happy Holidays" in place of "Merry Christmas." In all the bustle of the season, we have forgotten that Advent ... continue reading
---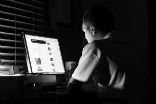 By Catholic Online (NEWS CONSORTIUM)
There is one thing you can do every day that will profit you in many ways. It requires no work and the most minimal effort. It will inform you, inspire you, and ignite your passions. That thing is to visit Catholic Online every day. LOS ANGELES, CA (Catholic Online) - ... continue reading
---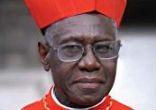 By Elise Harris, CNA/EWTN News
At the presentation of his new book, Cardinal Robert Sarah said that Western society is rapidly forgetting God, and expressed his desire to help people rediscover him through both prayer and witness. Vatican City (CNA/EWTN News) - "I would like to help people ... continue reading
---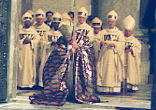 By Elise Harris, CNA/EWTN News
Hidden since the Jubilee of 2000, the Holy Door in St. Peter's Basilica was revealed Tuesday as the brick wall covering it was removed in anticipation of the Holy Year of Mercy launching next month. Vatican City (CNA/EWTN News) - Cardinal Angelo Comastri, the ... continue reading
---
All Living Faith News