By Catholic Online (NEWS CONSORTIUM)
8/10/2014 (2 years ago)
Catholic Online (www.catholic.org)
Conservationists not happy with current plans, saying animals are still rare and valuable
Visitors to Florida frequently come across blubbery animals called manatees. Resembling walruses, the comical creatures can be found along the heavily populated Florida coast. Now - there is a movement to reclassify the manatees status from "endangered" to the less urgent term of "threatened," something that isn't sitting well with conservationists.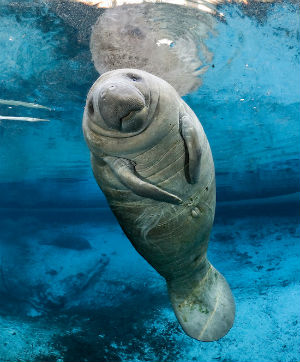 Reaching weights as high as 3,500 pounds, manatees make a home where there are plentiful sea grasses and freshwater from estuaries and slow-moving rivers.
LOS ANGELES, CA (Catholic Online) - Reaching weights as high as 3,500 pounds, manatees make a home where there are plentiful sea grasses and freshwater from estuaries and slow-moving rivers. These "sea cows" come into conflict with humans, especially through boat collisions. It's rare to find a manatee that hasn't been struck, to the point that scars and gouges are commonly used to identify the survivors.

The U.S. Fish and Wildlife Service, or FWS is considering reclassifying manatees down to "threatened" status, a process that could take at least a year.

SAVE Iraqi Christians from Genocide --


Protections for endangered species are fixed by law. Those for threatened species can be reduced by administrative decision. While manatees would still remain protected, the move to become merely "threatened" would allow restrictions to be lessened for waterfront development and allow boaters to drive at faster speeds.
This has left some activists outraged.  "It would be a foolish thing to down-list manatees now," Patrick Rose, executive director of Save the Manatee Club says. One of the world's leading experts on manatees, Rose was the first federal coordinator for manatee recovery in Florida. "I call them the 'tugboat' species because of the political tug of war involving these animals," he added.
However, some wildlife officials disagree about the threat posed by the possible change. "People have misperceptions that we have two lists. It's one classification. Being endangered or threatened relates to whether a species is moving toward extinction or not. Manatees will remain protected," Chuck Underwood, FWS spokesperson says.
"Manatee mortality" has increased dramatically over the past several years. Last year, scientists were baffled when more than 800 manatees perished in different parts of the state. On the west coast, there were toxin-producing algal blooms known as red tide that settled on sea grasses manatees eat.
It was theorized that the microscopic algae could be occurring more frequently due to increasing amounts of nutrients from lawns and farmlands being absorbed into the waterways. On the east coast, an unprecedented cover of algae bloomed across 47,000 acres of coastline and smothered sea grasses. Dead manatees, pelicans and dolphins washed up on shore.
Over a longer timescale, the manatee herds appear to be doing well. Before 2007, manatee populations gained ground so well that in the FWS five-year review, the animals were considered good candidates to be reclassified to threatened status.
---
Copyright 2017 - Distributed by THE CALIFORNIA NETWORK
Pope Francis Prayer Intentions for DECEMBER 2016
Universal:
End to Child-Soldiers: That the scandal of child-soldiers may be eliminated the world over.
Evangelization:
Europe: That the peoples of Europe may rediscover the beauty, goodness, and truth of the Gospel which gives joy and hope to life.
---
---
---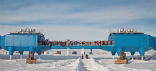 By Marshall Connolly (CALIFORNIA NETWORK)
Scientists are abandoning a base in Antarctica for fear that a massive crack in the ice sheet could destabilize their area. The Halley VI ice base on the Brunt Ice Shelf has been closed amid fears the shelf is nearing collapse. LOS ANGELES, CA (California Network) -- ... continue reading
---

By Marshall Connolly (CALIFORNIA NETWORK)
For five years, California has suffered through record-busting drought that has alarmed planners. Now, the state may be emerging from the drought as epic rains follow epic heat. LOS ANGELES, CA (California Network) -- A few years ago, it was difficult to ascertain if ... continue reading
---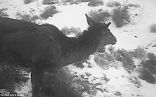 By Marshall Connolly (CALIFORNIA NETWORK)
A mysterious animal has been captured on film in China reigniting a discussion about cryptids. Cryptids are mysterious animals often associated with folklore and myth. But in this case, one animal appears to be real. LOS ANGELES, CA (California Network) -- ... continue reading
---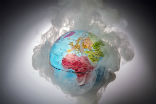 By Marshall Connolly (CALIFORNIA NETWORK)
If you thought 2016 was hot, that's because it was. In fact, 2016 was the second hottest year on record for the USA. LOS ANGELES, CA (California Network) -- As most of the nation freezes under a blanket of January snow, it's difficult to remember the warm months of ... continue reading
---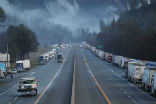 By Marshall Connolly (CALIFORNIA NETWORK)
Northern California is about to be hit with a massive storm that contains so much rain, it is known as an "atmospheric river." Meteorologists say the event happens about only once in a decade. LOS ANGELES, CA (California Network) - An epic storm is poised to hit ... continue reading
---

By Marshall Connolly (CALIFORNIA NETWORK)
In about a decade or so, your food is going to be a lot different. For the first time since humans began farming and ranching, the way we grow and produce food is about the change --dramatically. Farmers and ranchers, your days are numbered. LOS ANGELES, CA (California ... continue reading
---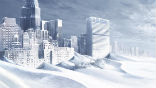 By Marshall Connolly (CALIFORNIA NETWORK)
The climate change skeptics are going to love this one. Under one scenario global warming could trigger a new ice age that will devastate Europe. The good news is, if it happens, it will take some time. The scenario shows just how difficult the impact of global climate ... continue reading
---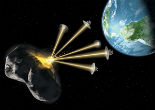 By Marshall Connolly (CALIFORNIA NETWORK)
The inner Solar System is a cosmic shooting gallery, and Earth is a target. This is very apparent this year as NASA is tracking several objects headed our way. LOS ANGELES, CA (California Network) -- Anything headed towards Earth is of monumental importance. Earth has ... continue reading
---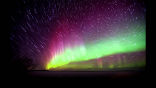 By Marshall Connolly (CALIFORNIA NETWORK)
NASA has released some beautiful images of the aurora borealis, also known as the northern lights, captured from space. The pictures show the glowing, colorful lights against the curvature of the Earth, from about 250 miles up. LOS ANGELES, CA (California Network) -- ... continue reading
---
By Marshall Connolly (CALIFORNIA NETWORK)
A comet is becoming visible in the northern hemisphere and may reach naked-eye brightness in the days ahead. The comet, 45P/Honda-Mrkos-Pajdušáková is a green, periodic comet discovered in 1948 that routinely passes close to Earth. It will flirt with naked eye ... continue reading
---
All Green News