Long extinct spider recreated in lab; Video shows how predatory spider walked on land
There would be few reasons as to why anyone would want to bring an ugly spider, long extinct, back to life. Thanks to computer generated imagery generated by fossils of a 410 million-year-old arachnid, however, scientists have been able to recreate how it walked on land.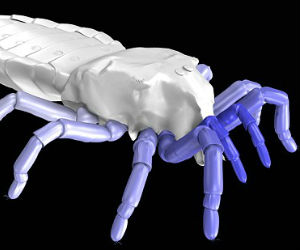 Comparing them to living arachnids, the researchers used an open source computer graphic program called "Blender" to create the video showing the animals walking.
LOS ANGELES, CA (Catholic Online) - One of the first predators on land, researchers used exceptionally preserved fossils from the Natural History Museum in London to create the animation.

The completed animation shows the most likely walking gait of the animal, which was thought to be only a few millimeters long.

Shop our beautiful collection of rosaries -- by going here --


Thin slices of rock showing the animal's cross-section were used to work out the range of motion in the limbs of this ancient, extinct early relative of the spiders. The arachnid, known as Palaeocharinus, was part of a spider-like group known as Trigonotarbida.
These animals roamed Europe and North America, as well as Argentina, from around 419 and 290 million years ago. They ranged in size from a few millimeters to a few centimeters in body length. Most were predatory, and later species were heavily armored.
Comparing them to living arachnids, the researchers used an open source computer graphic program called "Blender" to create the video showing the animals walking. 
"When it comes to early life on land, long before our ancestors came out of the sea, these early arachnids were top dog of the food chain," author Dr. Russell Garwood, a paleontologist in the University of Manchester's School of Earth, Atmospheric and Environmental Sciences says.
"They are now extinct but, from about 300 to 400 million years ago, seem to have been more widespread than spiders.
"Now we can use the tools of computer graphics to better understand and recreate how they might have moved - all from thin slivers of rock, showing the joints in their legs." 
These eight-legged creatures were one of the earliest to walk the land. On their time on earth, they dominated the food chain while the ancestors of humans were still swimming in the primeval swamp.
Co-author Dr. Jason Dunlop, a curator at the Museum für Naturkunde, Berlin, said: "These fossils - from a rock called the Rhynie chert - are unusually well-preserved.
"During my PhD I could build up a pretty good idea of their appearance in life. This new study has gone further and shows us how they probably walked.
"For me, what's really exciting here is that scientists themselves can make these animations now, without needing the technical wizardry - and immense costs - of a Jurassic Park-style film.
"When I started working on fossil arachnids we were happy if we could manage a sketch of what they used to look like; now we can view them running across our computer screens."
This work is part of a special collection of papers on three-dimensional visualization and analysis of fossils published.
---
Copyright 2016 - Distributed by THE CALIFORNIA NETWORK
Pope Francis Prayer Intentions for SEPTEMBER 2016
Universal:
Centrality of the Human Person: That each may contribute to the common good and to the building of a society that places the human person at the center.
Evangelization:
Mission to Evangelize: That by participating in the Sacraments and meditating on Scripture, Christians may become more aware of their mission to evangelize.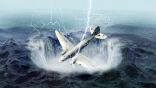 By Marshall Connolly (CALIFORNIA NETWORK)
The mystery of the Bermuda Triangle may have finally been solved. Scientists studying satellite images of the area noticed something bizarre and have made a discovery that could solve the mystery. LOS ANGELES, CA (California Network) - The Bermuda Triangle has been a ... continue reading
---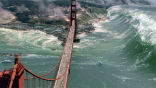 By Marshall Connolly (CALIFORNIA NETWORK)
We just had an earthquake here in California that sent millions of residents dashing for cover. So why isn't the news telling us how large it was? It's because the earthquake wasn't real. Instead, California just held its annual "Shake Out" statewide earthquake drill. ... continue reading
---
By Marshall Connolly (CALIFORNIA NETWORK)
New models of Earth's gravity reveal that the melting of Greenland's ice sheet is more significant than previously estimated. The ice sheet is melting faster and impacting sea level rise harder than previously estimated. LOS ANGELES, CA (California Network) - A gravity ... continue reading
---

By Marshall Connolly (CALIFORNIA NETWORK)
"This storm will kill you," Florida Gov. Rick Scott is warning people to evacuate ahead of Hurricane Matthew. The storm is now leaving the Bahamas and will strike Florida this evening. It is expected to follow a path up the Florida coast. Haiti, Cuba and the Bahamas ... continue reading
---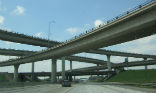 By Marshall Connolly, (California Network)
The elevated risk of the "Big One" in California has subsided, but that doesn't mean Californians should relax. The danger of a major quake in California remains real and experts agree, it is only a matter of time. LOS ANGELES, CA (California Network) - For a seven-day ... continue reading
---

By Marshall Connolly (CALIFORNIA NETWORK)
Hurricane Matthew has become a monster category 5 storm, swirling in the Caribbean, headed for the eastern tip of Cuba. Haiti has been hit, but the full extent of damage is unknown. Some communities in South Carolina have been ordered to evacuate. LOS ANGELES, CA ... continue reading
---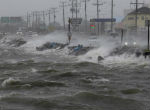 By Marshall Connolly (CALIFORNIA NETWORK)
Tropical storm Matthew has formed in the Caribbean and appears likely to brush the east coast of Florida. The storm is on track to strike most of the islands in the Caribbean. LOS ANGELES, CA (California Network) - Tropical storm Matthew has formed and is taking aim at ... continue reading
---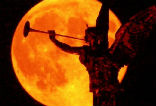 By Marshall Connolly (CALIFORNIA NETWORK)
An event that some say will usher in the apocalypse is about to take place on Friday. A Black Moon will rise on September 30 over North America, and some think it signals the second coming of Jesus Christ. LOS ANGELES, CA (California Network) - A rare Black Moon will ... continue reading
---
By Marshall Connolly (CALIFORNIA NETWORK)
Global warming is real and getting worse. There is no more credible scientific debate on this issue. However, there is plenty of debate over how we should approach the problem. One professor has offered a provocative solution, stop having children. LOS ANGELES, CA ... continue reading
---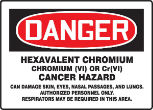 By Marshall Connolly (CALIFORNIA NETWORK)
Every town is Flint. That's the fear following a report on America's water quality. Many cities and towns have such poor, neglected water infrastructure that millions of Americans are already drinking poisonous water. LOS ANGELES, CA (California Network) - Millions of ... continue reading
---
All Green News