New research shows the Arctic is practically baking under anthropogenic global warming, hottest in 120,000 years
---
By Marshall Connolly, Catholic Online (NEWS CONSORTIUM)
10/24/2013 (3 years ago)
Catholic Online (www.catholic.org)
Research proves humans are causing the warming.
A new study reveals that temperatures across the Canadian Arctic are now greater than they have been in the last 44,000 years, and possibly longer. Scientists say it is more proof of anthropogenic global warming.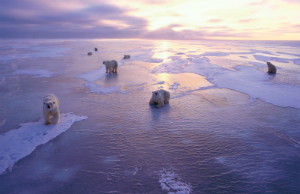 Polar bears are the poster children of global warming. The tundra to their south is melting at an unprecedented pace and releasing trapped methane into the atmosphere.
LOS ANGELES, CA (Catholic Online) - A new study shows that Arctic temperatures are the highest they have been in the past 44,000 years and possibly even the hottest in the past 120,000 years.
Gifford Miller, a researcher from the University of Colorado, Boulder, wrote a letter in coordination with the journal Geophysical Researchers Letters that was published online this week. The letter says that the study proves the warming we're witnessing in the Arctic is unprecedented in modern times and real.
"The key piece here is just how unprecedented the warming of Arctic Canada is," Miller wrote. "This study really says the warming we are seeing is outside any kind of known natural variability, and it has to be due to increased greenhouse gases in the atmosphere." Note the phrase "natural variability." This indicates that the result is anthropogenic rather than natural.
Miller says that solar radiation was a full 9 percent greater 11,700 years ago than it is today. During that time, the last ice age ended and global temperatures warmed. However, despite that more recent peak in warming, temperatures today are even hotter.
Miller and his colleagues reached their conclusions by measuring the gas bubbles trapped in ice cores. As ice forms, it traps small bubbles of air. Together with the ice itself and with corroborating evidence the results show that temperatures in the Canadian Arctic have reached their highest point in 120 millennia.
They also reveal how much precipitation occurred in each period as well as the amount of greenhouse gasses in the atmosphere. The data, taken as a whole can reveal cycles in warming and cooling. The current warming far exceeds anything seen in a normal warming cycle.
The research suggests that the Arctic has been warming for over a century with significant warming spiking since the 1970s. This fits perfectly with satellite data which shows a significant reduction in polar ice since that time.
Although this year, Arctic ice levels increased over what they were in 2012, those ice levels were still far below what should be considered normal. Large swathes of Arctic tundra are defrosting and releasing methane into the atmosphere and a significant portion of the Greenland ice cap has also melted. In a sense, the Arctic is practically baking under heat it hasn't experienced in many thousands of years.
In fact, melting in Greenland and Canada provided some of the corroborating evidence researchers needed to correlate their data.
Clumps of moss taken from Baffin Island have been dated to 44,000 years ago and some may be as much as 120,000 years old, further demonstrating that temperatures haven't been so high in possibly 120,000 years. If temperatures had spiked since then, younger moss would have grown in those places.
Even if there is no additional warming over the next several years, researchers say they expect the ice caps to disappear. 
Miller said, "And it is really in the past 20 years that the warming signal from that region has been just stunning. All of Baffin Island is melting, and we expect all of the ice caps to eventually disappear, even if there is no additional warming."
A birth foretold: click here to learn more!
---
Copyright 2017 - Distributed by THE CALIFORNIA NETWORK
Pope Francis Prayer Intentions for OCTOBER 2017
Workers and the Unemployed.
That all workers may receive respect and protection of their rights, and that the unemployed may receive the opportunity to contribute to the common good.
---
---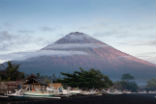 Two volcanoes are about to erupt almost simultaneously, spewing massive quantities of ash and soot into the air. Scientists have warned ... continue reading
---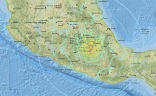 A 7.1 quake has rocked Mexico City. Buildings swayed and people dove for cover, but there are now some reports of damage.At least 42 people ... continue reading
---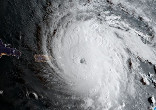 Hurricane Irma has destroyed two Caribbean islands, and claimed at least ten lives. Now, the storm is headed towards Florida where it will ... continue reading
---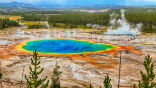 Yellowstone is now the site of the largest earthquake swarm ever recorded with 2,357 quakes registered since June. The national park, ... continue reading
---
Today is the World Day of Prayer for the Care of Creation, and Pope Francis has asked all Christians to pray for the Earth and the poor. ... continue reading
---