In order to break the cycle of poverty, we must first start with the heart. Catholic Online School is something very special, providing FREE Catholic Education to anyone, anywhere. Learn more about the Catholic Online School
Help us create new hope with your donation. This year, please consider making a donation of $5, $20, $50 or whatever you can to support Catholic Online School. Support Catholic Online School
Catholic Online School is something very special, providing FREE Catholic Education to anyone, anywhere. Learn more
This year, please consider giving $5, $20, $50 or whatever you can to Support Catholic Online School
Ash Wednesday: 'Seek To Experience God's Presence Within'
---
In the experience of an awareness of God dawns a new horizon: all is new
"You may ask me: 'But, does God exist? And if he exists does he really concern himself with us? Can we reach him?' It is, indeed, true that we cannot place God on the table, we cannot touch him or pick him up like an ordinary object. We must rediscover our capacity to perceive God, a capacity that exists within us"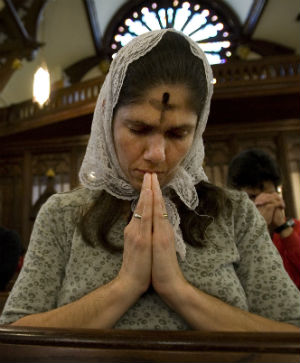 "Remember that you are dust, and to dust you shall return." In these revealing words, we are drawn toward an awareness of God's presence through the realization of our human finitude and dependence on the Other who is our origin and source of life.
GLADE PARK, CO (Catholic Online) -- St. Teresa of Avila, the great mystic and Doctor of Prayer, lamented of the lack of self-knowledge which is so often a symptom of carelessness and disregard for an understanding of the reality of human existence: "It is no small pity, and would cause us no little shame, that, through our own fault, we do not understand ourselves, or know who we are. Would it not be a sign of great ignorance, my daughters, if a person were asked who he was, and could not say, . . . 
"Though that is great stupidity, our own is incomparably greater if we make no attempt to discover what we are, and only know that we are living in these bodies, and have a vague idea, because we have heard it and because our Faith tells us so, that we possess souls. . . . All our interest is centered in the rough setting of the diamond, and the outer wall of the castle -- that is to say, in these bodies of ours" (Interior Castle 4).
We do not have to look long nor hard at contemporary society before something very disturbing is brought to light. There are millions of people whose lives are filled to the brim with clutter and bustle, with technology and media and Internet, with friends and dinner engagements and weekend getaway plans, whose interest is keenly centered on the sights, sounds and pleasures of physical existence. All attention is focused on the "rough setting of the diamond."
As Pope Benedict XVI frequently noted, the sad tragedy of today is that man often lives as if God does not exist; he does not direct his life by an awareness of God's constant presence. Thus man has forgotten the reality in which he is immersed: God, by his power, knowledge and essence, is unceasingly and mysteriously present to each of us, aware of each and every intimate and hidden thought within our hearts. While this type of indescribable closeness between Creator and creature is beyond human understanding, those who have been touched by it are nonetheless certain it is real.
Fr. Moynihan, in his book The Experience of God's Presence, writes: "Awareness of God, whether it come to us thus by a dazzling rending of the heavens or through the gentle whisper of His voice in our conscience, is at the beginning and end of our spiritual life, at the beginning and end of all religion. It is the root of what is truly the most radical division of mankind, one which Holy Scripture constantly reverts, that between the 'wise' who keep God before their eyes and the 'fools' who ignore him" (8).
An awareness of God is at the heart of repentance and conversion; it marks the beginning of a doorway to the sacred in which our perception of reality is clarified, and in which the muddied waters of a long ignored self-knowledge are rinsed clean by the divine impulses of the Holy Spirit, as we thus begin to gaze upon ourselves through the lens of truth as men and women created in God's image and likeness. In the experience of God's sublime immanence, one in which we come to understand that God is indeed more present to us than we ourselves are to other created objects, an entirely new form of existence unfolds before us: we "see"; we feel; we know. As a feather is gently carried off by the wind, we move and breathe and live in the Spirit, docile and attentive to his unending currents of love.
Ash Wednesday: Rediscover The Capacity To Perceive God
Ultimately, the purpose of Lent is to draw us more deeply into the experience of God's presence as an Eucharistic people through an acknowledgment of our sins and failings: by accepting what we have done and what we have failed to do, drawn deeply into repentance, we seek God's abundant, healing and regenerative mercy.
Thus we hear our call to sanctity and holiness, and embrace our life mission to become "little Christ's" as we enter into the Paschal Mystery of our Lord, that we may be re-created and transformed into Him whom we receive at the Paschal Banquet. Moved to acknowledge in freedom and love God's gift of himself, we fall into his compassionate arms, living in him and through him and with him, sharing in his own supernatural life as members of the divine family. At the end of this journey, is the Resurrection of Christ celebrated at the Easter Vigil: the consummation of every hope and desire. Yet this path to be traveled must begin with an awareness of God.
It must be admitted that while we can know of God's existence by the light of human reason alone, we do not become aware of his presence unless he first reveals himself to us. It is God who first chooses. Yet we must also admit that it is necessary to rediscover our capacity to perceive God through the proper use of our free will. How is this accomplished? If we are to cut and polish the diamond in order that the divine light of God at its center radiates outward, igniting every recess of our soul and our entire being with fiery love, it is necessary to take concrete steps along the path of love which Jesus Christ has opened before us from his pierced side on the Roman cross.
Ash Wednesday marks the beginning of Lent: a sacred season of repentance in which, through the disciplines of prayer, fasting and almsgiving, we make of ourselves an offering to the Father through Christ. We enter into Christ's infinite and timeless self-gift of his body and blood, perpetuated throughout all time in the Eucharist, and give of ourselves: an eternal self-gift to the Father: our own fiat in which we abandon the isolated and individual "I" in favor of an unending existence immersed in the boundless "Thou."
The Value of Voluntary and Innocent Suffering
The importance of the disciplines of Lent cannot be exaggerated. As St. Teresa of Avila wrote, "Christ does not force our will, He takes only what we give Him. But He does not give Himself entirely until He sees we give ourselves entirely to Him."
Christ voluntarily and innocently sacrificed his sacred humanity for our sake. If we are to become "little Christ's" and experience a deep awareness of God's presence, it is necessary for us to also make voluntary and innocent sacrifices. This is accomplished in beginning with small sacrifices, drawing our energy from the Spirit through fervent prayer and heartfelt desire, then moving to larger acts of self-giving.
Something as simple as not eating chips, if they are something that will really be missed, is a good starting point. Also, fasting on bread and water for lunch is an excellent spiritual discipline to practice. And, of course, we must remember to faithfully adhere to the disciplines of fasting from food and abstinence from meat on those days during Lent prescribed by the Church. In making these sacrifices, we are freely conforming ourselves to Christ, and training our spirit in the building of personal discipline and virtue.
All that we are suppose to be and do and become, every possible meaning of our life as men and women created out of God's superabundant love, is revealed in God made Man: "In reality it is only in the mystery of the Word made flesh that the mystery of man truly becomes clear" (CCC 359). It is by gazing deeply upon Christ Crucified that we see into the depths of our own being: here the diamond becomes a pure and transparent gemstone of immeasurable beauty.
"For this is why the Word became man, and the Son of God became the Son of man: so that man, by entering into communion with the Word and thus receiving divine sonship, might become a son of God" (CCC 460).
Today when we are signed with blessed ashes and hear the words: "Remember that you are dust, and to dust you shall return," we are drawn into the acknowledgement of our complete dependence on God, and reminded of our finitude and our smallness -- an attitude of humility which is a prerequisite of an awareness of God's presence. Yet by the light of faith we know we will never be merely ashes: for if we die in Christ we will be raised with him and appear in glory (cf. Col 3:4).
Whatever the experience of God, whether it be a sudden, paralyzing rapture or sweet tears which pour spontaneously forth as we place ourselves at the base of the cross, each is an unforgettable and life-changing event in which, like St. Paul on the road to Damascus (see Acts 22:6 ff.), Christ transforms us into a new creation: the old is gone, the new bursts forth as we move through a sacred doorway into a sublime reality which before had lain hidden. This Ash Wednesday, enter into Lent. Become one body as an Eucharistic people in Christ. Seek the things that are above (Col. 3:1). Experience God.
-----

F. K. Bartels is a Catholic writer who knows his Catholic Faith is one of the greatest gifts a man could ever receive. He is a contributing writer for Catholic Online. Visit him also at catholicpathways.com
---
Copyright 2018 - Distributed by THE CALIFORNIA NETWORK
Pope Francis Prayer Intentions for JANUARY 2018
Religious Minorities in Asia.
That Christians, and other religious minorities in Asian countries, may be able to practise their faith in full freedom.
---
---
---
More Lent & Easter
---
'So it is written that the Christ would suffer and on the third day rise from the dead'
Easter / Lent News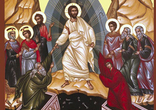 While Easter is a Solemnity and an octave feast, it is also a 50 day season until Pentecost.The Season of Easter is not just about His ... continue reading
---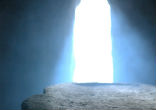 What lesson is the Lord teaching us by keeping his wounds intact? Perhaps we can better answer this question by turning to our own wounds. ... continue reading
---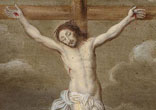 As a teenager I ran into someone who introduced me to the finer points of the occupation. We fell into the tried and proven method of ... continue reading
---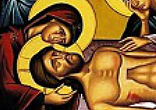 Something strange is happening - there is a great silence on earth today, a great silence and stillness. The whole earth keeps silence ... continue reading
---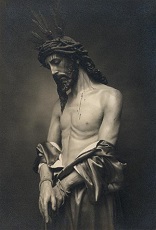 Today as we contemplate the Passion we also plumb the mystery and meaning of the Church. We are members of His Body. She was born ... continue reading
---