WEDNESDAY HOMILY: Tackling Rash Reactions to the Gospel
---
In this year of faith, let us neither be beat down by the brute force of this world, nor be forced into rash reactions of our faith, but with serene courage that comes from our Eucharistic Lord, tackle each challenge squarely and surely with patient perseverance.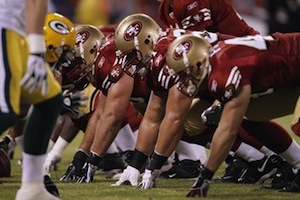 style="margin: 0px 0px 20px; line-height: normal; font-family: Georgia; color: #323333; text-align: justify;">HYTHE, KENT, UK (Catholic Online) - "You have to do it.  You must hate your parents if you are really going to follow Christ."  Five huge guys that rivaled the defensive line of the 49ers NFL football team were sitting gathered around me at a table.  
They were all part of a Christian sect I had encountered during my time there at the University of Minnesota in Minneapolis and they were there to convince me, by hook or by crook, to join them.  I think this was part of their intimidation tactic, with brute psychological force, to try to tell me that the Catholic faith that my parents had brought me up with was all a mistake and that unless I joined their club I wouldn't be saved.
Gulp.  I swallowed the big lump in my throat that had been forming after my imagination ran wild with what exactly they would do when I would refuse. 
Then I heard myself say, "I am prepared to do anything to follow Christ, even to sacrifice my own life, but I ain't gonna join the Mickey Mouse squadron here just because you are trying to intimidate me.  What are you going to do?  Kill me for not signing up?"
Each one of the characters that were before me had joined this obscure Christian sect, and as part of their initiation they had to sever all ties with their family members, move into a house with the others, and renounce anything that kept them from giving their all to the community.  
Ok, ok, I have to admit I was impressed with them at a time when I was searching for deeper meaning in my own Catholic faith.  Perhaps that is why they were emboldened to think that I might even consider joining.  The unity of presentation, high level of commitment, intense sense of belonging and purpose they all shared was extremely appealing to a young idealistic Christian mind yet it was obvious that they were all half bonkers.
The world is loud and intimidating.  The more it errs the more it insists that its way is the only way.
Yet how insane it is when errors like these are applied to the interpretation of Scripture and to living out the Gospel of Christ.  These radical statements of Jesus, like the ones in today's gospel, are the favorite pickings for sects and Christian cults, and really anyone who wants to take Jesus' words out of context.
"If anyone comes to me without hating his father and mother, wife and children, brothers and sisters, and even his own life, he cannot be my disciple."
The world will acutely disappoint us, make us disillusioned to the nth degree, and try to crush us bitterly, and so it seems like the only way to reply is with a proportionately powerful rejection of its terms.
The Lord doesn't mince words, and yes, the love of God is so extreme and demanding that it does mean that there is absolutely nothing and no one, not the love of my family and friends, the love of everything I know to be good, not even the love of my very own life that ought to stand in the way.  For this reason we must take St Paul's words to heart in the first reading, "Work out your salvation with fear and trembling."  
Yet we also remember the Second Vatican Council's principle of interpreting Scripture: CONTEXT (Dogmatic Constitution on Divine Revelation, 12).  The Catechism of the Catholic Church (112-114) nicely organizes these into three points:  1. Context of the whole of Scripture.  2. Context of reading it "within the living Tradition of the Church."  3. Context of "the analogy of faith."
In this Year of Faith, let us neither be beat down by the brute force of this world, nor be forced into rash reactions of our faith, but with serene courage that comes from our Eucharistic Lord, tackle each challenge squarely and surely with patient perseverance.  May Our Lady help us to be firm yet balanced in the presentation and living out of our faith.
Father Samuel Medley, SOLT, is a priest of the Society of Our Lady of the Most Holy Trinity, and is currently based in Hythe, Kent, United Kingdom.  He is a speaks to groups around the world on Blessed Pope John Paul II's Theology of the Body.  Visit his homily blog http://medleyminute.blogspot.com or his blog on sexual ethics http://loveandresponsibility.org 
---
Copyright 2017 - Distributed by THE CALIFORNIA NETWORK
Pope Francis Prayer Intentions for APRIL 2017
Young People.
That young people may respond generously to their vocations and seriously consider offering themselves to God in the priesthood or consecrated life.
---
---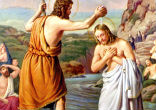 The consideration of Jesus' baptism, gives us an opportunity to remember our own baptism. If you do not know the date of your own ... continue reading
---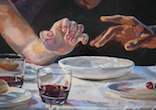 I gave my back to those who beat me, my cheeks to those who plucked my beard; My face I did not shield from buffets and spitting. HYTHE, ... continue reading
---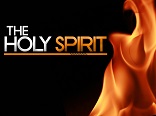 The Spirit makes one man a teacher of divine truth, inspires another to prophesy, gives another the power of casting out devils, enables ... continue reading
---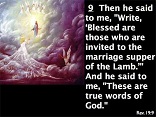 It is not accidental that the Bible, from beginning to the end, uses marriage as a metaphor and a symbol to reveal the plan of God for the ... continue reading
---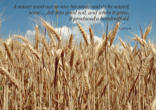 "A sower went out to sow. And, as he sowed, some seed fell on the path, and birds came and ate it up. Some fell on rocky ground, where it ... continue reading
---

Copyright 2017 Catholic Online. All materials contained on this site, whether written, audible or visual are the exclusive property of Catholic Online and are protected under U.S. and International copyright laws, © Copyright 2017 Catholic Online. Any unauthorized use, without prior written consent of Catholic Online is strictly forbidden and prohibited.