In the debate between Ken Ham's Creationism vs. Bill Nye's Science, both are wrong
---
By Catholic Online (NEWS CONSORTIUM)
2/3/2014 (3 years ago)
Catholic Online (www.catholic.org)
Creationsim and atheistic science both miss the mark when it comes to fact.
On Tuesday night, a major debate will take place between Creation Museum founder Ken Ham, against Bill Nye, who is also known as "the Science Guy." The two intend to debate Creationism versus Science.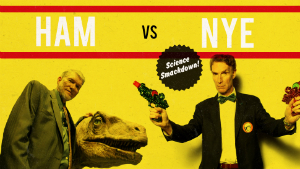 The debate is being hyped as a "smackdown" but it will more likely turn into a circus.
LOS ANGELES, CA (Catholic Online) - On Tuesday, February 4, a much anticipated debate between Ken Ham, and Bill Nye, "the Science Guy" will take place before an estimated audience of 1 million viewers. The two will debate what is often referred to as creationism versus evolutionary theory, and whether this form of creationism or this particular theory of evolutionary science should be taught in public or government schools.
Ken Ham is the founder of the Creation Museum, a museum in Kentucky that showcases evidence to suggest the planet is only 6,000 years old. Exhibits feature dinosaurs, and humans interacting with the creatures. The museum has been struggling, so the debate is expected to bring an influx of cash and attention to the facility.
Ken Ham is also the founder of "Answers in Genesis" a creationist website that uses a certain form of biblical interpretation to argue for young earth creationism and a mostly protestant view of of  the origin of the world and the human race as set forth in the Genesis account. Ham also utilizes his own approach to evidence in defense of his theory.
Meanwhile, Bill Nye represents one scientific view, one which is prevalent in most public or government schools and academia across the United States. This particular scientific view, which is summed by the theory of evolution, originally proposed in detail by Charles Darwin, and refined over the past one and a half centuries, is bolstered by Nye's use of scientific evidence.
Nye believes that creationism should not be taught in public or government schools, because it is not a valid scientific theory. He then asserts that since creationism, according to his analysis, is solely based on religious faith, which requires the acceptance of certain teachings without his definition of evidence, it should not be taught.
Catholics should know that biblical literalism in approaching the account of the beginnings in the Book of Genesis is essentially Protestant, not Catholic. The Catholic Church does recognize one can hold a properly understood belief in some form of evolution. However, as it relates to the truth of the dignity of the human person as created in the Image of God, the Church is without equivocation.
The Church also respects other prevailing scientific theories pertaining to the origin and age of the universe and planet Earth, global warming, and some notions of human evolution. The Catholic Church essentially teaches that science and religion are not incompatible, and that God still governs, not only as the First Mover and Creator of all things, but as the One in whose Image men and women are fashioned and then given the universe to properly steward. 
God the Creator also remains engaged in His creation. The Genesis accounts are not intended to be a scientific tome but rather a story of creation and an account of the beginnings. Their message is fundamentally moral, speaking of the existential realities such as the purpose of life itself and rendering an account of the Fall. They present a beautiful and rich account of God's loving plan for His creation and, his particular plan in creating the the crown of His creation, the human person.
In the Catholic view, a better understanding of science should also lead to a better understanding of God. The Pontifical Academy of Sciences, located in Vatican City, is in fact the world's oldest, continuous scientific mission.Still, many Catholics identify more with young earth creationism, than they will with Bill Nye, or anything remotely close to an atheistic worldview. So while most Protestants will firmly support Ken Ham and the Creation Museum, Catholics may find themselves divided or confused on the debate.
Of course, the dichotomy presented by a debate such as the one that will be taking place on Tuesday, is a false dichotomy. Viewers are being asked to either favor a Protestant literalistic young earth creation story, or a scientific, atheistic view of the universe. This is a false dichotomy because, it is highly likely that both sides are limited in their perspectives.
The debate will be broadcast live, online. Undoubtedly, soundbytes will propagate to YouTube in the blogsphere shortly afterwards.Catholics and other Christians interested in the Catholic view would be well advised to read the Catechism of the catholic Church and its rich approach to the origins of the created order and the human person. .
Among the wonderful insights, the Catholic Catechism poses is this salient observation: It is not only a question of knowing when and how the universe arose physically, or when man appeared, but rather of discovering the meaning of such an origin: is the universe governed by chance, blind fate, anonymous necessity, or by a transcendent, intelligent and good Being called "God"? And if the world does come from God's wisdom and goodness, why is there evil? Where does it come from? Who is responsible for it? Is there any liberation from it?
Pope Francis calls for your 'prayer and action'...
---
Copyright 2017 - Distributed by THE CALIFORNIA NETWORK
Pope Francis Prayer Intentions for JUNE 2017
National Leaders.
That national leaders may firmly commit themselves to ending the arms trade, which victimizes so many innocent people.
---
---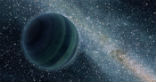 NASA thinks there may be another planet far beyond Neptune, and it could pose a threat to life on Earth. Long known as Planet X, it has ... continue reading
---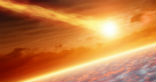 If there's one thing scientists agree on, it's that there is a cosmic alarm clock ticking somewhere, and when it goes off, billions of ... continue reading
---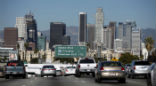 After years of planning and testing, California is about to get an early warning system for earthquakes. The system will be rolled out in ... continue reading
---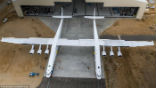 An amazing aircraft has rolled out of its hanger in Mojave, California, but will this massive, revolutionary new design fly, and can it ... continue reading
---

Pack your shades, Major Tom, NASA is sending you to the Sun. Don't forget the sunscreen. In an announcement today, NASA has reported they ... continue reading
---

Copyright 2017 Catholic Online. All materials contained on this site, whether written, audible or visual are the exclusive property of Catholic Online and are protected under U.S. and International copyright laws, © Copyright 2017 Catholic Online. Any unauthorized use, without prior written consent of Catholic Online is strictly forbidden and prohibited.