By Marshall Connolly, Catholic Online (NEWS CONSORTIUM)
2/8/2013 (3 years ago)
Catholic Online (www.catholic.org)
Traditionally, comets protend doom, but science weighs in.
Another comet passing near the sun is brightening close to naked-eye visibility. If the comet brightens further, it will become the first of no less than three such comets to appear visible to the naked eye in 2013 alone, making this year the "Year of the Comet."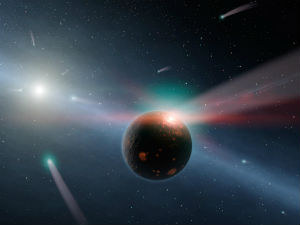 Comets, celestial treats or harbingers of doom?
Highlights
By Marshall Connolly, Catholic Online (NEWS CONSORTIUM)
Catholic Online (www.catholic.org)
2/8/2013 (3 years ago)
Published in Technology
Keywords: comet, Lemmon, ISON, Pan-STAARS, naked-eye, visible, Year of the Comet, doom, doomsday, predictions, birghtness, visible
---
LOS ANGELES, CA (Catholic Online) - The new comet, Lemmon (C/2012 F6) was discovered in March of last year, but was not initially expected to reach naked-eye visibility. However, observers report that it has become easily visible in binoculars to sky watchers in the southern hemisphere and that it will probably brighten to naked-eye visibility this month.

Comet Lemmon is unusual both for its surprising brightness as well as its color. For unlike most comets which blaze white in the nighttime sky, comet Lemmon is green.

Green comets are unusual, but not entirely rare. The green color is cast off by frozen crystals of cyanogen and diatomic carbon gas, which happen to glow green when illuminated by sunlight. Notably, cyanogen is also poisonous to humans.

Comet Lemmon will be visible to northern hemisphere observers by April or May of 2013. By that time, it will be receding back into the depths of the solar system on its 11,000-year orbit. Northern hemisphere observers will need a telescope to observe it at that time.

Still, observers in the north should not fret, for they have front-row seats for the next two comets that are expected to put on a dazzling show. Comet Pan-STARRS (C/2011 L4) will be visible to northern hemisphere observers next month, while Comet ISON, may become one of the brightest comets in history. Astronomers say it has the potential to be visible even in the daytime sky with a brightness that rivals that of the full moon.

With three naked-eye comets on tap for this year, scientists are referring to 2013 as the Year of the Comet.

Is this unusual?

Bright naked-eye comets which grab news headlines tend to appear on the average of once every ten years or so. Some decades have a couple more, most less. Comets that are visible to the naked eye appear almost yearly, however, they are usually too dim to be seen from all but the darkest skies and they capture little public interest.

More commonly, there are comets which can be seen with binoculars and there are always at least one or two comets which amateur astronomers can view with the aid of backyard telescopes.

At any given time, there are usually about a dozen or so comets streaking through the inner solar system. They are easily tracked by astronomers with more sophisticated equipment. However, these comets pass too far away from Earth and are too small to be visible from Earth. Therefore, while comets constantly swirl about the sun, we only see the closest and the brightest ones, which are rare.

However, years with more than one naked-eye comet are very rare, and three is unprecedented in recent history. Now added that one may be visible in daylight, and we are enjoying an astronomical treat that probably won't be repeated in this lifetime.

What does all this portend? Is this a sign of something greater at work?

Typically, in the time before astronomy came of age as a science, comets were seen as signs in the heavens, often presaging doom. A comet that was visible in the daytime sky during 44 B.C., was regarded as a sign of Julius Caesar's divinity. The comet shone brightly for a week just after his assassination.

Other comets have less stellar associations. One comet, famously embroidered onto the Bayeux Tapestry, was said to portend the Norman conquest of England and the fall of King Harold who would be defeated at the battle of Hastings. That comet was later identified as Halley's Comet, which passes near the Earth every 75.3 years.

Another comet was said to predict the coming of the bubonic plague to Europe in the mid-14th century, and another in 1630, which was visible during the daytime, was blamed for bringing famine and pestilence to the people of Europe.

The return of comet Halley in 1910 caused widespread panic when it was reported that Earth would pass through its tail of dust and gas. Some doomsayers even predicted the comet would poison the planet.

Later, in the 1990s the appearance of comets Hale-Bopp and Hyakutake, were said to herald the dawning of the War on Terror, which continues to this day.

Despite the traditional association of comets with doom, in reality there is no statistical link between the appearance of naked-eye comets and general human misfortune. Given that war, famine, plague, and pestilence, are generally part of the human experience somewhere, comets seem to be otherworldly scapegoats more than harbingers of misfortune.

Furthermore, there is no physical link between comets and planet Earth, outside of the annual meteor showers that regularly grace our skies. Most people do not realize that comet dust and gas is quite diffuse. So diffuse in fact, that spacecraft which have been deliberately passed through the tails of comets have all emerged unscathed.

The most a spacecraft has been impacted by a comet tail has was the International Comet Explorer (ICE) which passed through the tail of comet Giacobini-Zinner in 1985. The craft experienced about one impact per second from dust and those particles were about the same size as the particles which make up smoke. In other words, the particles were so tiny and so diffuse that they posed no harm.

If an unshielded spacecraft can fly through the tail of a comet unscathed, then the planet should fare quite well.

None of the three comets visible this year will pass close enough to Earth to brush us with their tails anyway.

So the good news is, we're in for a real treat, if the predictions hold true. And better yet, you may now watch the  astronomical event of a lifetime without any fear of doom as a result.

As science has shown, humanity suffers evil regularly even without comets to blame, so quit worrying and enjoy the show!


---
Copyright 2016 - Distributed by THE CALIFORNIA NETWORK
Pope Francis Prayer Intentions for May 2016
Universal:
Respect for Women: That in every country of the world, women may be honored and respected and that their essential contribution to society may be highly esteemed.
Evangelization:
Holy Rosary: That families, communities, and groups may pray the Holy Rosary for evangelization and peace.
---
---
---

By Kenya Sinclair (CALIFORNIA NETWORK)
A new app just signed a contract with a homeland security agency to help identify national threats to security - but is it accurate? LOS ANGELES, CA (Catholic Online) - Faception is a new facial recognition app that can identify everyone from terrorists to poker ... continue reading
---

By Marshall Connolly (CALIFORNIA NETWORK)
Facebook has announced they will retrain employees responsible for curating their news content. The social networking giant has been accused of censoring news and content with a conservative slant in favor of liberal content. LOS ANGELES, CA (California Network) - ... continue reading
---

By Marshall Connolly (CALIFORNIA NETWORK)
All healthy, well adjusted people want to work. It's hardwired into our DNA to build, to produce, to gather, grow and trade. Without this impulse, our species could never have built civilization. But what happens when an essential part of our being becomes obsolete? ... continue reading
---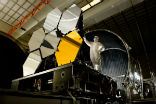 By Marshall Connolly (CALIFORNIA NETWORK)
Scientists have announced the discovery of three planets in the habitable zone of a star just 39 light years away. Such planets have the potential to host life, making them targets for future study. LOS ANGELES, CA (California Network) - Are scientists about to ... continue reading
---

By Marshall Connolly (CALIFORNIA NETWORK)
Earlier this year, a robot beat a master player at the ancient game of Go. Now, robots are beating humans at soccer. Armies of engineers are working around the world to develop artificial intelligence and robots that can do what humans do, only better. They're making ... continue reading
---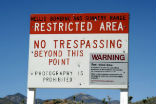 By Marshall Connolly (CALIFORNIA NETWORK)
UFO watchers have spotted a mysterious mushroom-shaped cloud over Area 51. The cause of the cloud remains unknown, but it is evidently connected to a fire at the secret military base. Viewers were unable to obtain direct footage of whatever caused the inferno, due to ... continue reading
---

By Kenya Sinclair (CALIFORNIA NETWORK)
After Microsoft's failure with AI teen "Tay," it should come as no surprise that more and more researchers are agreeing artificial intelligence requires a delicate balance between helpful tech and murderous exterminators. LOS ANGELES, CA (Catholic Online) - According ... continue reading
---

By Marshall Connolly (CALIFORNIA NETWORK)
Fast food workers, say goodbye to that grimy job with surly guests and overbearing managers. Your fight for $15 is over. No, you didn't win, someone has invented a machine that makes hamburgers better and faster than you do. LOS ANGELES, CA (California Network) - ... continue reading
---

By Kenya Sinclair (CALIFORNIA NETWORK)
Ian Burkhart underwent experimental brain surgery to help scientists pioneer technology aimed at reanimating paralyzed limbs - and it worked! LOS ANGELES, CA (Catholic Online) - Six years ago, Burkhart severed his spine when he went for a swim and was slammed into a ... continue reading
---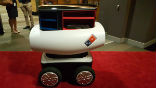 By Marshall Connolly (CALIFORNIA NETWORK)
Robots will soon begin to deliver your mail, pizza, and other parcels within the next few years. Plans are being developed around the globe to test, then roll out automated delivery systems for everything from packages, to mail to pizza. The rising demand for delivered ... continue reading
---
All Technology News