CORRUPT TO THE CORE: The REAL Russian scandal - Turns out Clintons took MILLION from the Russians to sell 20 percent of U.S. uranium supply to Russia
---
If this isn't treason, then it's impossible to say what is.
The Clintons took money from the Russians, and then sold twenty percent of the American uranium supply to Vladimir Putin, in 2010. The deal was the conclusion of an elaborate Russian scheme to grow Putin†s business interests and hack the American political system. Worse yet, the FBI and President Obama were fully aware of the criminal activity, yet nothing was done, or said.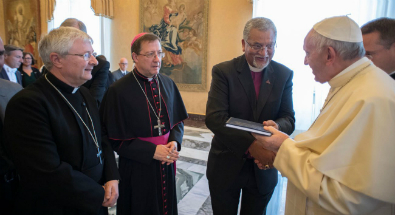 It's the Clintons, not Trump, who accepted millions from the Russians to give away twenty percent of the U.S. uranium supply.
LOS ANGELES, CA (California Network) â€" While President Trump is being investigated for meetings between his staff and a Russian citizen during the 2016 election, the Clintons continue to live their disruptive lives. Hillary Clinton still blames Russia, amid a host of other factors, for why she lost to Trump. Meanwhile, she herself appears to have been involved in a massive corruption scheme involving the Russians dating to 2009.
It was in 2009, when Clinton was working as Secretary of State, that the FBI became aware of a Russian plot to hack the American political process and enrich Vladimir Putin†s energy portfolio. The Russian goal was to secure a portion of the American uranium supply via one of Putin†s atomic energy business holdings.
That goal was carried out though a variety of schemes which involved money laundering, extortion, bribery, and kickbacks. An American uranium transport firm was given bribes and kickbacks, in violation of the law.
Through this firm, thy were able to penetrate the U.S. political system and bribe officials to ensure they were able to complete their deal to buy American uranium.
Before the deal could be concluded, the State Department needed to approve it. This was ensured via millions of dollars in donations to Bill Clinton†s charitable foundation. Bill Clinton himself also received hundreds of thousands of dollars in speaking fees from Russian sources. Hillary Clinton, who was Secretary of State subsequently approved the deal, as did President Obama.
Obama approved the deal despite being informed by the FBI that it was the result of a Russian campaign of corruption. The FBI learned these facts because it was able to place an informant within the Russian nuclear industry. That information recorded conversations, financial records, email, and other information that was used by the FBI to build their case.
The deal came to be known as the Uranium One Deal.
The bottom line to all this is simple. The Russians used criminal means to gain ownership of a strategic American resource, about twenty percent of the national uranium supply. The deal empowers Russia, enriches Vladimir Putin, all at American expense.
The deal was approved by Hillary Clinton, who was essentially bribed via Bill Clinton†s speaking fees and charitable foundation.
All the while, the FBI and Department of Justice knew what was happening, and President Obama had been informed. Despite this, the deal was approved by the Obama administration, and the case remained open for investigation for four more years, until it was largely forgotten. In 2014, a former Russian energy official living in the United States, Vadim Mikerin, was made the fall guy and sentenced to 48 months in prison and fined two million dollars. A couple smaller figures were also sent to jail.
However, the main players sat back and counted their money. In particular, the Clintons, who continue to blame Russian collusion for Hillary Clinton†s 2016 defeat.
Although, the sale of strategic assets to our traditional adversaries via corrupt means is tantamount to treason, there are no plans to prosecute the Clintons or former president Obama for their betrayal of the American people for private gain.
---
Copyright 2018 - Distributed by THE CALIFORNIA NETWORK
Pope Francis Prayer Intentions for FEBRUARY 2018
Say 'No' to Corruption.
That those who have material, political or spiritual power may resist any lure of corruption.
---
---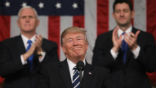 Americans are overwhelmingly approving of President Trump's second State of the Union address. The speech has been given a 75 percent ... continue reading
---
House Republicans have voted to release a controversial memo that describes government abuse of surveillance powers. The information is so ... continue reading
---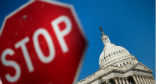 The government spends over $10 billion dollars per day on everything it does. It stands to reason that each day the government is shut down ... continue reading
---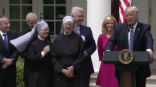 US President Donald Trump issued a proclamation declaring Jan. 16, 2018, as "religious freedom day." This date was chosen as it is the ... continue reading
---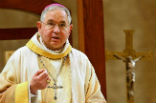 Catholic leaders have responded to developments in the legal battle over the DACA program, including a court order maintaining legal ... continue reading
---