As I finish this piece, the results in Colorado look very promising for Rick Santorum
The real story was the magnitude of what happened in this extraordinary vote. Not only did Rick Santorum win the Missouri, Minnesota and Colorado showdowns, but he did so decisively. Tuesday night the inevitability balloon of a Romney candidacy exploded.  Rick Santorum has just pulled off an historic political upset and the Republican primary race has been completely reset.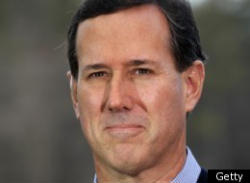 Presidential candidate Rick Santorum
ST. LOUIS,MO (Catholic Online) - After thanking God for the grace to persevere and his wife Karen for being a source of strength, "a rock", the grandson of the Italian Immigrant Coalminer from Pennsylvania gave an unscripted speech filled with gratitude and gravel on Tuesday evening.
He expressed his gratitude to the people who stood with him in this amazing campaign; his family, friends and supporters. He thanked those who defend the vision of freedom proclaimed by the American founders. He called us all to insist on preserving and revitalizing its promise for the next generation.
He also revealed what I call his "gravel", his willingness to fight those who do not listen to the voice of the people; those who perceive that they know better, like President Obama. This was the populist blue collar Republican candidate speaking tonight; refreshing in a Party which is being set up to be  led by a candidate routinely called the monopoly man by his opponents in the Democratic establishment.  
I know Rick Santorum. He is an eloquent public speaker. He can bring a crowd soaring into inspiration when he wants to do so. Not tonight. Tonight, he reminded me more of Rocky Balboa, in Rocky II, after he won the rematch with Apollo Creed.

I know he has a cold. It was obvious in his carriage and his voice. He has also faced extraordinary difficulties these past weeks with the health concerns over his little daughter Bella. All of this comes on top of the rough and tumble of the campaign trail.
However, it seemed to me, after hearing the speech, it was exactly the kind of speech the American people needed to hear from this down to earth candidate for the Presidency of the United States. There is not an ounce of pomp or pretense in this man from Butler County, Pennsylvania. He really is one of us - and he really does hear our voice. 

He barely touched the basics of his compelling message of freedom. He did speak of the need to be free from an overly federalized administration which "thinks it knows better". He signaled he is in this to take on Barack Obama, saying, "I don't stand here and claim to be the conservative alternative to Mitt Romney. I stand here to be the conservative alternative to Barack Obama".
He called out the Obama administration for its violation of the fundamental right to religious liberty in its treatment of the Catholic Church in its recent unconstitutional mandate. He made it clear -  this is only one example of its failure to respect the fundamental rights endowed upon us by our Creator - not given to us by Government. He made an important point, when the Government purports to give us "rights" it always takes away our freedom.  
However, the real story of the evening was the magnitude of what happened in this extraordinary vote. Not only did Rick Santorum win both the Missouri and the Minnesota showdowns, he did so with a huge lead over the establishment's handpicked favorite, Mitt Romney. Tuesday night the inevitability balloon of the Romney candidacy exploded. The victory in Colorado simply sweetened the entire experience and sent the strong signal that Rick Santorum is on the ascent.   
The political "left" knows that Rick Santorum is a formidable candidate from a working class family. Further, as his recent debate performances have demonstrated more than the speech this evening, they also know he is a formidable communicator and does not need a teleprompter.
They know he possesses the courage needed for the upcoming contest with President Barack Obama. That is why they deride him so viciously. He threatens them. They have thrown everything they can at him. For example, they attempted to make his defense of the Right to Life of all persons, including children in the womb, sound extreme. It is not. They have failed. He has also shown himself to be a full spectrum candidate, ready to debate every issue.  
Some within the Republican establishment like Rick Santorum's economic conservatism. However, they are uncomfortable with his moral coherence. His talk about protecting human life from conception through natural death and his defense of marriage and the family and society founded upon it... doesn't make for comfortable conversation at the country club. They have routinely discounted his chances and used condescending language concerning his candidacy. That ended this evening.  
I am one of a large group of Americans who are tired of the Republican establishment picking the nominee of the Party. I am a "Reluctant Republican". I have no other choice. I left the Democratic Party when the opponents of the fundamental human right to life took control of the leadership of that Party and turned it upside down.
I grew up in Dorchester, Massachusetts in a working class home. Sadly, the bizarre alliance which took over the Democratic Party many years ago has held it captive for decades. People like me have been forcibly evicted, out of conscience. That was when the strange alliance of those who oppose the Right to Life - failing to hear the cry of those whom Mother Teresa rightly called the poorest of the poor, children in the womb - took over the Democratic Party.
 
Santorum connects with people like us. Many are still in the Democratic Party. Others are Independents. They live in the blue collar sections of this great Nation. With a Santorum candidacy they become one of the most potent segments of the electorate. The Democratic party knows this. They do not want to run against Rick Santorum because they cannot play a 'class warfare" card against him.   
The Romney rush to the Republican nomination in 2012 feels a lot like the Bob Dole campaign in 1996 to me. I distinctly remember when Bob Dole told a crowd, "If you want me to be Reagan, I'll be Reagan." I know where I was when I heard those words. I even remember what I was doing at the time. I knew it was the end of that Republican Presidential campaign.
Rick Santorum is a different kind of Republican. He can win those who, like me, were won to the party by Ronald Reagan. His concern for working class families, his populism, his courage in calling out those who threaten the foundations of our freedom, both at home and abroad, simply does not fit the effort by the Democratic machine's game plan.
They want to paint the Republican Party as the party of the "1%" which does not care about the rest of America. I know it's contrived. I know it is class warfare. I know it is wrong. However, it is working. A nominee like Rick Santorum blows the whole effort out of the water. The fall campaign would actually revolve around issues and not nonsense. On that playing field, there is no doubt who will win.
As I finish this piece, the results in Colorado are very promising for Rick Santorum. With this win, the implications of this evening on the upcoming campaign. However, one thing is very clear, Rick Santorum has just pulled of an historic political upset and the Republican primary race has been completely reset. 
---
Copyright 2015 - Distributed by THE CALIFORNIA NETWORK
Pope Francis Prayer Intentions for April 2016
Universal:
Small Farmers: That small farmers may receive a just reward for their precious labor.
Evangelization:
African Christians: That Christians in Africa may give witness to love and faith in Jesus Christ amid political-religious conflicts.

By David Drudge (CALIFORNIA NETWORK)
Have we won the ground war in Afghanistan? According to the government reports and the media, we sure have. However, this is not what one whistleblower has said, warning as early as 2012 that the American people are being deceived by the government. LOS ANGELES, CA ... continue reading
---

By Kenya Sinclair (CALIFORNIA NETWORK)
Thousands attended Donald Trump's Orange County rally - then broke out in violent protest. LOS ANGELES, CA (Catholic Online) - The Trump rally in Costa Mesa's Orange County Amphitheater was overflowing with supporters. There were several supporters who couldn't fit ... continue reading
---

By Kevin J. Jones (CNA/EWTN News)
The Obama administration's new rule for faith-based partnerships has drawn various reactions: one observer warned they could cause problems for partnering religious groups, while another said the action also strengthens these groups' protections against government ... continue reading
---

By Kenya Sinclair (CALIFORNIA NETWORK)
New York Mayor Bill de Blasio's closest aides have been issued subpoenas to aid the investigation into his shady fundraising strategies. LOS ANGELES, CA (Catholic Online) - The scandal surrounding de Blasio's fundraising has made headlines since 2014, when a leaked ... continue reading
---
By David Drudge (CALIFORNIA NETWORK)
Donald Trump delivered his first full speech on foreign policy and he sounded fairly presidential while doing so. Trump is not a politician by trade, but he may make an excellent president thanks to his extensive business acumen. Trump is on the path to the Republican ... continue reading
---
By Kenya Sinclair (CALIFORNIA NETWORK)
The race for the presidential nominee has been full of surprises as history-making events, claims of foul play, dirty dealings and controversial statements have cropped up in abundance. Candidates have, at times, been caught up in a tight race, but Tuesday's primary ... continue reading
---

By David Drudge (CALIFORNIA NETWORK)
Donald Trump is on track to win both the primary and the election, according to the numbers. He is on a better trajectory than Mitt Romney was in 2008. Meanwhile, Hillary Clinton, while winning her primary, is losing support. LOS ANGELES, CA (California Network) - ... continue reading
---
By David Drudge (CALIFORNIA NETWORK)
Ted Cruz and John Kasich have teamed up to block Donald Trump from winning the Republican nomination. The rivals have agreed to divide upcoming primary states, so they can efficiently spend resources attacking Trump instead of each other. LOS ANGELES, CA (California ... continue reading
---

By Thomas Heed (CALIFORNIA NETWORK)
Men with bad motives or who live dissolute lifestyles have always been potential sexual threats to women - and now women have been pushed further into their corners as "transgender rights" rise to prominence as the newest notion of the sexual revolution. These rights ... continue reading
---

By Kenya Sinclair (CALIFORNIA NETWORK)
World leaders have finally realized the destruction they have been allowing the planet to endure - and the ensuing consequences. LOS ANGELES, CA (Catholic Online) - A shocking number of 175 global leaders gathered at the United Nations headquarters to sign the Paris ... continue reading
---
All Politics & Policy News