En su discurso esta mańana a los participantes de la asamblea plenaria de la Comisión Teológica Internacional, el Papa Francisco seńaló que "ˇDios no es una amenaza para el ser humano!", sino que es una Buena Nueva para todos los hombres.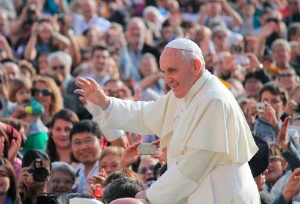 VATICANO (ACI/EWTN Noticias) - El Santo Padre seńaló que "vuestras reflexiones atestiguan que la Revelación de Dios constituye realmente una Buena Nueva para todos los hombres. ˇDios no es una amenaza para el ser humano! La fe en el Dios único y tres veces santo no es y nunca puede ser generadora de violencia e intolerancia".

"Al contrario, su carácter, altamente racional le confiere una dimensión universal, capaz de unir a los hombres de buena voluntad. Por otra parte, la Revelación definitiva de Dios en Jesucristo ha hecho imposible cualquier recurso a la violencia 'en el nombre de Dios'. Precisamente por su rechazo de la violencia, por haber derrotado al mal con el bien, con su sangre en la cruz, Jesús ha reconciliado a los hombres con Dios y entre ellos".

El Papa explicó luego que "auscultar, discernir e interpretar, con la ayuda del Espíritu Santo, las múltiples voces de nuestro tiempo y valorarlas a la luz de la palabra divina, a fin de que la Verdad revelada pueda ser mejor percibida, mejor entendida y expresada en forma más adecuada".

Los teólogos son, por tanto, "pioneros del diálogo de la Iglesia con las culturas; un diálogo, al mismo tiempo, crítico y benévolo que debe favorecer la acogida de la Palabra de Dios por parte de los hombres, de toda nación, raza, pueblo y lengua".

El Papa resaltó asimismo que el concepto de paz ha sido el hilo conductor de la reflexión sobre la Doctrina Social de la Iglesia cuyo objetivo es "traducir en lo concreto de la vida social el amor de Dios por el ser humano que se manifestó en Jesucristo... Y la Iglesia tiene que vivir, en primer lugar dentro de sí, el mensaje social que lleva al mundo".

"Las relaciones fraternales entre los creyentes, la autoridad como servicio, el compartir con los pobres: todos estos rasgos que caracterizan la vida eclesial desde sus orígenes, pueden y deben constituir un modelo vivo y atractivo para las diversas comunidades humanas, desde la familia a la sociedad civil".

"Ese testimonio -recalcó el Pontífice- pertenece al Pueblo de Dios en su conjunto, que es un Pueblo de profetas. Por el don del Espíritu Santo, los miembros de la Iglesia poseen el "sentido de la fe". Se trata de una especie de 'instinto espiritual' que hace 'sentire cum Ecclesia' y discernir lo que es conforme a la fe apostólica y al espíritu del Evangelio".

"Efectivamente, el 'sensus fidelium', no se puede confundir con la realidad sociológica de una opinión mayoritaria. Por lo tanto es importante, y es vuestra tarea, elaborar los criterios que permitan discernir las expresiones auténticas del 'sensus fidelium'. Esta atención es de máxima importancia para los teólogos. El Papa Benedicto XVI subrayó varias veces que el teólogo debe permanecer a la escucha de la fe vivida por los humildes y los pequeńos, a los que el Padre quiso revelar lo que está escondido a los doctos y a los sabios".

La misión del teólogo es al mismo tiempo "fascinante y arriesgada. Fascinante porque la búsqueda y la enseńanza de la teología pueden convertirse en un verdadero camino de santidad, como atestiguan numerosos Padres y Doctores de la Iglesia. Pero también es arriesgada porque comporta tentaciones: la aridez del corazón, el orgullo, incluso la ambición", ha observado el Papa.

Luego recordó que a este propósito la misiva que una vez San Francisco de Asís mandó a San Antonio de Padua: "Me gusta que enseńes la sagrada teología a los hermanos, con tal de que, con el estudio, no apagues el espíritu de santa oración y devoción".

Al final, el Santo Padre ha encomendado a los teólogos a la Virgen Inmaculada para que "crezcan en este espíritu de oración y de devoción y, así, con profundo sentido de humildad, sean verdaderos servidores de la Iglesia".

A birth foretold: click here to learn more!


---
Copyright 2015 - Distributed by THE CALIFORNIA NETWORK
Pope Francis Prayer Intentions for April 2016
Universal:
Small Farmers: That small farmers may receive a just reward for their precious labor.
Evangelization:
African Christians: That Christians in Africa may give witness to love and faith in Jesus Christ amid political-religious conflicts.
---
---
---

By Kenya Sinclair (CALIFORNIA NETWORK)
A 7.8 magnitude earthquake devastated sections of Ecuador and left the death count at over 300 people. Over 2,000 destroyed buildings and ruined roads have been reported - and now survivors are sharing their harrowing experiences. LOS ANGELES, CA (Catholic Online) - As ... continue reading
---

By Kenya Sinclair (CALIFORNIA NETWORK)
After serving her country for eight years, former Argentina President Cristina Fernández de Kirchner has been accused of laundering hundreds of millions of dollars into oversea accounts. LOS ANGELES, CA (Catholic Online) - Former president Fernández de Kirchner has ... continue reading
---
By Kenya Sinclair (CALIFORNIA NETWORK)
Uruguay is considered a secular country and is known for its refusal to condone religious beliefs of any kind - yet there exists a debate concerning the erection of a Virgin Mary statue. LOS ANGELES, CA (Catholic Online) - Many in Uruguay stand on the country's ... continue reading
---

By Kenya Sinclair (CALIFORNIA NETWORK)
Sarah Parcak and her team set off on a journey to North America, where they expected to uncover Viking relics beneath over 1,000 years' of soil. LOS ANGELES, CA (Catholic Online) - Parcak used satellite images to search Northern America for irregularities in soil, each ... continue reading
---

By David Drudge (CALIFORNIA NETWORK)
Cuban state media has criticized Obama, calling him a "negro" and accusing him of attempting to incite rebellion and disorder in the communist state. LOS ANGELES, CA (California Network) - The Cuban paper, Havana Tribune, has published a scathing article criticizing ... continue reading
---

By David Drudge (CALIFORNIA NETWORK)
President Obama has made a downright dumb and embarrassing statement to Argentine youth during his visit to that country last week. The President claimed there was no difference between communism and capitalism. LOS ANGELES, CA (California Network) - In a bizarre ... continue reading
---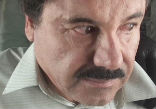 By Marshall Connolly (CALIFORNIA NETWORK)
Mexican drug lord, "El Chapo" visited the USA twice following his escape from a Mexican prison last July. According to his daughter, Rosa Guzman Ortiz, the cartel leader used the opportunity to visit family members living in the United States. LOS ANGELES, CA ... continue reading
---

By Kenya Sinclair (CALIFORNIA NETWORK)
While the United States fights to keep migrants from entering its borders illegally, the Obama administration has pledged $1 million to provide Cubans trapped in Costa Rica with water, food, sanitation kits and temporary housing. LOS ANGELES, CA (Catholic Online) - One ... continue reading
---

By Abigail James (CALIFORNIA NETWORK)
A 15-year-old Honduran girl is being referred to as "possessed by the Devil" by her family and friends after she threatened to kill her mother and suffered from severely violent convulsions in church. LOS ANGELES, CA (Catholic Online) - The unnamed girl was filmed on ... continue reading
---

By Catholic Online (CALIFORNIA NETWORK)
United States President Barack Obama will visit the Caribbean nation of Cuba as early as next month. This follows declarations of closer diplomatic ties between the U.S. and Cuba announced in December of 2014. In doing so, Obama will become the first U.S. ... continue reading
---
All Americas News