The Lord commanded us to, 'Be fruitful and multiply'. To borrow the title from the 1960's television show, 'Father Knows Best'.
To hear what calls itself the Left these days, talk, one would think that children were a form of sexually transmitted disease, like AIDS, against which science and society must join together to fight. How in the world did we ever get to this point? The West is at a critical juncture due to its failure to procreate, and our Social Security System is failing for exactly this reason.Although wrong, dead, and gone, Malthus is not forgotten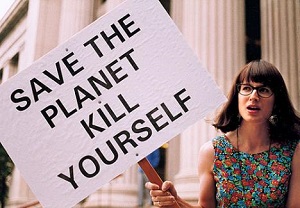 RICHMOND, VA (Catholic Online) - To hear what calls itself the Left these days, talk, one would think that children were a form of sexually transmitted disease, like AIDS, against which science and society must join together to fight. How in the world did we ever get to this point?
It is hard to know when offspring stopped being a blessing and started being a burden, but it certainly was not in the early days of our country. We were an agrarian nation, and there was work to be done, so the more hands available, the better. Children performed chores around the farm and thus were economically productive members of the family. As long as and wherever these conditions persisted, children were and are considered a boon to the lucky parents.
In 1798, however, Thomas Malthus published his treatise An Essay on the Principle of Population. He wrote to reject the idea of some of the Enlightenment philosophes that society was improving, and instead said that in good times, such as they were experiencing, man would overpopulate beyond the capability of the earth to produce food to sustain the growing population, leading to misery and starvation. He explained, "We will suppose the means of subsistence in any country just equal to the easy support of its inhabitants. The constant effort towards population... increases the number of people before the means of subsistence are increased. The food, therefore, which before supported seven millions must now be divided among seven millions and a half or eight millions. The poor consequently must live much worse, and many of them be reduced to severe distress."
How would all of this come about? It wouldn't be pretty. "The power of population is so superior to the power of the earth to produce subsistence for man, that premature death must in some shape or other visit the human race. The vices of mankind are active and able ministers of depopulation. They are the precursors in the great army of destruction, and often finish the dreadful work themselves. But should they fail in this war of extermination, sickly seasons, epidemics, pestilence, and plague advance in terrific array, and sweep off their thousands and tens of thousands. Should success be still incomplete, gigantic inevitable famine stalks in the rear, and with one mighty blow levels the population with the food of the world".
But never mind; he had some answers to this problem: positive checks, those that increase the death rate; and preventive ones, those that lower the birth rate. Positive checks include hunger, disease and war; preventive checks include abortion, birth control, prostitution, postponement of marriage and celibacy.
Since this treatise was written over 200 years ago, you may be wondering when we are going to experience this cataclysm. The answer of course it that we have not experienced it, and we do not have to experience it. Malthus was prey to zero-sum thinking, the same thinking that is prevalent in much of leftist thought today, "If you make more money than me, it is because you are taking it away from me", not because your economic activity created more wealth. In this case, if the population increases, why would the food supply remain the same? Why wouldn't more land be cultivated, more seed be planted, better seed be developed, more efficient farming methods be employed, and on and on? In 1800, the world population was about 1 billion people; today it stands at over 7 billion. Indeed, a major problem for us, and for much of the developed world, is obesity, not starvation.
"But," you say, "starvation DOES exist; we see starving people on the news all the time. Yes, it does, but it is not due to a large population. The USA population density is 28 people per square kilometer, Japan's is 340, the Netherlands' is 404, and Hong Kong's is 6396, and Singapore's is a whopping 7,301. These folks are not starving. Libya has a population density of 3.1, Somalia's is 12, the Sudan's is 15, and Ethiopia's is 60, not anywhere approaching  that of most of Europe or Asia, yet with a chronic and recurring problem of starvation. Clearly population density is not the problem.
The real problem is that famine is caused by governments - civil wars and corruption that interferes with the distribution of food. Absence of property rights, price controls and other socialist schemes starve millions unnecessarily every year. Some will claim that the problem is the environment of the country, that lack of arable land or too much or too little rainfall or some other natural limitations produce these recurrent problems. No country has a monopoly on good or bad climate or other natural resources; man has the ingenuity to overcome natural obstacles - the Dutch have been using dikes and windmills for hundreds of years. One has only to compare Haiti to the Dominican Republic, two halves of the same island, to see the effect of corrupt government.
But, although wrong, dead, and gone, Malthus is not forgotten. One of his more recent disciples was Paul Ehrlich, who wrote The Population Bomb in 1968, essentially parroting Malthus' mistakes. Ehrlich began his book with the statement, "The battle to feed all of humanity is over. In the 1970s hundreds of millions of people will starve to death in spite of any crash programs embarked upon now. At this late date nothing can prevent a substantial increase in the world death rate ... "  He thought it was too late to avoid Malthusian disasters such as severe famines, the spread of disease, social unrest, and other negative consequences of overpopulation, but for those who survived he advocated Malthus' preventive solutions, the easiest possible availability of birth control and abortions.
In his 1977 textbook, Ecoscience: Population, Resources, Environment, he said, "A far better choice, in our view, is to expand the use of milder methods of influencing family size preferences, while redoubling efforts to ensure that the means of birth control, including abortion and sterilization, are accessible to every human being on Earth within the shortest possible time." Clearly the United States was NOT involved in famine or any food shortages in the 1970's or thereafter, but amazingly this man is still at Stanford University and continues to perform policy research concerning population and resource issues, and promote his positive solutions of birth control and abortion. Bad ideas apparently die hard.
What is hard to understand is that both these men have been proven wrong, and should have become laughing stocks. But they didn't. Instead, their ideas, and the policies that stem from their positive solutions to a nonexistent problem have become part of the mantra of the left, and have sadly become part of our culture. Still, Malthus wrote his treatise in 1800, and you did not see a precipitous fall in family size until over 150 years later. Why was that the case?
Traditionally there were two reasons that people had children. One was that God instituted marriage to create families where parents could produce and raise children, thus sustaining and reproducing themselves and the human race. These families were the basic unit of society, which banded together to form tribes for mutual protection, and then developed governments. In our increasingly secular society today, the government feels free to dictate what is the basic unit of society, which apparently will be the "household", consisting of whatever combination of sexes the government decides is licit. The other reason people had children was because God endowed them with a strong sex drive that was to be coupled with marital vows in a sacramental union.
Therefore, what has happened is a decoupling of that marital union. In the 1960's convenient contraception for the first time pulled the rug from under God's plan for people to be fruitful and multiply. Soon, not having children was seen as a "right", which was actually a product of radical individualism, which is basically the drastic reduction of limits to personal gratification. Individualism was always a feature of classical liberalism, on which our country was founded, but it was kept in check and prevented from becoming pure hedonism by religion, morality, and law based on the first two. It is understandable in view of the general debasement of society that has taken place since the 1960's that we now have more cohabitation, more divorces, a huge number of fatherless children, millions murdered in abortion facilities creating a culture of death, and increased crime and general social malaise as a result. What is not clear, however, is why our married, stable families are often failing to reproduce themselves by having no children, or at most one or two.
There are many reasons for this phenomenon. People marry later than they used to, and wait until they feel financially secure and emotionally mature before having children, so that their reproductive years do not last long enough to have many children. There can be many other reasons why this occurs, but they have always been the case. The question is, why do so many people nowadays say, "I don't want to have any kids"?
Again, there can be many reasons why this may be the case, but in general they can be attributed to the same radical individualism that is everywhere seen in our society today. Children are simply not convenient. Abortion of course is the ultimate form of individualism, where a mother decides that her body is her own to do with as she pleases, and she has the right to snuff out the life that is temporarily sharing it with her. Not having children when there is not a compelling reason not to is the same in kind, though not in degree. Although the Church condones Natural Family Planning, it does so only providing there is a grave reason not to have children. Examples can be given, which include the mother's health, temporary economic crisis, etc., but these are generally assumed to be temporary. NFP with the goal of having no children is not morally acceptable. Marriage is a sacrament between a man and a woman, and their mutual commitment is required, but the fruit of that union needs to be children.
There is no question that society makes having children today expensive. Think what sort of a vehicle you would need to buy if you have many small children, each of whom must be belted into a bomb-proof car seat the size and weight of a floor safe. People assume that they must pay more than their house is worth to send each child to the college of his choice, after 18 years of electronic gadgets, clothes, cars, and luxury that would have made Louis XIV envious. But all that is not necessary. Recently, opera star Andrea Bocelli thanked his mother for not aborting him when she was medically advised to do so because he might be born with a deformity, despite the fact that he is blind. Similarly, would children regret being born because you could not afford to give them all iPhones and send them to Ivy League schools?
Young couples, talk to your parents about this. If you come from a large family, ask them about the decisions they made, and how things worked out, though you pretty much know the answer! If you come from a small family, ask your folks how they feel now, and if they would have done anything differently. It would be rare indeed to find older parents who wish they didn't have kids to come to visit them, while lonely old people are sadly everywhere. The West is at a critical juncture due to its failure to procreate, and our Social Security System is failing for exactly this reason. We no longer have enough young people to help support their aging parents who no longer can support themselves. This economic reality coupled with radical individualism and hedonism means that euthanasia and the famed "death panels" of obamacare are already being openly discussed. These "final solutions" were never even considered before, but then, neither was contraception prior to the Episcopalian Lambeth Conference in 1930.
The Lord commanded us to, "Be fruitful and multiply". To borrow the title from the 1960's television show, "Father Knows Best".
----------
Dr. Frederick Liewehr is an endodontist who teaches and works in private practice. He converted from Protestantism to Catholicism in 1983, having been drawn ineluctably to Christ's Church by the light of Truth. He is a member of St. Benedict parish in Richmond, a Fourth Degree Knight of Columbus and a Cooperator of Opus Dei.
 
---
Copyright 2016 - Distributed by THE CALIFORNIA NETWORK
Pope Francis Prayer Intentions for May 2016
Universal:
Respect for Women: That in every country of the world, women may be honored and respected and that their essential contribution to society may be highly esteemed.
Evangelization:
Holy Rosary: That families, communities, and groups may pray the Holy Rosary for evangelization and peace.

By Kenya Sinclair (CALIFORNIA NETWORK)
Ben and Alyssa Reidhead were overjoyed to hear they were pregnant - until the doctors told them to prepare a funeral for the little life that wouldn't make it out of the womb. LOS ANGELES, CA (Catholic Online) - During the couple's 20-week ultrasound, their son was ... continue reading
---

By Kenya Sinclair (CALIFORNIA NETWORK)
South Carolina legislature passed a bill on Tuesday that puts an end to abortions after 19 weeks. Dare we hope the bill is the beginning of the end of abortion? LOS ANGELES, CA (Catholic Online) - With South Carolina on board, there are seventeen U.S. states banning ... continue reading
---

By Kenya Sinclair (CALIFORNIA NETWORK)
A 70-year-old woman overcame an infertility with the help of several dead babies and one test tube baby. LOS ANGELES, CA (Catholic Online) - Daljinder Kaur and her husband Mohinder Singh Gill spent nearly fifty years of marriage unable to conceive.Finally, at roughly ... continue reading
---
By Kenya Sinclair (CALIFORNIA NETWORK)
Abortion rates have hit a historic low in wealthy countries - but at what cost? LOS ANGELES, CA (Catholic Online) - To put it bluntly, abortion rates have dropped due to a rise in the use of contraceptives, not because more women have decided that murdering their ... continue reading
---

By Kenya Sinclair (CALIFORNIA NETWORK)
A 7-year-old girl who was born without hands beat fifty other first-graders in a national handwriting competition, proving anyone can do anything they put their mind to. LOS ANGELES, CA (Catholic Online) - Rather than accepting prosthetic hands, little Anaya Ellick ... continue reading
---

By Abigail James (CALIFORNIA NETWORK)
In a strange request, an Israeli man has petitioned for a restraining order against God. LOS ANGELES, CA (Catholic Online) - Representing himself in court, the unnamed man entered the Haifa Magistrate's Court in Israel and claimed God had been ... continue reading
---

By Kenya Sinclair (CALIFORNIA NETWORK)
A beautiful set of newborn triplets were delivered via C-section at the Tanjungpinang Regional Genearal Hospital in Indonesia. The girls were strong and healthy with ten little toes and ten little fingers each - but there was one little problem: Two of the girls were ... continue reading
---

By Marshall Connolly (CALIFORNIA NETWORK)
Scientists have been conducting horrifying experiments on unborn babies, fertilizing eggs and seeing how long before they die in a test tube, outside of the womb. LOS ANGELES, CA (Catholic Online) - It's sounds like a horrifying lab experiment out of a prequel to ... continue reading
---

By Kenya Sinclair (CALIFORNIA NETWORK)
Are you tired of giving your mother the same old Mother's Day gifts? How many more pictures does mom really need? Perhaps it's time to stop ordering the same old flowers and move on to something a little more exciting. LOS ANGELES, CA (Catholic Online) - Moms are not ... continue reading
---

By Kenya Sinclair (CALIFORNIA NETWORK)
Mothers are God's gift to us all. It is mothers who tend to love us with an unbridled passion and who can kiss all our boo-boos away - but what about the mothers of the Bible? LOS ANGELES, CA (Catholic Online) - The Bible mentions several mothers and each of them teach ... continue reading
---
All Marriage & Family News