Catholic Bishop quits Democratic party over homosexual marriage and abortion
---
By Catholic Online (NEWS CONSORTIUM)
8/16/2013 (4 years ago)
Catholic Online (www.catholic.org)
Catholics are a bit slow to change sometimes.
A prominent Catholic figure has left the Democratic party and changed his affiliation to Republican. Bishop Thomas Tobin said he could no longer support the party that advocated for homosexual marriage and abortion.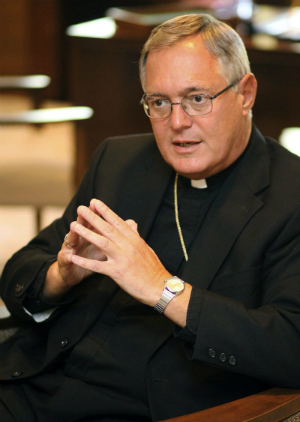 Bishop Tobin has left the Democratic party and joined the Republicans.
PROVIDENCE, RI (Catholic Online) - Bishop Thomas Tobin has ended his lifelong affiliation with the Democratic party following their vocal support on issues such as abortion and homosexual marriage.
Tobin spoke before the Rhody Young Republicans in Providence saying, The a-ha moment for me was the 2012 Democratic National Convention - it was just awful."
"I just said I can't be associated structurally with that group, in terms of abortion and NARAL and Planned Parenthood and same sex marriage agenda and cultural destruction I saw going on. I just couldn't do it anymore," Bishop Tobin explained.
"I've changed my party registration now, but the fact is that the registration itself doesn't mean a lot to me."
Tobin explained that he felt profoundly let down that the party, including many Catholic politicians, caved in on the issues.
Tobin was a traditional, Kennedy-era Democrat who registered with the party in 1969. At that time, although the party was already considered liberal, it would have been much more ideologically similar to today's Republican party than what is has become today.
What is perhaps most surprising is that a Catholic Bishop persisted so long as a registered member of a political party that has been long at odds with Catholic ideology. However, the Democrats do hold positions on certain subjects that are perfectly compatible with Catholic teaching.
Likewise, Republicans also hold some positions that contradict fundamental Catholic principles, but these are much fewer. For example, the death penalty is one area where Republicans tend to favor its imposition but the Church has condemned its use.
Although executions of convicted criminals numbers in the hundreds per year, often under Republican governorships, tens of thousands of innocent babies are aborted, commonly in states where Democratic governors support anti-life policies because such policies ensure the loyalty of leftist extremists.
In recent years these extremists have hijacked the Democratic party and managed to control its voice and agenda to the detriment of its own credibility and the strength of our nation.
---
Copyright 2017 - Distributed by THE CALIFORNIA NETWORK
Pope Francis Prayer Intentions for SEPTEMBER 2017
Parishes.
That our parishes, animated by a missionary spirit, may be places where faith is communicated and charity is seen.
---
---